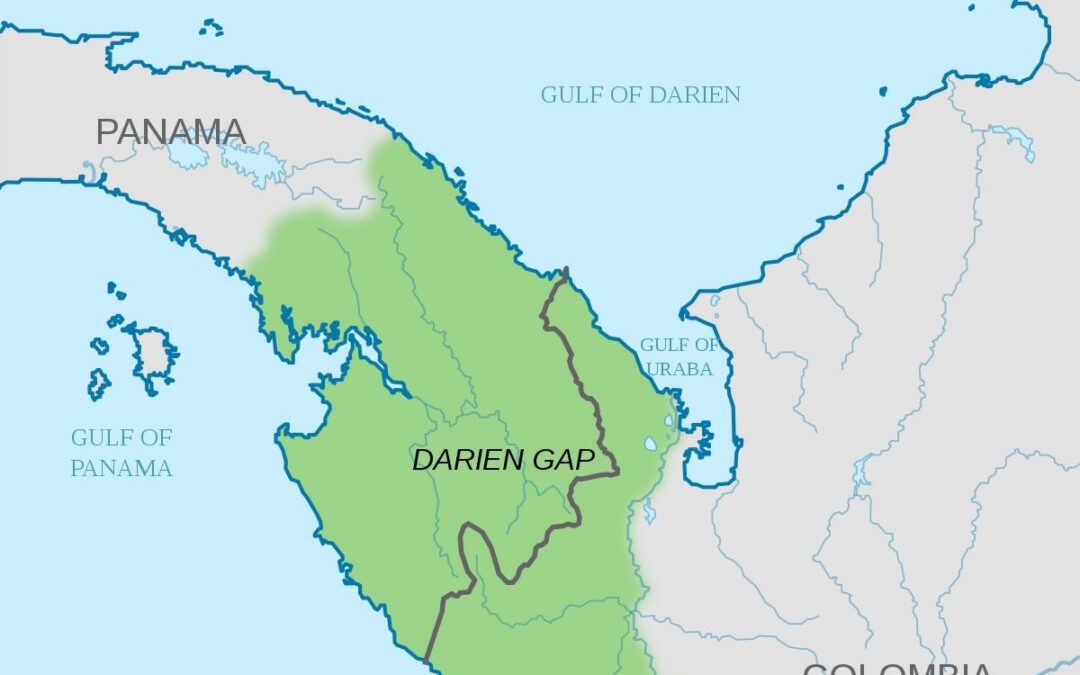 Quite simply, this was done the only way it could be. One cannot drive this impassable 70 or so miles of the PanAmerican Highway – the part between Panama and Colombia. Vehicles must be put on a container ship or "RoRo" carrier, and drivers and passengers must fly or sail between Panama and Colombia. It's not cheap, it is stressful, and most Overlanders will admit that getting through the process is one of the biggest headaches on the 30,000km journey from Alaska to Argentina. We are now half-way through and hope to have a full ( and hopefully successful ) report to share by our next blog.

While other capital cities in Central America ( aside from San Jose ) were passed by, time spent in Panama's capital city absorbed almost half our stay in the country – partly by design and partly by necessity. As noted last week most of a full day was spent doing a required vehicle export inspection. Following vehicle inspections, the next step in getting our vehicles around the Darien Gap was driving them to Colon ( on the Atlantic / Caribbean side of Panama ) for loading on to the container. Once it was confirmed that Cassey's VW Westfalia and our truck/camper could both "technically" fit in a 40ft high cube ( a container that is a foot higher than normal ) deposits were paid and we committed to shipping that way – no turning back now !

Driving to Colon was easy, the road more or less paralleling the Panama Canal and rail line all the way- odd to look out and see the occasional ship passing through what from the road looks to be continuous jungle ! Early Monday morning we met Boris, our agent, and were taken to the loading area. We'd seen the seedy side of Panama City while doing the vehicle inspection – now we saw the sketchy part of Colon. It's not a terribly safe city at the best of times and let's just say we were happy to be escorted around the port area for the loading process. As run down and decrepit a city as we had seen anywhere on our travels to date.

I was quite nervous about loading – while Cassey had a VW Westfalia ( a considerably narrower vehicle than our own ) our truck only had 3" clearance on each side. Complicating matters, it had to be reversed into the container ( so I could climb out the passenger window once loaded) – and do most of that without the aid of side mirrors which, of course, had to be folded in so the vehicle would fit. As it turned out, it all went well due largely to the skills of the loaders who positioned the flatbed truck ( on very rough ground ) so that it was perfectly aligned for the reverse manouvre into the container. A huge sigh of relief when it was all done ! Following the signing of a raft of customs and shipping documents, final payment was made at which point we suddenly found ourselves without our vehicle – our home – for the first time since we began the trip over 6 months and 24,000 km's ago. On Thursday, November 21, our vehicles would sail for Cartagena on the "Stella Walvis Bay". We would be on our own for at least a week while it was loaded, shipped, unloaded and cleared through the respective Panamanian and Colombian processes ( only two days of that would be actually at sea as the two ports are quite close ).
Cassey, our container buddy, left us at this point – for the next 5 days she would sail on a yacht through the San Blas islands and connect with us on Monday morning ( all going well ) so that we could begin the vehicle retrieval process together in Cartagena. Lois and I travelled back to Panama City to spend a few relaxing days exploring ( it was a city that, despite heavy rain for parts of most days we were there, we really enjoyed ). A luxurious hotel room, pool, great restaurants in abundance and central location all helped. It has to be the most modern city in Central America, with a slick subway, famous "old town" and one of the most stunning skylines anywhere. All this on the doorstep of the Panama Canal.
By midweek our time in Panama was over and we made the short 1 hour flight to Cartagena. Could not have been a smoother flight and immigration process, and by early afternoon we were sitting in Cartagena's old town enjoying lunch. One of the most popular Colombian cities to visit and it's easy to see why; a Miami-like skyline on the shores of the Caribbean, fascinating walled old-town dating to the Spanish era and a very lively entertainment and cultural scene. We will need at least 5 days here waiting for our vehicle and I don't think it will be a problem to pass the time – so much to explore !
Thursday was spent exploring the old town, savouring the awesome coffee shops and sourcing some good restaurants ( can't beat Tripadvisor ! ). It's a city where there is always something going on – we managed to catch a Michael Jackson impersonator doing a ( very good ) rendition of "Thriller" in Plaza la Trinidad right in the heart of the old town. Our week closed out enjoying Colombian craft beer at a popular little bar at the aforementioned Plaza. Cartagena is definitely an easy place to like!