The Salar de Uyuni is an otherworldly place. Stark white, for as far as the eye can see, this massive salt flat draws visitors from every corner of the globe and is unquestionably Bolivia's tourism crown jewel. Having seen it before in winter ( July ) we were dazzled ( quite literally ) as we drove it from north to south on a Landcruiser tour. Fast forward to 2020, now in our own truck/camper, this time at the end of rainy season and there are still remnants of the water that for several months completely covers the salar. It is this water that gives the mirror effect ( and blurring of the horizon ) that so many come to see – it is indeed spectacular !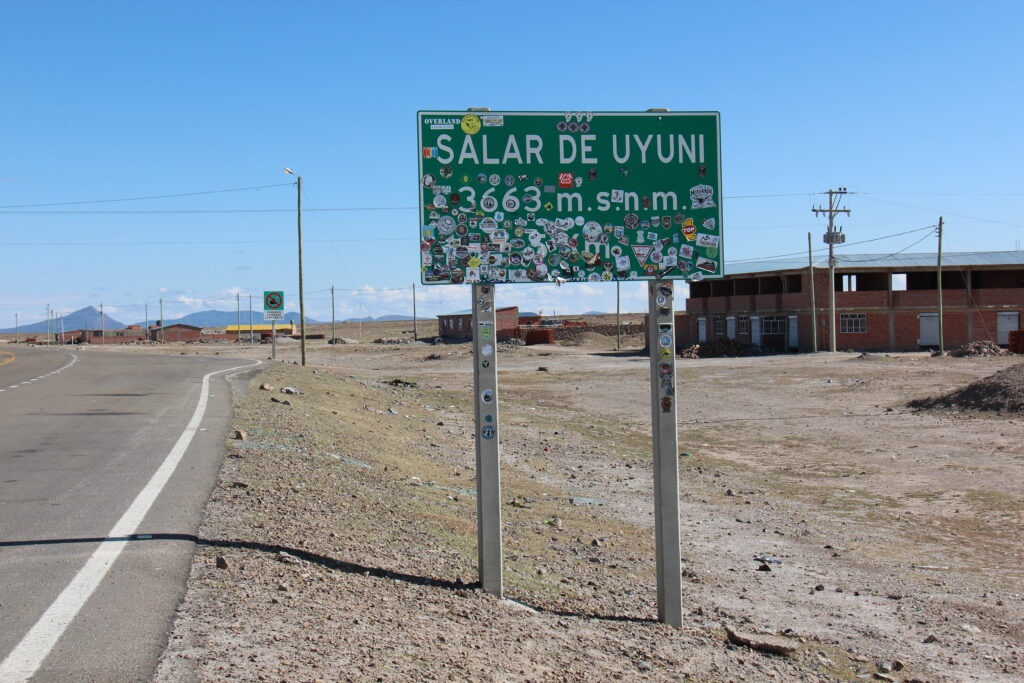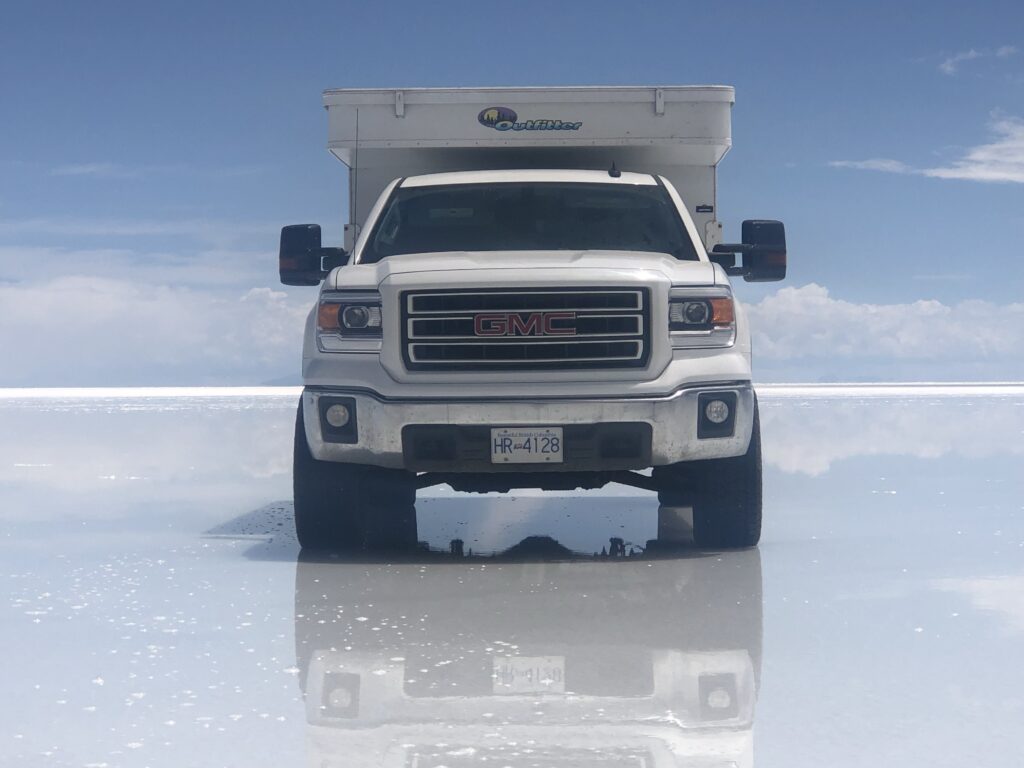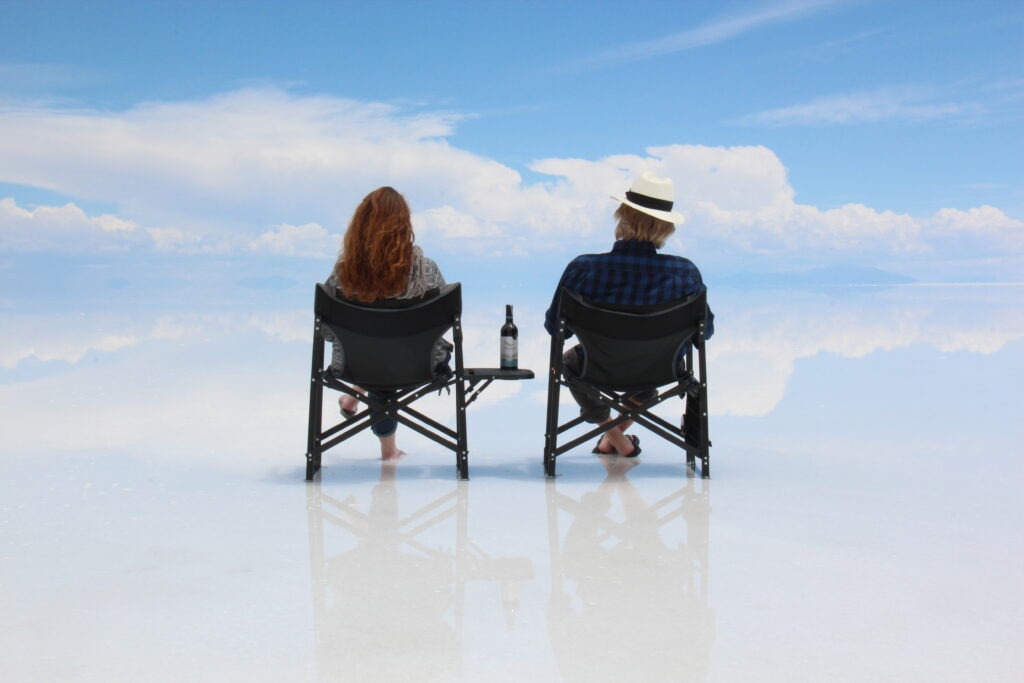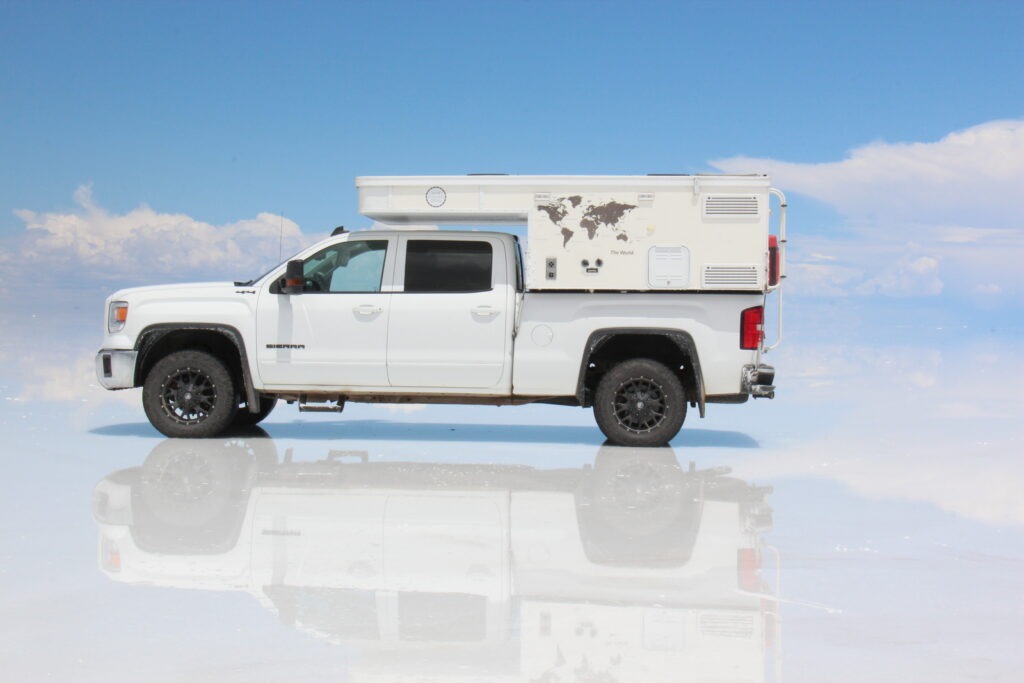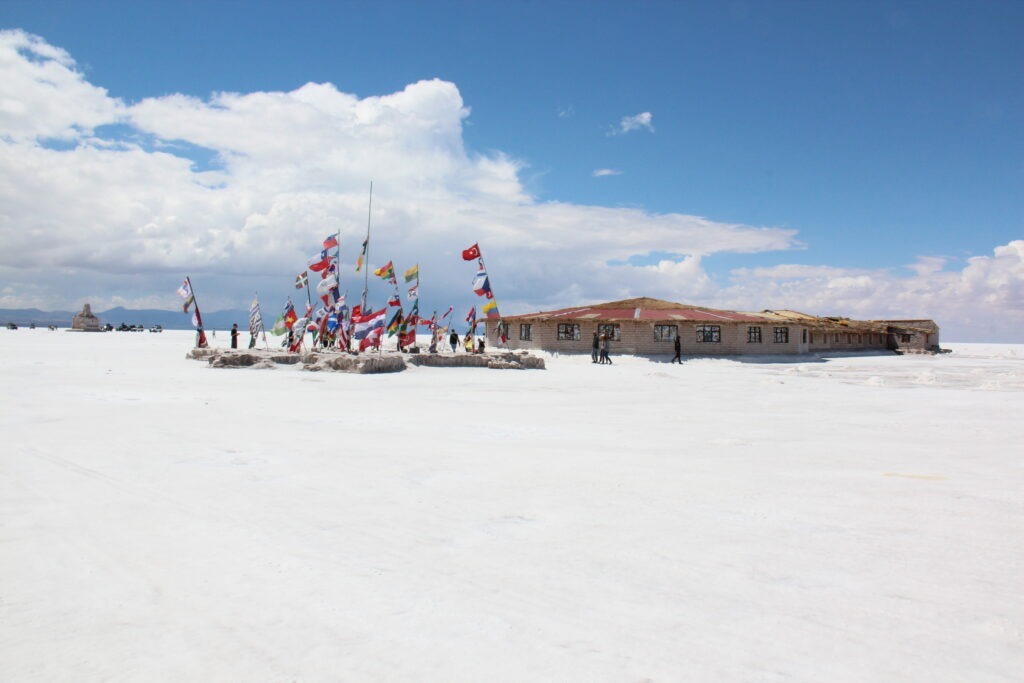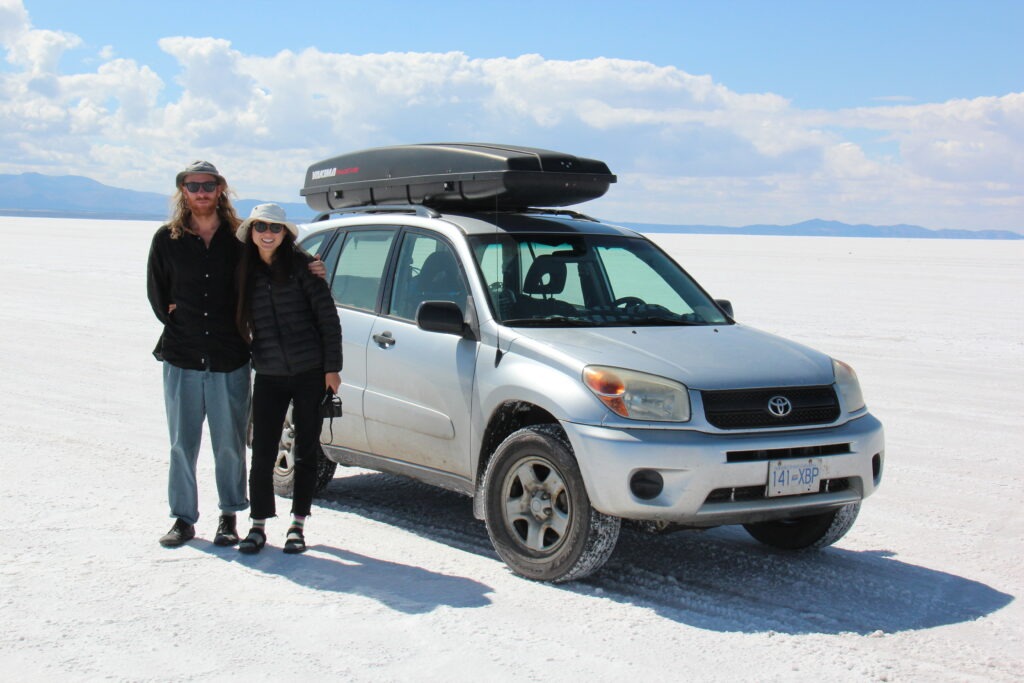 Part of tradition in the Salar de Uyuni is to take "optical illusion" images using the extreme white background to mask the distance of subjects from the photographer – one can get quite creative out there !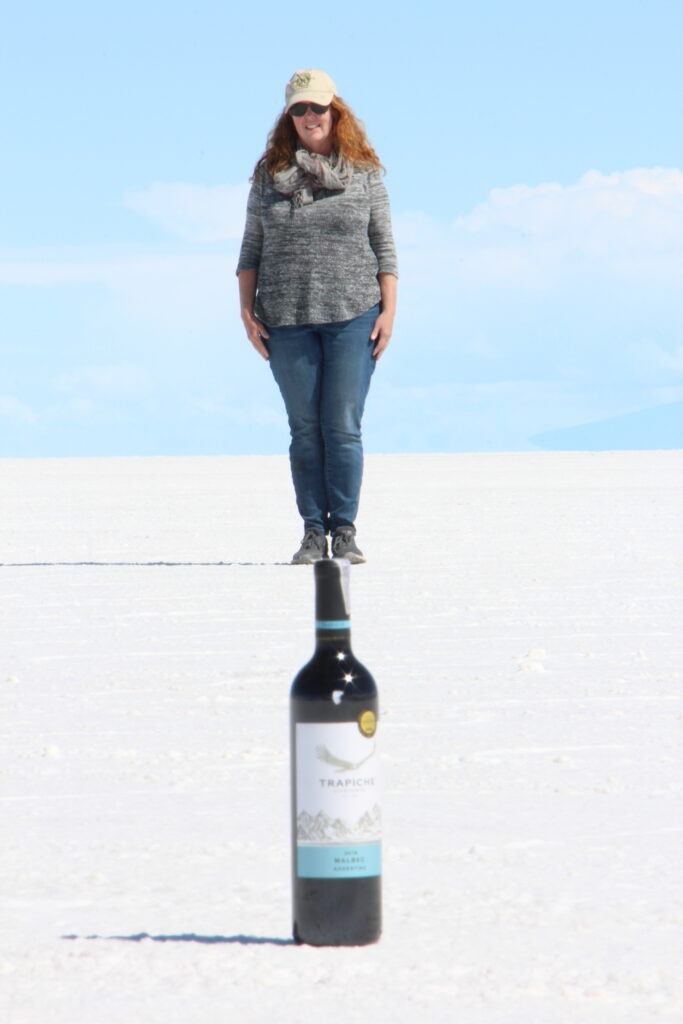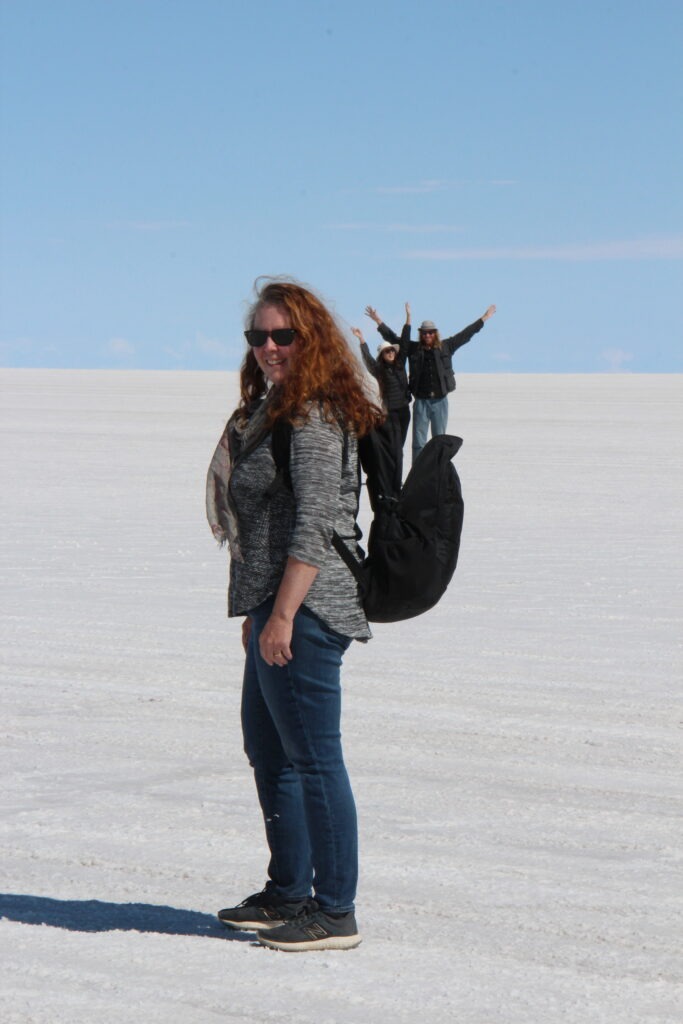 Driving very slowly through the wet salt it was possible to limit the amount of salt ( but not stop it ) that got on the truck and within an hour of leaving the truck was put back up on the "blocks" for a thorough hose down. Hopefully our man got it all off !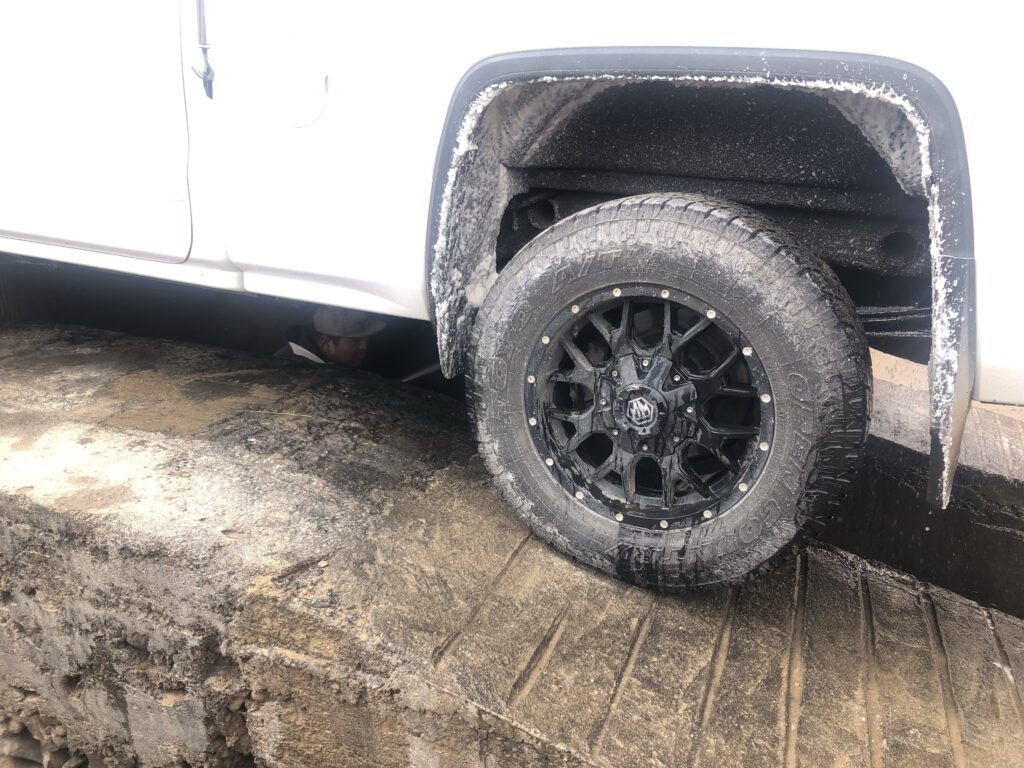 Given we were still in the tail end of rainy season, taking our vehicle on the Western Lagunas Route to Chile was always going to be a challenge. Having been this way in 2003 we should simply have passed on it and driven to Tupiza in Bolivia and then on to Salta in northern Argentina. Hindsight ! Of course, being "so close" it was decided we'd take a stab at the Lagunas Route – we could always bail out part way at Ollagüe ( on Bolivia's western border with Chilean ) if the going got rough, and take the excellent paved road to Calama and on in to San Pedro.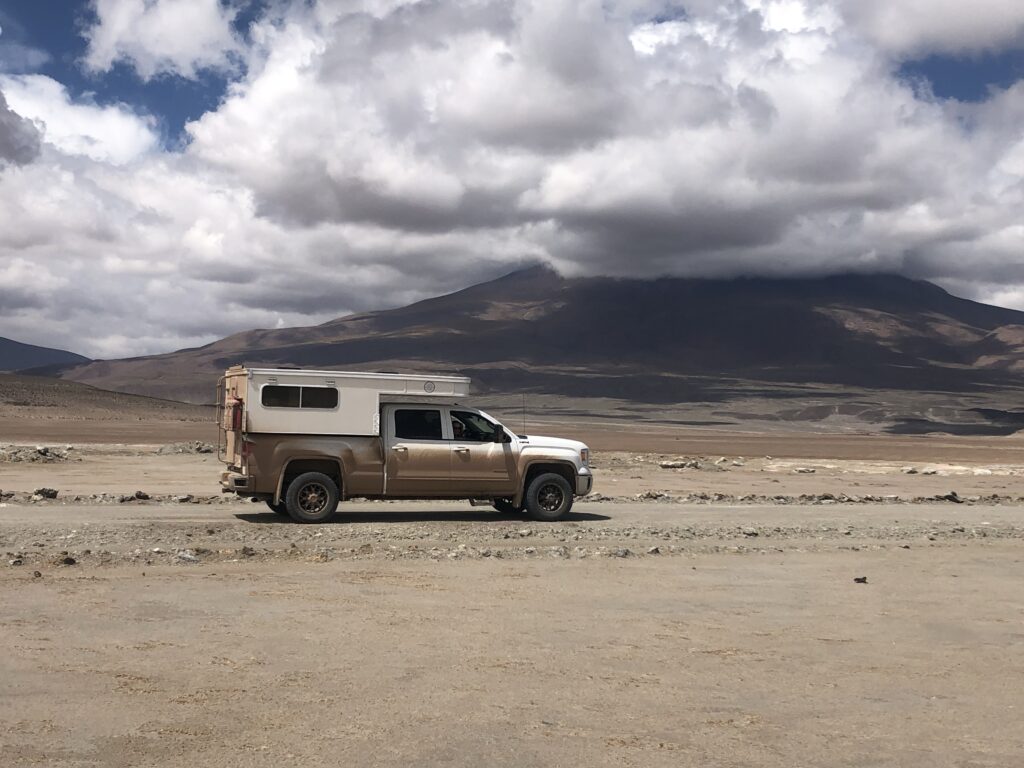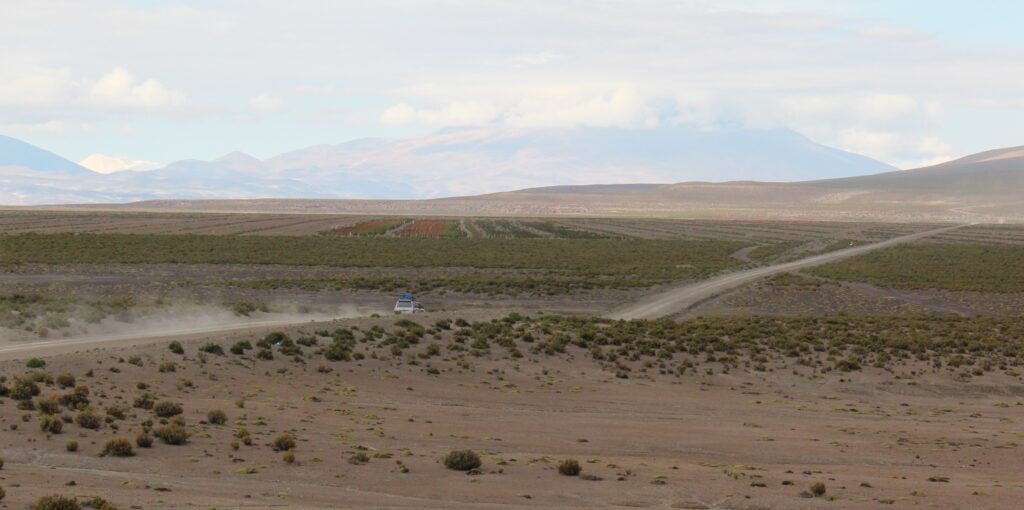 That, in the end, was what we did – 5 hours of bone jarring washboarded road ( I use the word "road" generously ) from San Juan to Ollagüe was more than we could bear – most travellers don't even try it. We have never experienced sharper, deeper ruts or more unrelenting washboarding anywhere in our travels around the globe. Brutal ! We averaged less than 15 km/h and could find no combination of speed or tire deflation to defray the constant jolting. From 65 psi, to 55, to 45 and even down to 40 ( at which point, with a camper on the back, the rear tires looked flat – I dared not go lower ) we still could not not prevent the extreme shaking and on three occasions briefly lost control of the truck. Enough already ! As they say on Dragon's Den and Shark Tank…."For those reasons, I'm out !"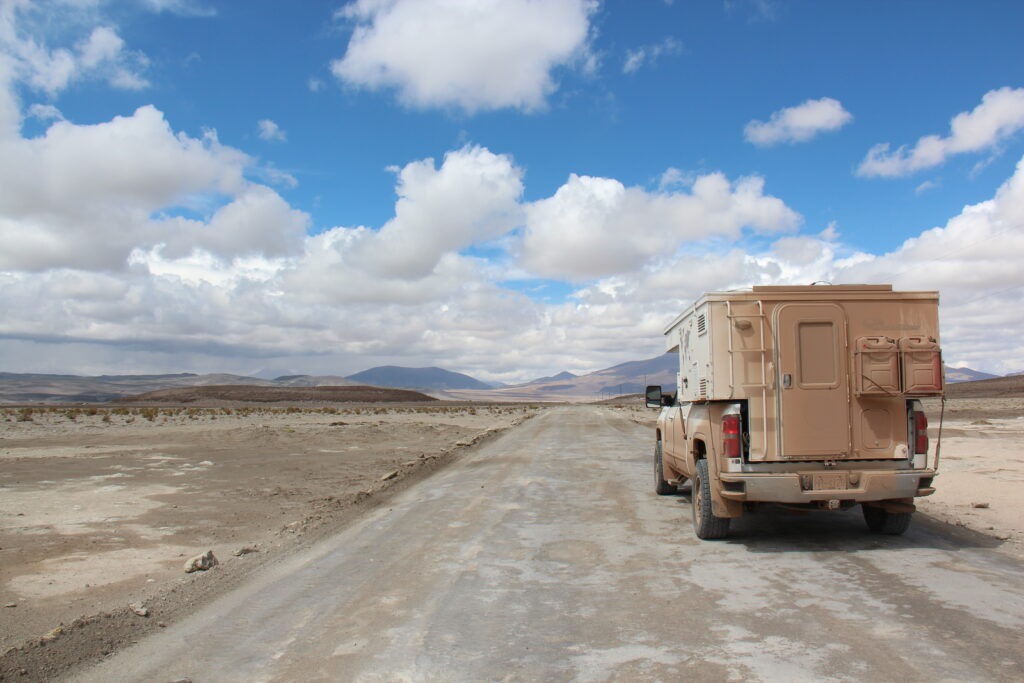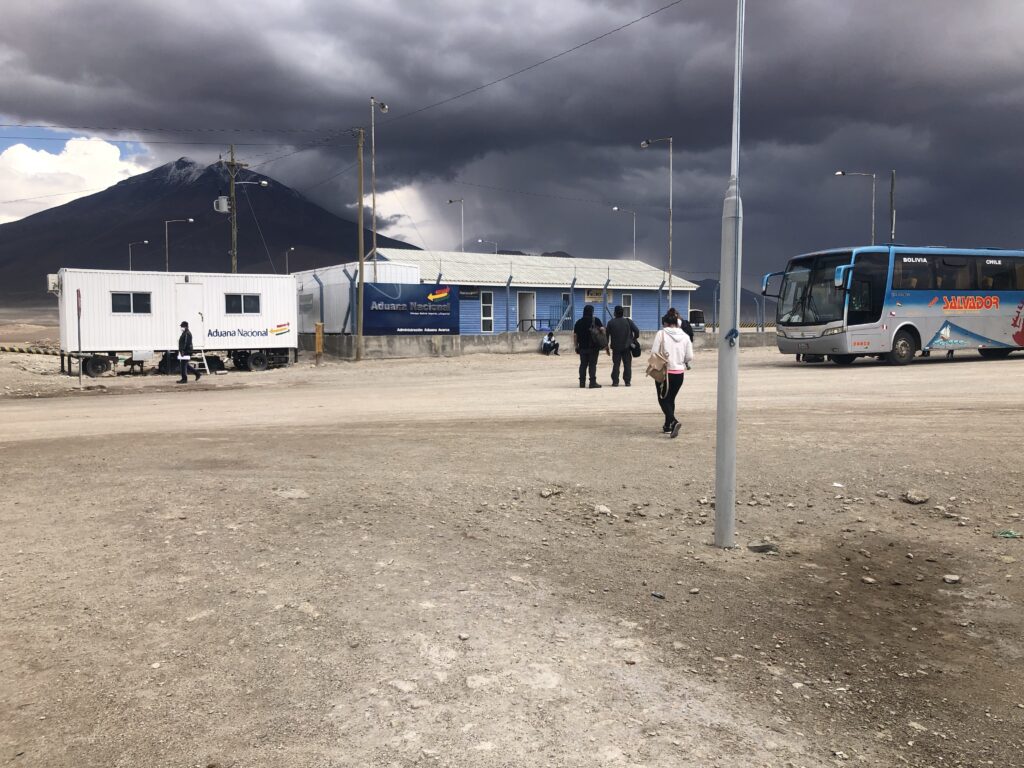 Crossing to Chile was painless and we have never been so glad to see an asphalt surface !! We ended up sacrificing all our fruit and veggies to the customs folks ( which we knew was coming ), but they were super friendly and efficient ( and apologized profusely about the fruit confiscation ). A nice welcome to Chile, living up to its reputation as the most "Western", or developed, of all Latin American countries. Same terrain as Bolivia, just 500 metres away, but look at the road surface below !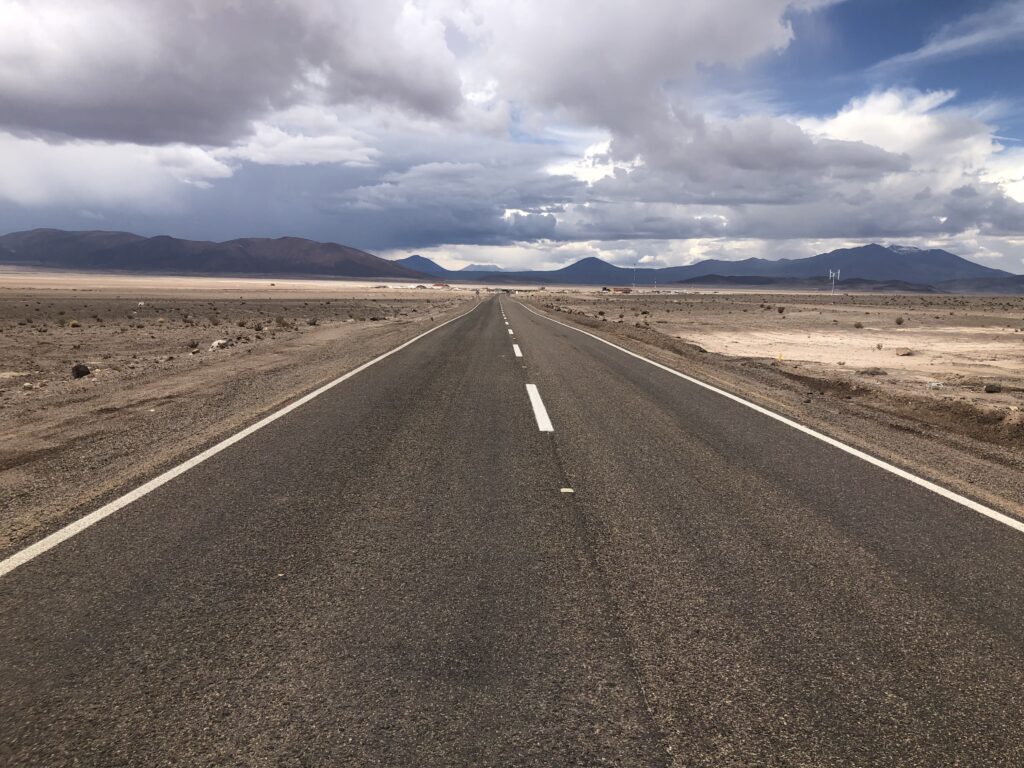 The initial plan was to revisit the delightful Chilean oasis town of San Pedro De Atacama and cross into Argentina over the Jama Pass for the long drive south. Fate, however, would intervene. Loved our few days back in San Pedro – as pretty a desert setting as any you will find, but on the day we were to cross the Andes, the Argentine government closed all its borders. Period. No ifs, no ands, no buts. Closed.

https://www.reuters.com/article/us-health-coronavirus-argentina-border/argentina-to-close-borders-for-non-residents-to-combat-coronavirus-idUSKBN2121E7?fbclid=IwAR0M_avzR2FpdWFQU8RA4IlYWhAJjaHtI_f8ny5iJS4ufQT3OIp6wNnpyr4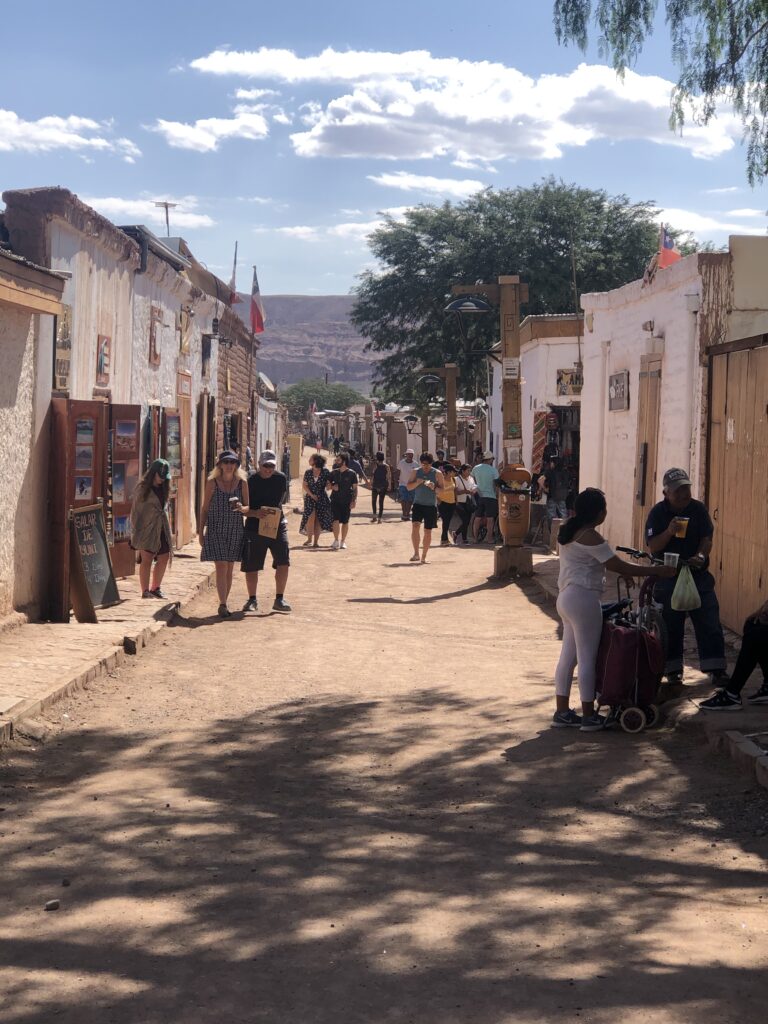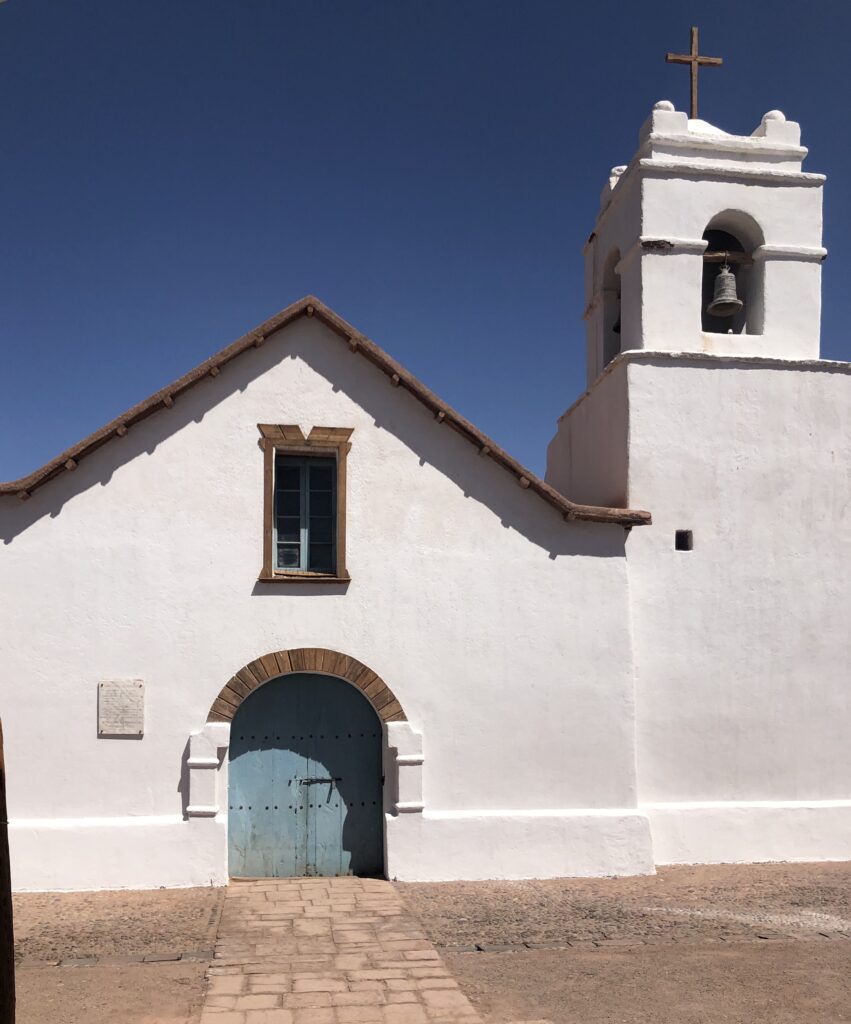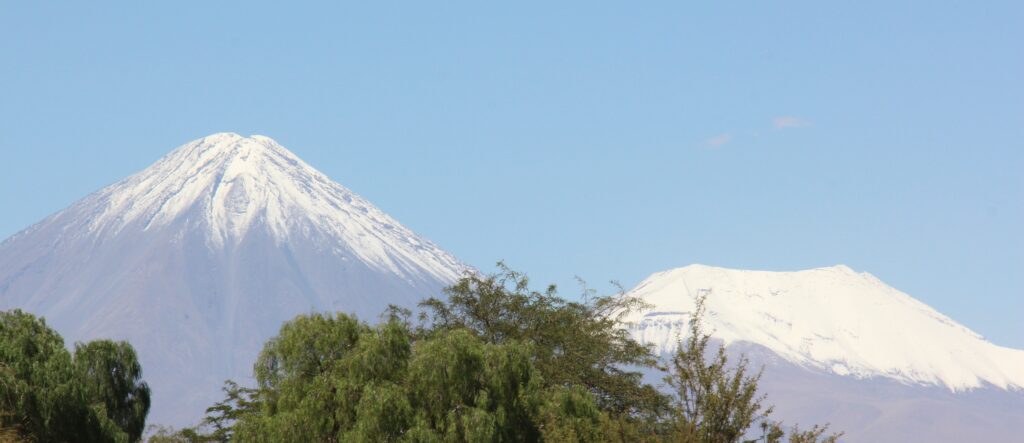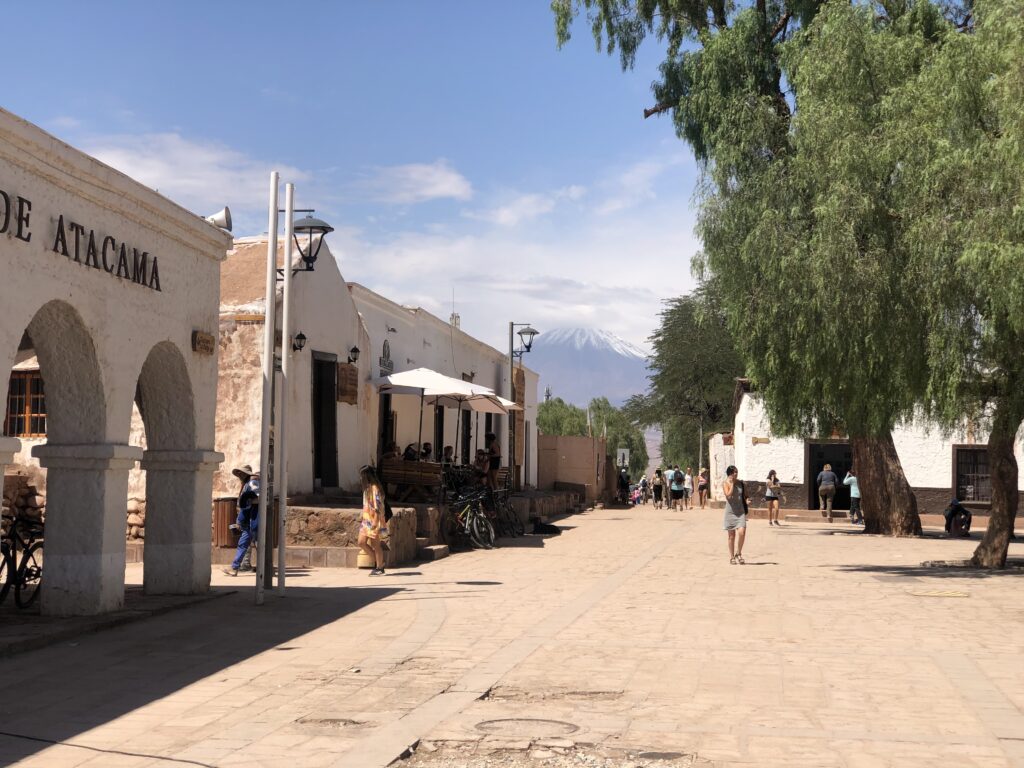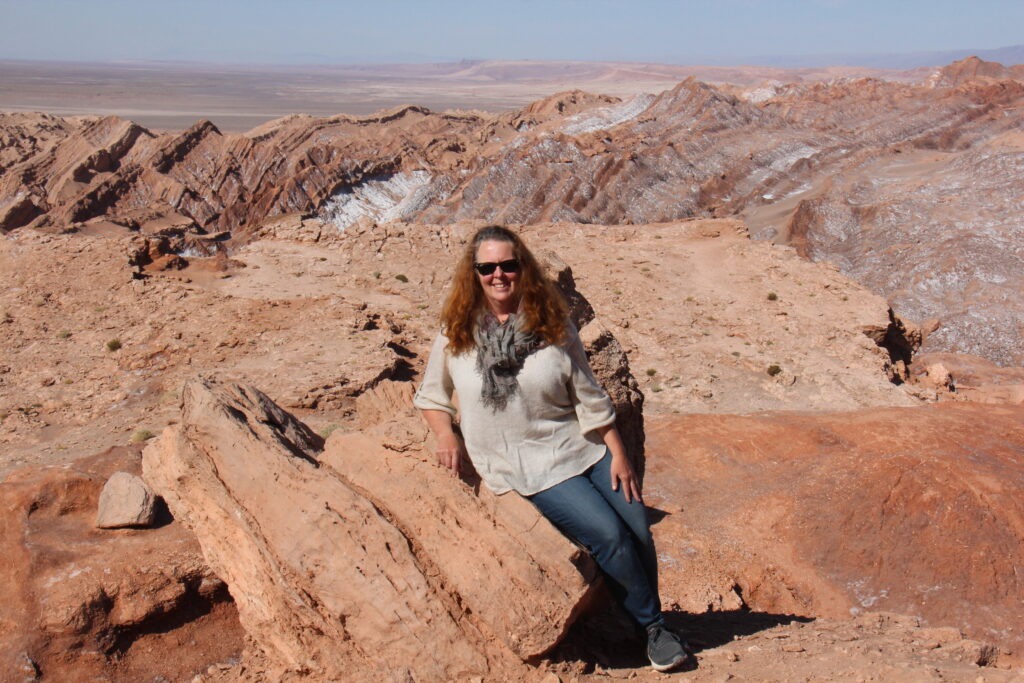 After the initial disappointment we resigned ourselves to making the long drive south via Chile's coastal/desert highway. Not the most scenic road, and we had done it all before in a bus, but there was at least one highlight to break the boredom – the Hand of the Desert. The artist/sculptor was commissioned to do something to break the monotony of the desert drive – he certainly achieved that. In fact people now drive out here just to see it. At 11 metres high it is big !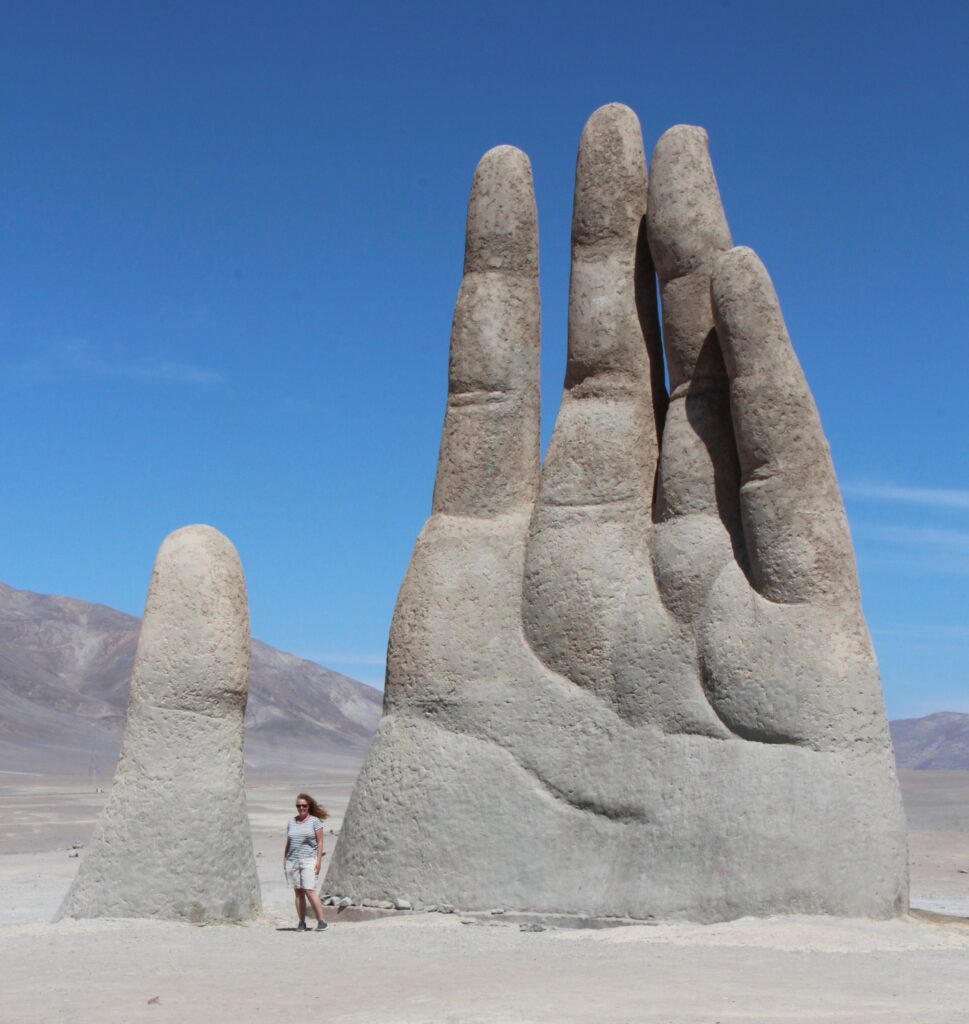 As the days went on we heard more about the travel restrictions placed on foreigners in Argentina – in the end we were quite glad we did not enter. At least ( at this stage anyway ) we could travel freely within Chile. Based on the many comments from overlanders on the PanAm Travellers Facebook page those in Argentina were having a very rough go of it. So far Chile was pretty relaxed. So far…….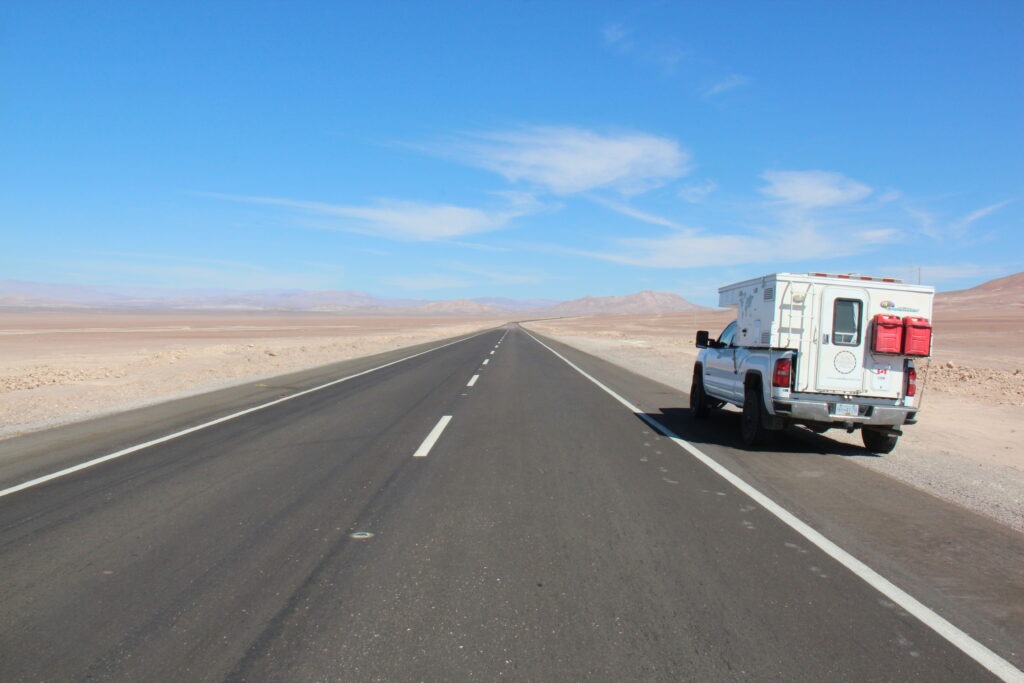 Two days of long drives brought us to the coastal town of La Serena where we established ourselves in a very nice campground. I say that because it is relevant to the next bit of big news we heard – as we arrived, Chile announced a 90 day state of emergency. At the time of writing there was no more detail provided – that will come in the days ahead I am sure -but for now we were left with the option to keep going south or stay where we were. Fully expecting at some stage to face a 14 day quarantine, the issue then became where would we want to serve it out…..? That was happening to overlanders all over Argentina and Peru so it was expected Chile would follow.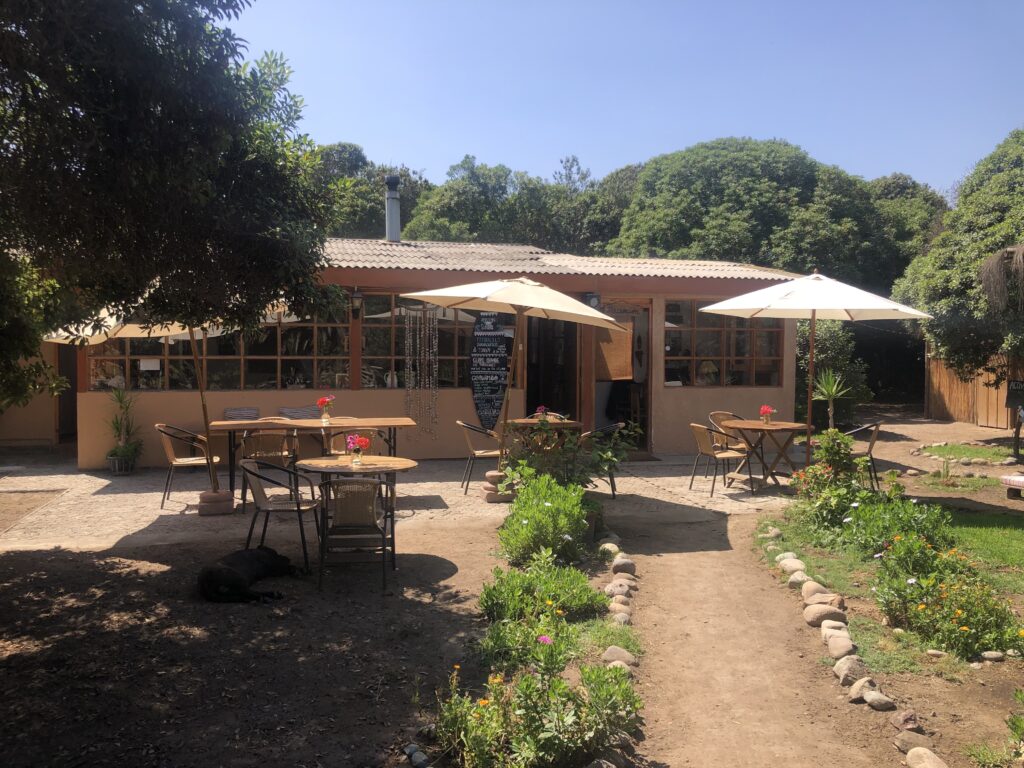 At this point I will digress and talk a bit about Covid 19 in South America. Firstly, we don't want readers to think we are blasé about it, or ignorant ( we are not ), but secondly I have not wanted to add yet more discussion of this tragic topic to people's lives – by all accounts ( from those who have reached out to us ), all hell is breaking loose at home. I am sure people have heard enough about it. So, if that's you, skip the next paragraph. On the other hand if you are interested in hearing how South America is dealing with it, read on.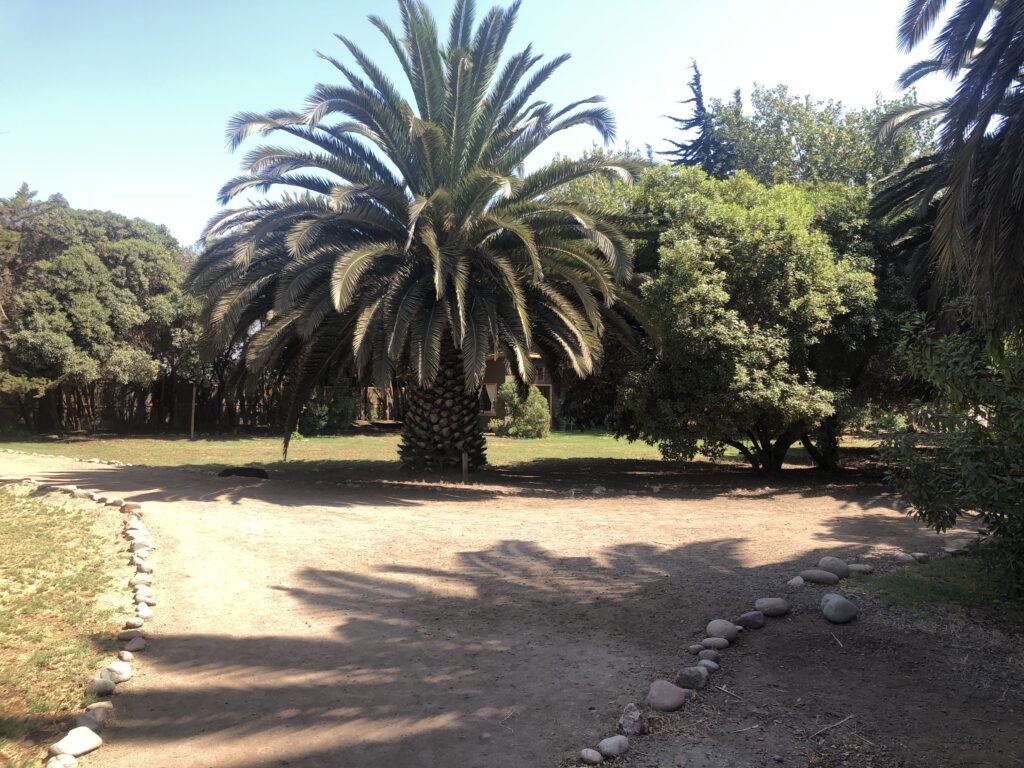 It's top of mind down here too of course. Like elsewhere, borders are closing which is to be expected. While there are far fewer cases and the continent is probably a degree or so removed from the worst of it, the Corona virus has definitely hit here. That said, from what we have seen, there is not ( yet anyway ) the blind panic that exists elsewhere. Toilet paper is widely available, dry foods as well, however hand sanitizer is already hard to find. People are not fighting in the aisles nor do they seem to be hoarding. Stores are limiting access to people to minimize personal contact ( I had to line up, waiting till another customer left the store, to recharge my phone with data ) and most folks are good natured about it. Again, that may just be a "yet". We don't have the space in our camper to "stock up" even if we were so inclined but we are sensible and do make sure we have enough basics to get by. What else can one do ? At this point it all seems pretty civil – hoping it stays that way, but fearing it may not.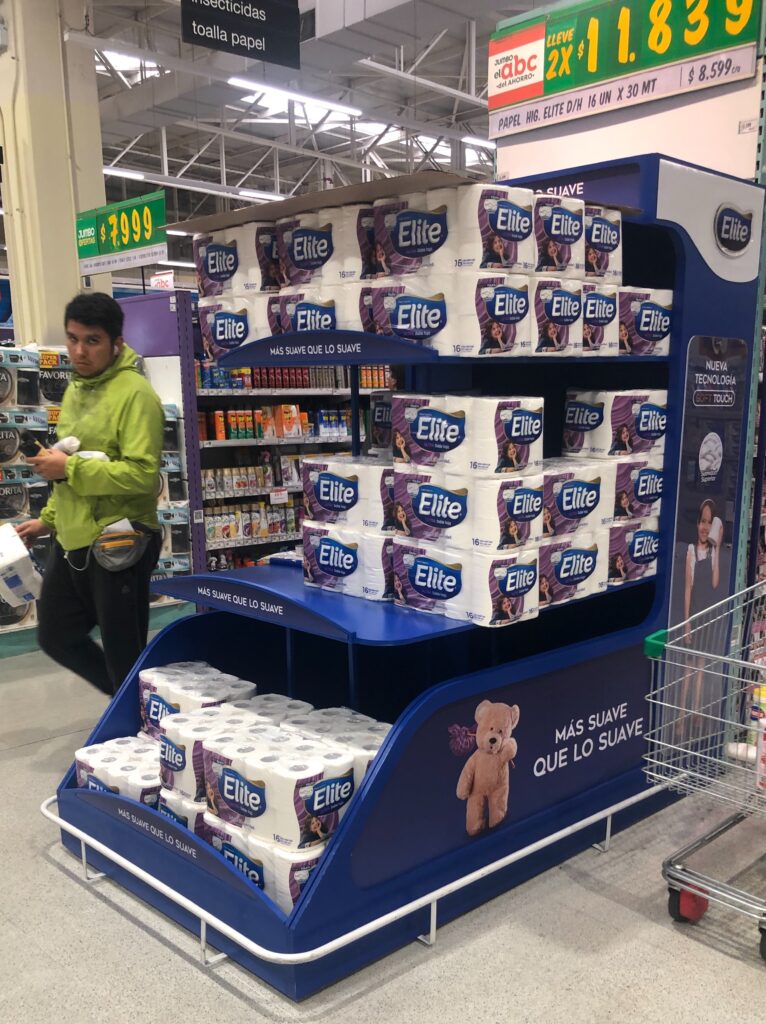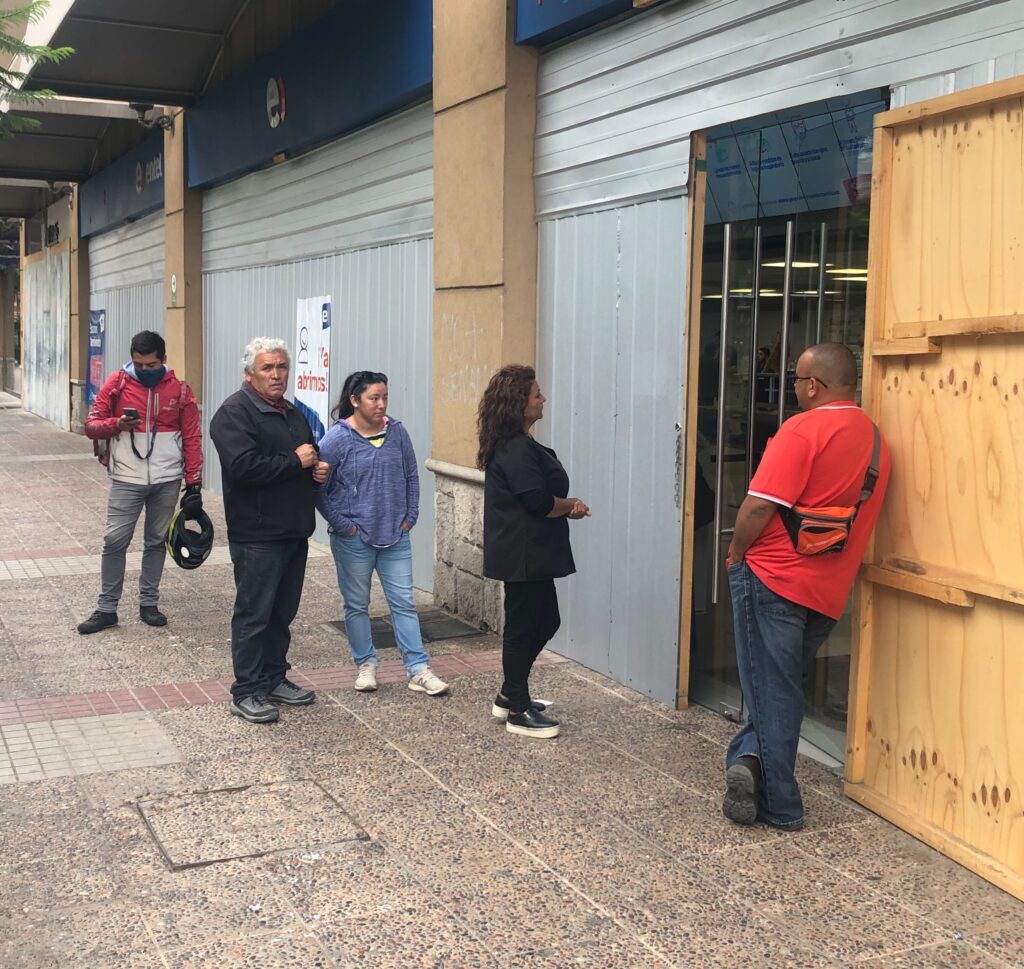 So now we sit in La Serena waiting for a bit of direction from the Chilean government on what the State of Emergency will look like  – can we move freely and continue south "cocooned" ( as it were ) in our  self-contained camper ? We would like to. I can say that we are both much happier to be travelling this way than by plane or bus where there is much more human contact ( and thus virus infection risk ) with others. It remains to be seen whether the Chileans will be that accommodating. Fingers crossed !
Note: As we were sitting in our camper pondering next steps, a couple pulled up beside us on two motorcycles. Their accents sounded North American so I asked where they were from. "Canada", came the reply. "What part ?" I asked. "BC", they said. "Where in BC ?" was my next question. And they said……."Kelowna" !!!! Well, that's now two couples that we have met on this long overland journey who are en route to Tierra del Fuego and who hail from Kelowna. Talk about a small world.