You never like to leave a city you enjoy, and while we could not get through Lima fast enough, Arequipa was another story. It's beautiful Plaza de Armas, it's smaller size, it's snow -capped volcano backdrop and it's unique sillar stone buildings make it a place one could easily linger longer. But with much to see in the days ahead, and a break in the rainy weather forecast at the Colca Canyon we decided a shot at seeing the Andean condors up close on a clear day was too good an opportunity to pass up.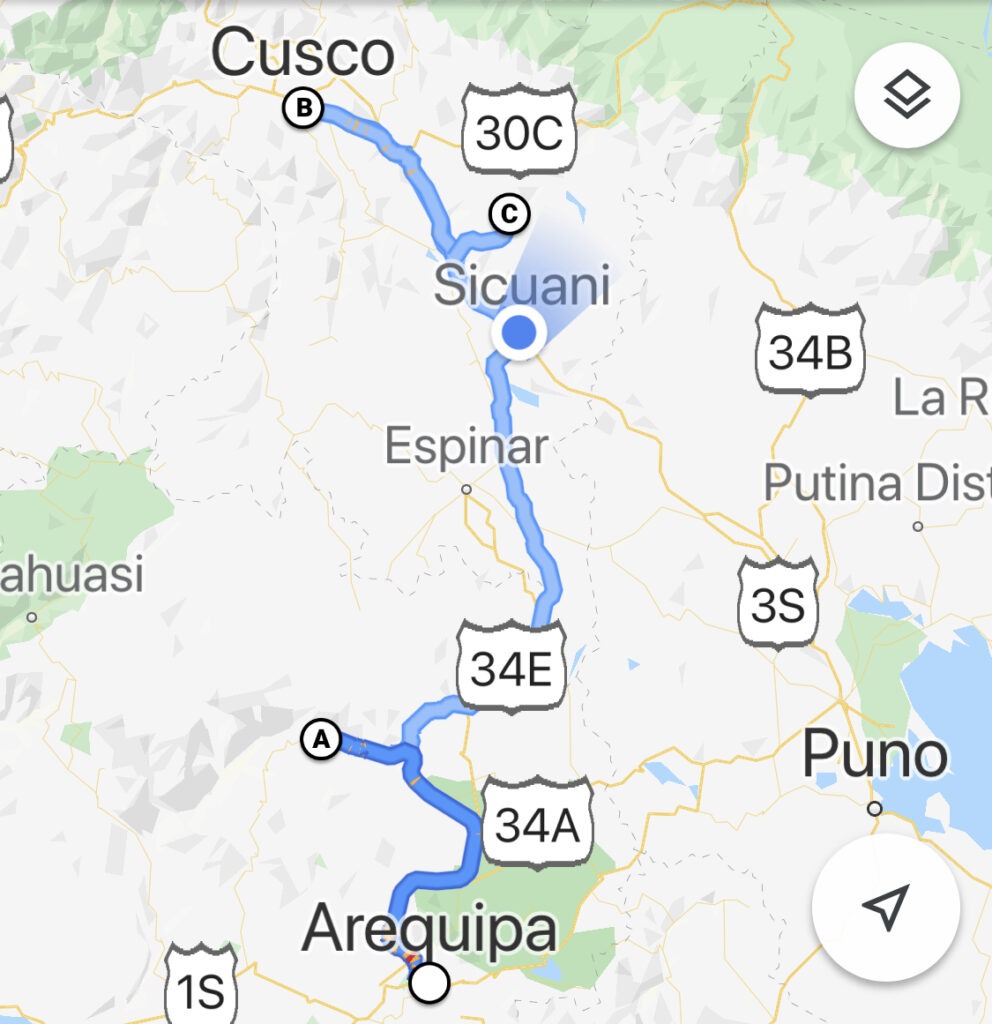 The 3 hour drive took us northwest of Arequipa through small villages, high mountain passes and hundreds upon hundreds of the various South American "camelids" – the general name of the camel family that includes llamas, alpacas, vicunyas and a few others. Seeing them all, out in the open, with snow capped mountains in the background is just such a quintessential South American image in my mind.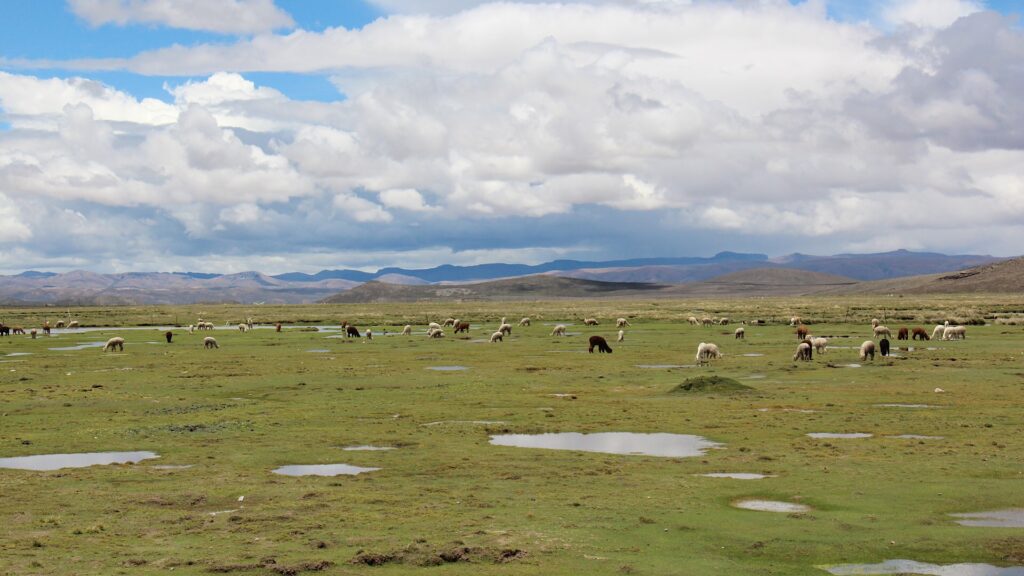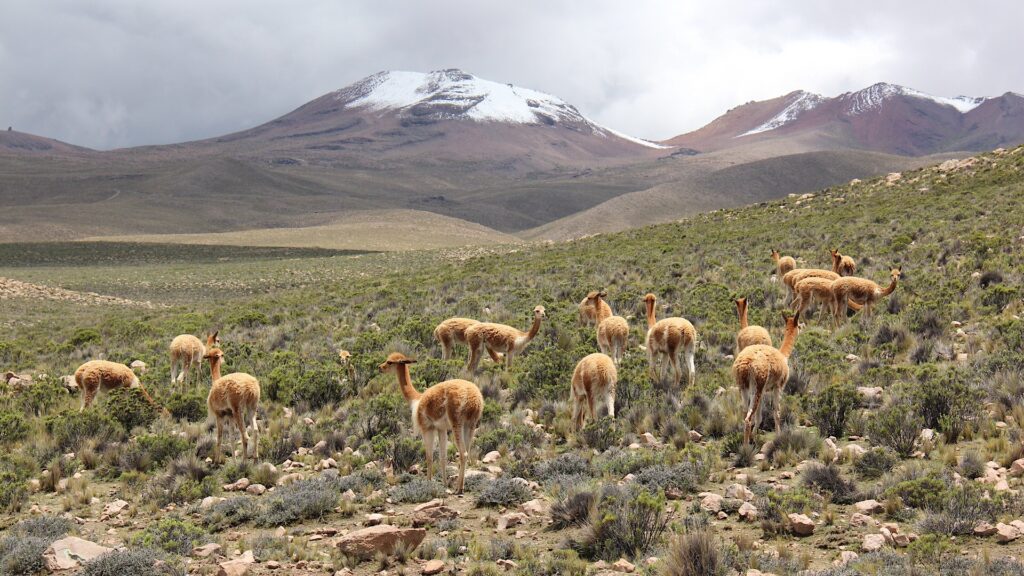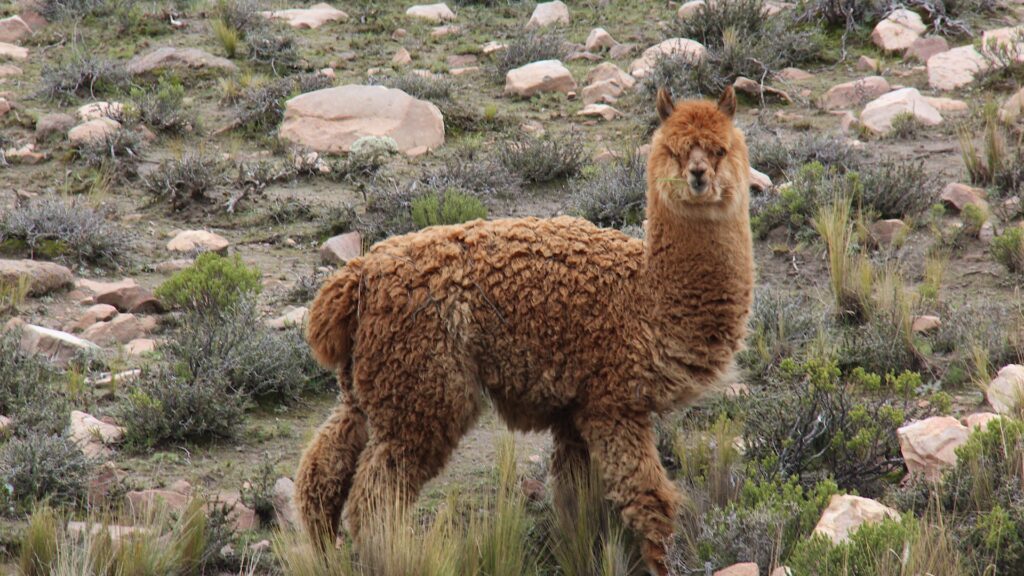 To think, even for a minute, that we actually considered NOT visiting the Colca Canyon is almost frightening. One of the deepest canyons in the world and spectacularly beautiful in its own right, the Colca Canyon is home to the Andean condor. Of course they are found elsewhere in South America, but not as reliably and not, as far as I know anyway, where they can be seen up close in their natural environment. The Cruz Del Condor mirador ( viewpoint ) at the deepest point in the canyon, an hour west of the town of Chivay provides just that opportunity – we were very glad we made the effort to go !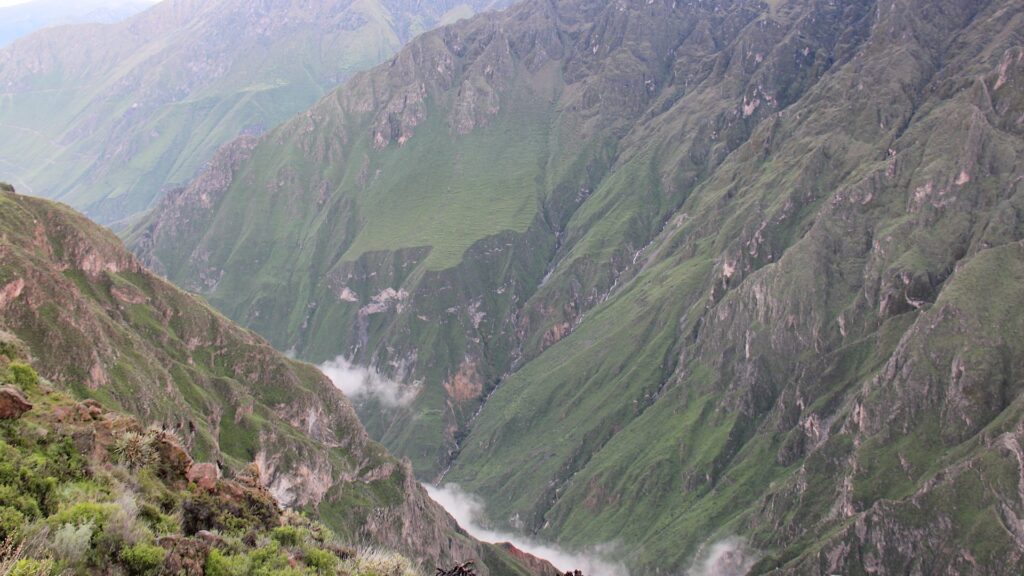 We almost didn't because it was over 3 hours out of our way, had been rainy and cloudy in the area, and the big birds don't always come out in those conditions. Two couples who we'd met earlier had little luck when they went and both also complained about the stiff admission fee to the park – actually more so about the racially based fee structure than the fee itself. See the picture below – it is blatant racial discrimination, and sanctioned by the Peruvian government no less ! To put this in perspective, it's akin to giving preferred entry pricing to the Grand Canyon to US citizens, doubling that for other Caucasian folks, but then almost tripling that price for non-Caucasian foreigners. It would be headline news. Apparently not an issue in Peru.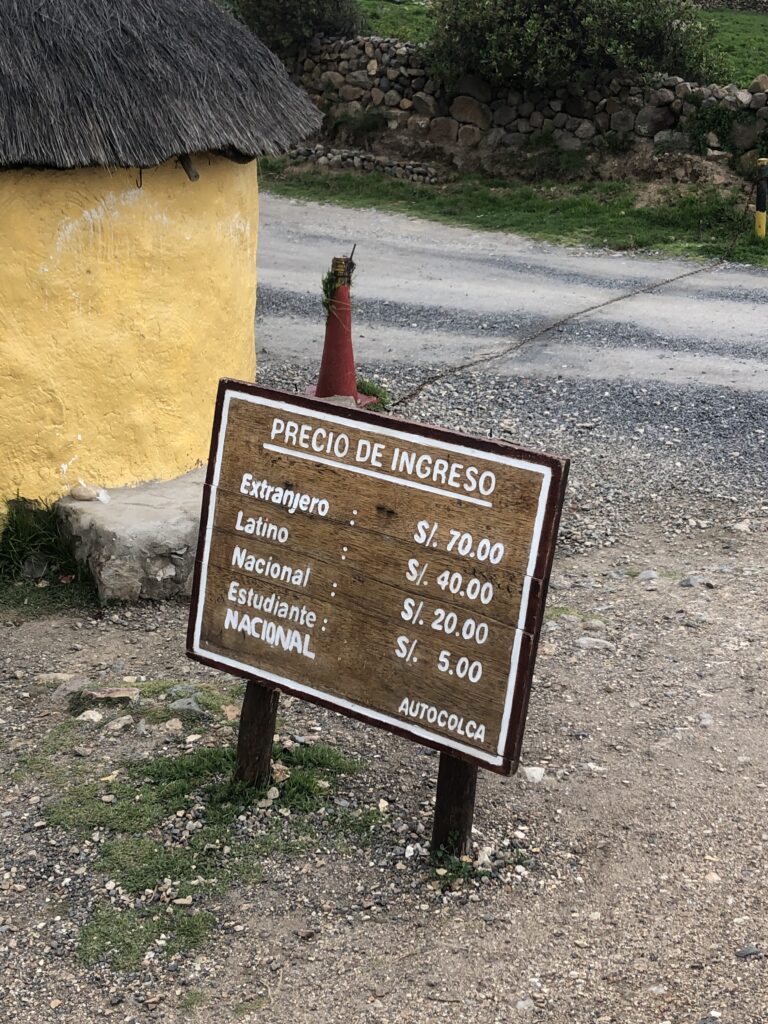 I'll let the pictures below tell the rest of the story but to say it was one of the best days and experiences of our trip so far would not be a stretch. Simply amazing ! A word of caution – between shooting many of the birds (mostly while moving) through a long telephoto lens and then having pixel size restrictions on the website, there is unfortunately significant quality degradation on many of the condor images below ( our originals are better ! )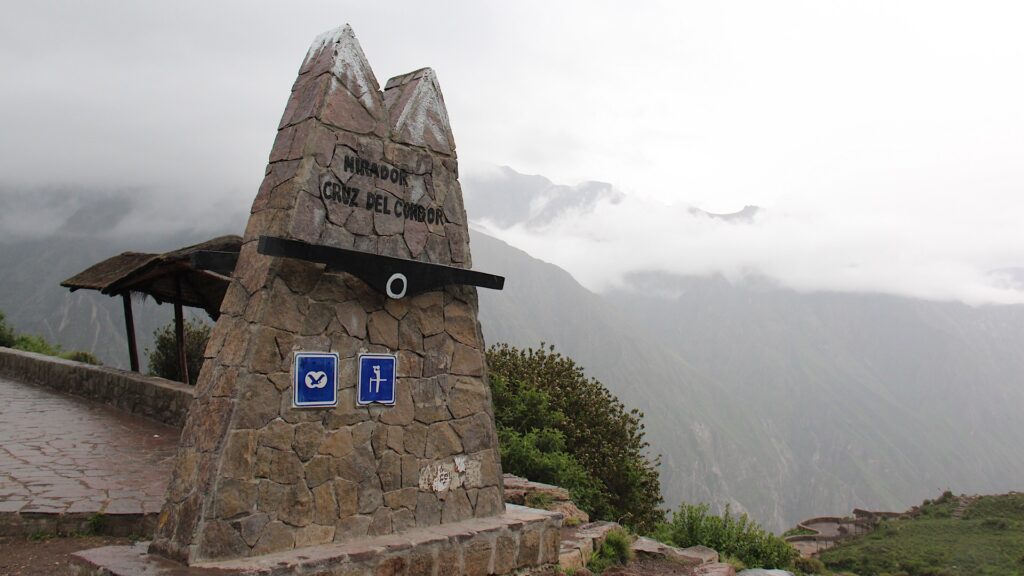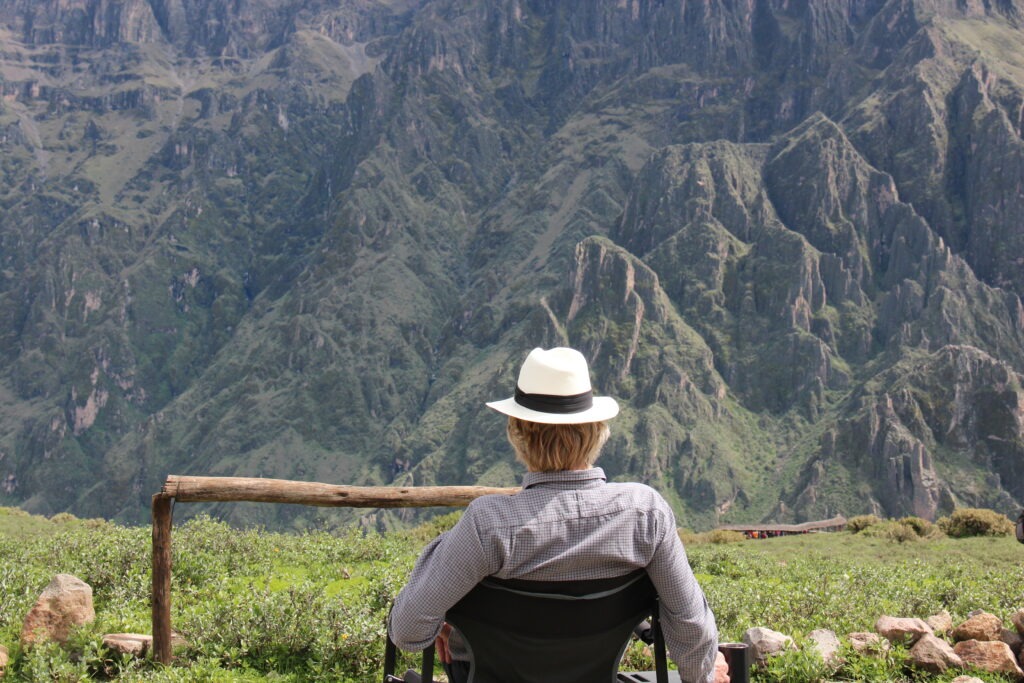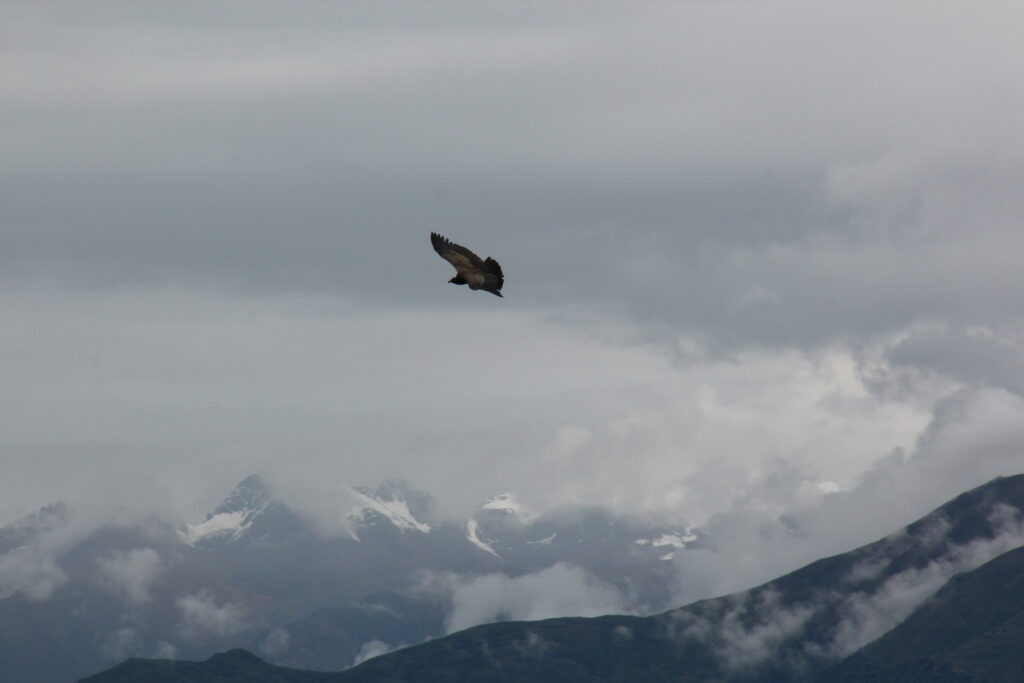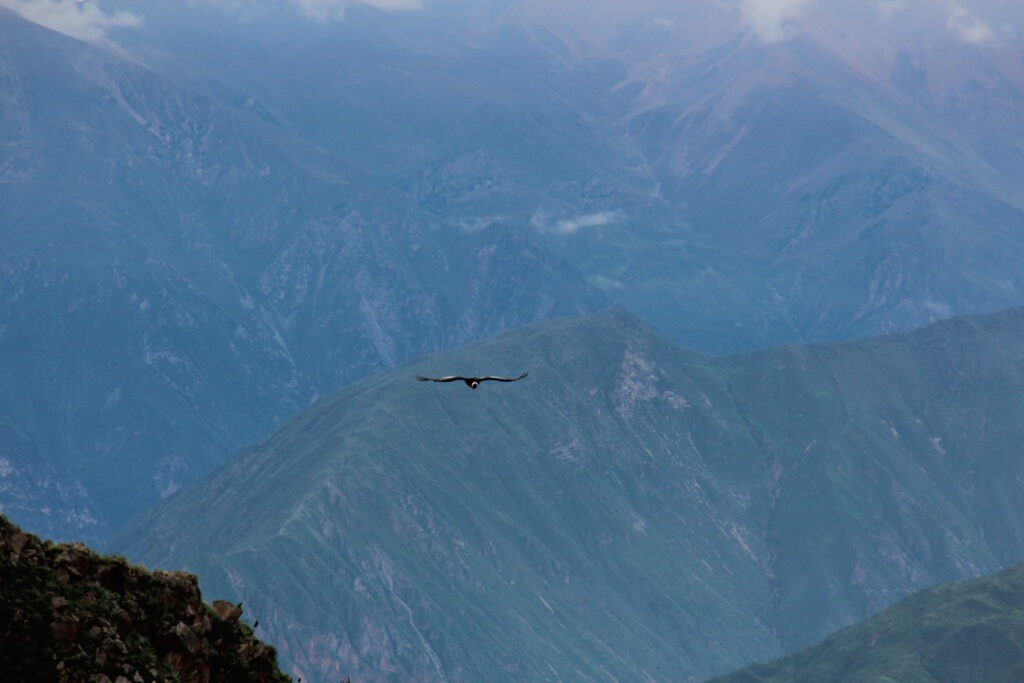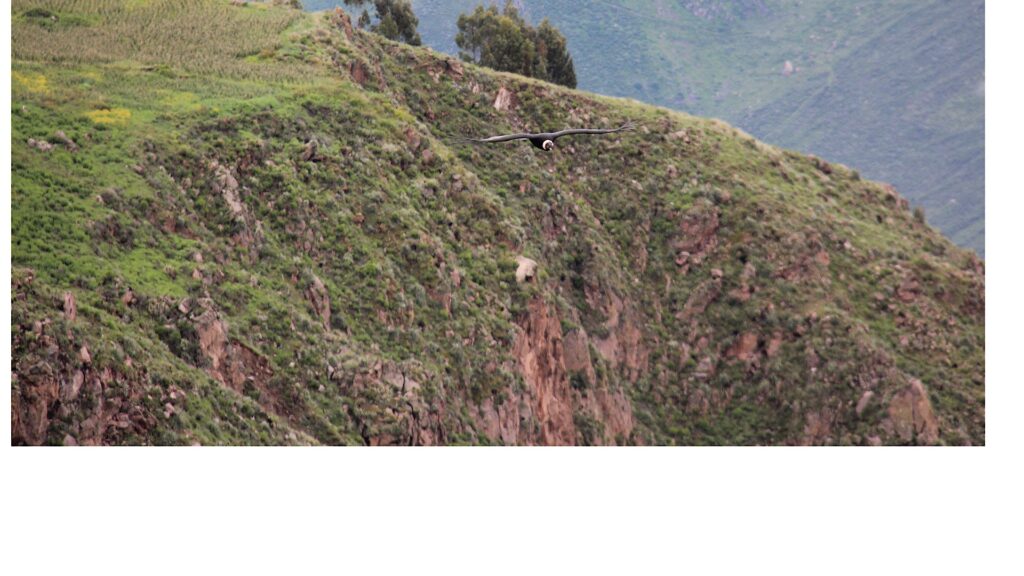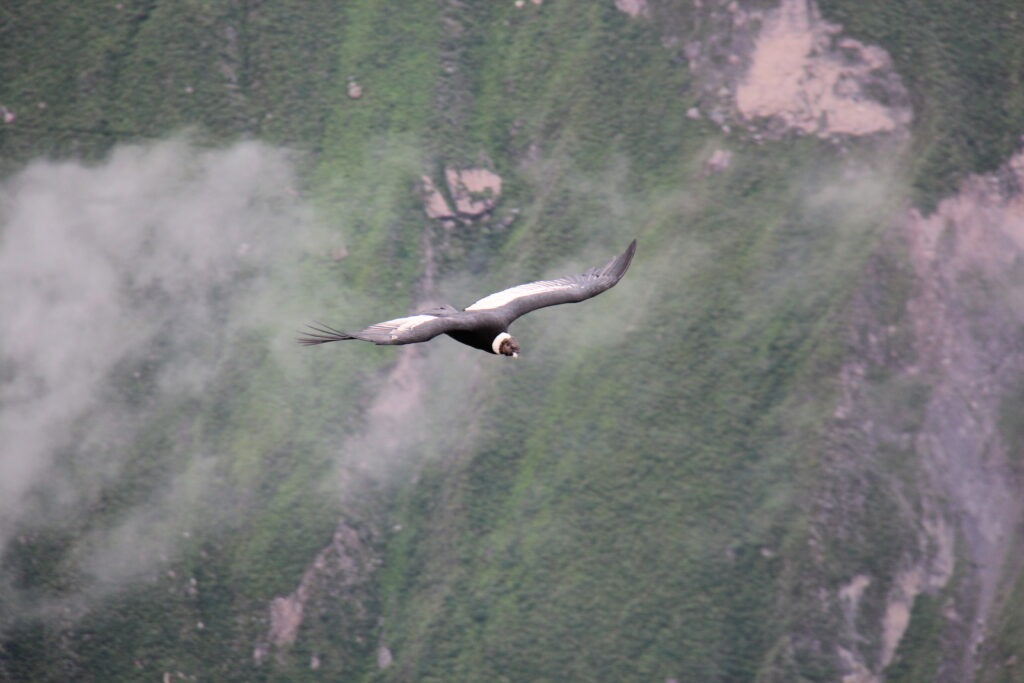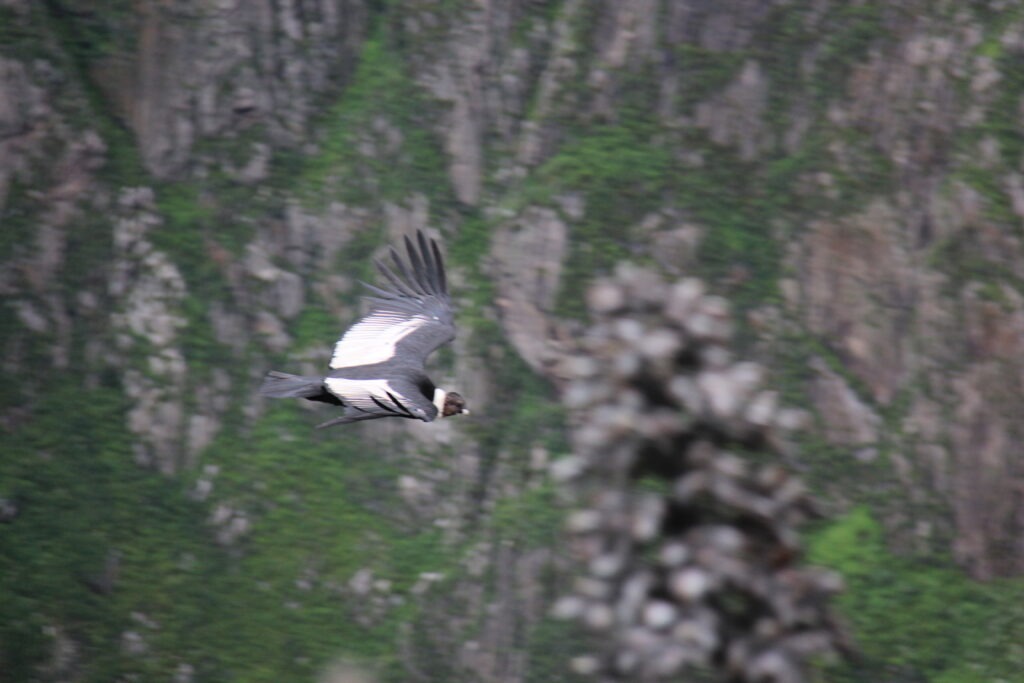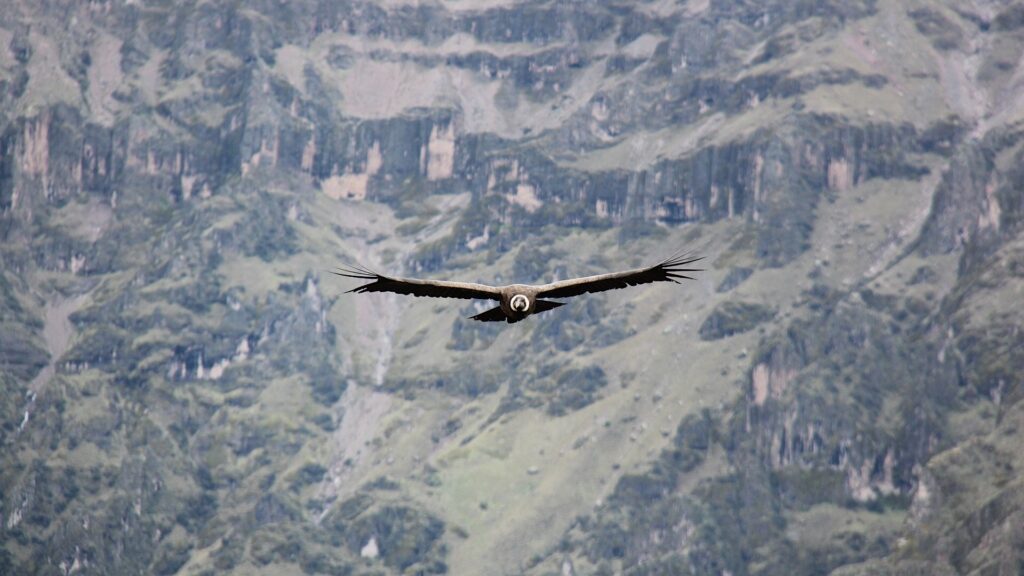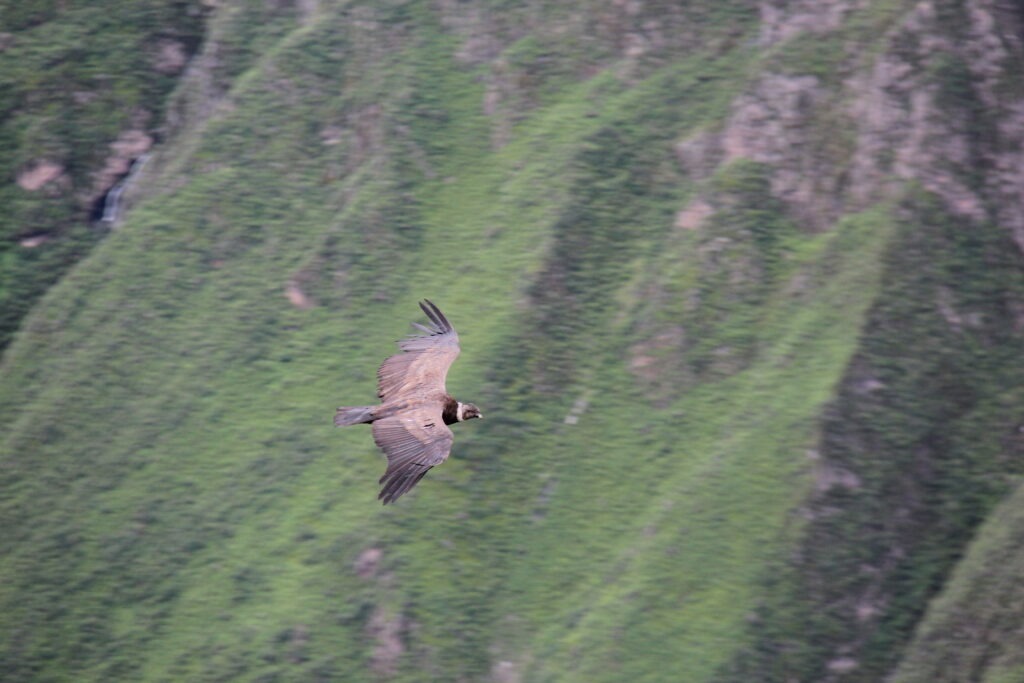 Watching them soar and fly by was thrilling but they sometimes come to land near the Mirador as well. Our lucky day – not only did one land nearby and sit for quite a while, he/she put on quite the show spreading its wings before taking off again. An unexpected delight !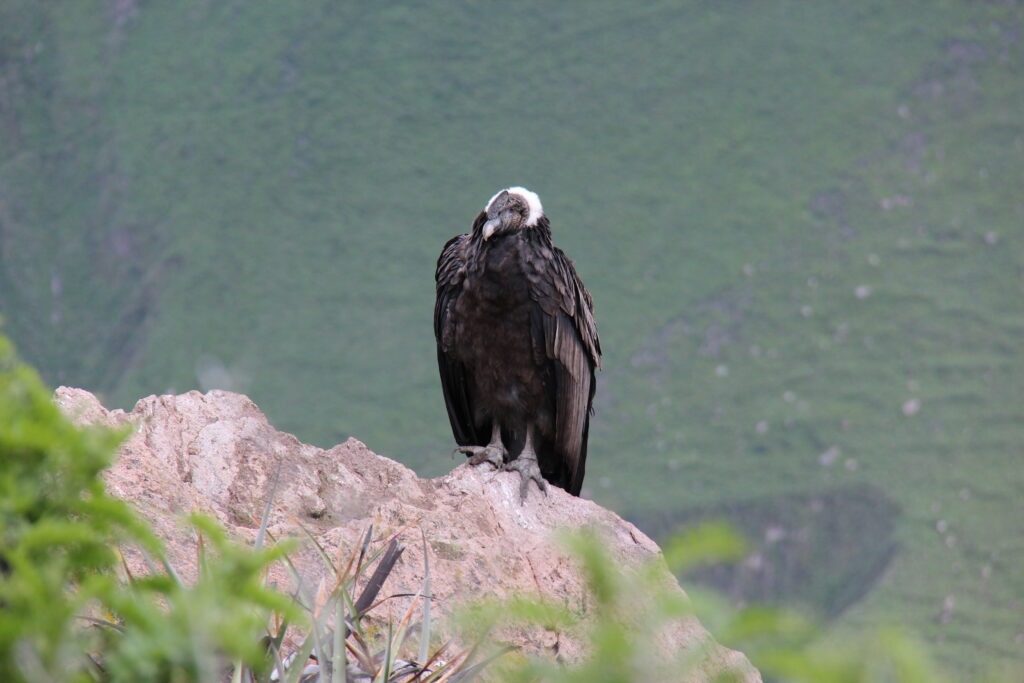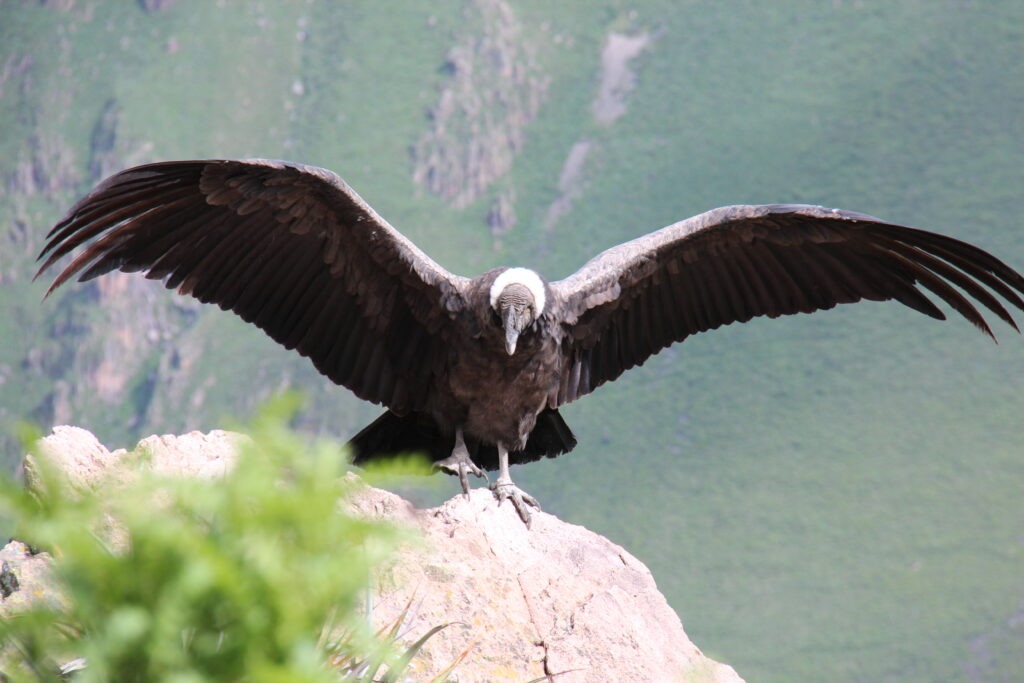 Probably one of our greatest wildlife viewing experiences, certainly of the avian variety. If you are in the area and even THINKING of visiting the Colca Canyon, just do it. Absolutely worth the effort.
Leaving Colca, there was no direct road to Cusco so our route was somewhat circuitous, involved a couple of hours of rough dirt track and took us up over 15,000 feet twice. Always a bit eerie when you're in those areas, up that high, traversing very barren landscapes and seeing no traffic at all. Not a place you would want a breakdown. To our complete surprise, in 7 degree weather, we drove through an area of snow and hail – not what we expected in "summer" in Peru, but there it was !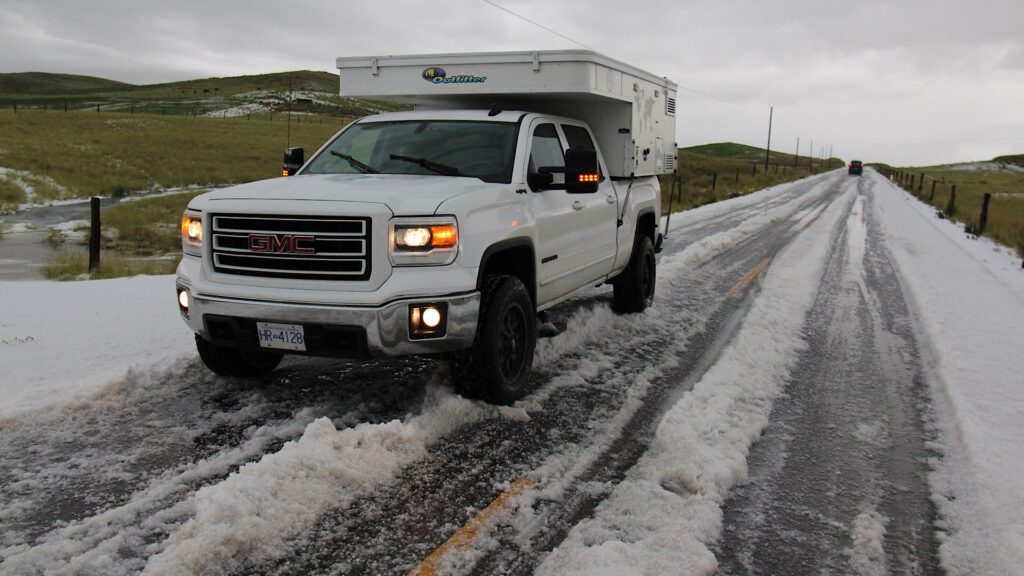 Cusco is legendary – no question about it. A UNESCO World Heritage sight, capital of the Inca empire, and a highlight on every South American travelers itinerary. While we had explored the city, nearby Macchu Picchu ( in our mind still THE most amazing of all the world's seven man-made wonders ), and the Sacred Valley with all its amazing sights during our first South American trip, we were still excited to revisit Cusco – it's the kind place that has a magnetic appeal and attracts people from all over the world – it consistently makes the list of the Top 10 world tourist attractions. This time we simply soaked up its ambience, wandered its many backstreets, connected with other overlanders and had some necessary vehicle servicing at the local GM dealer.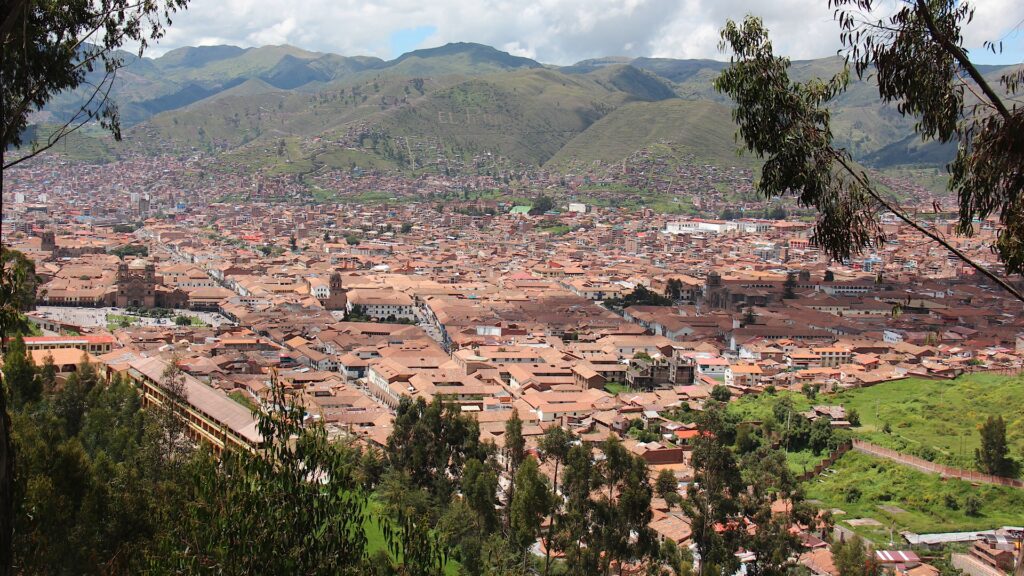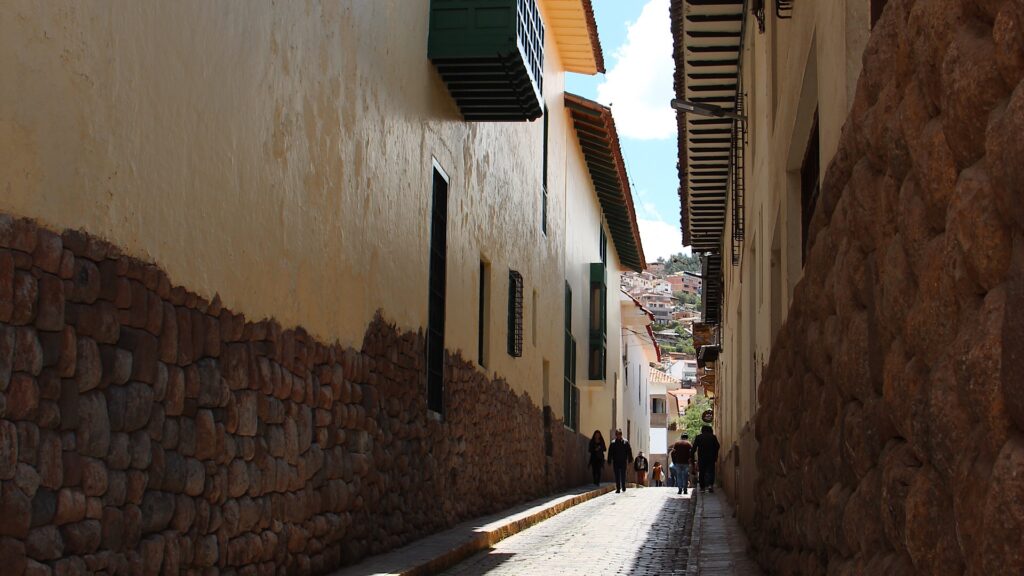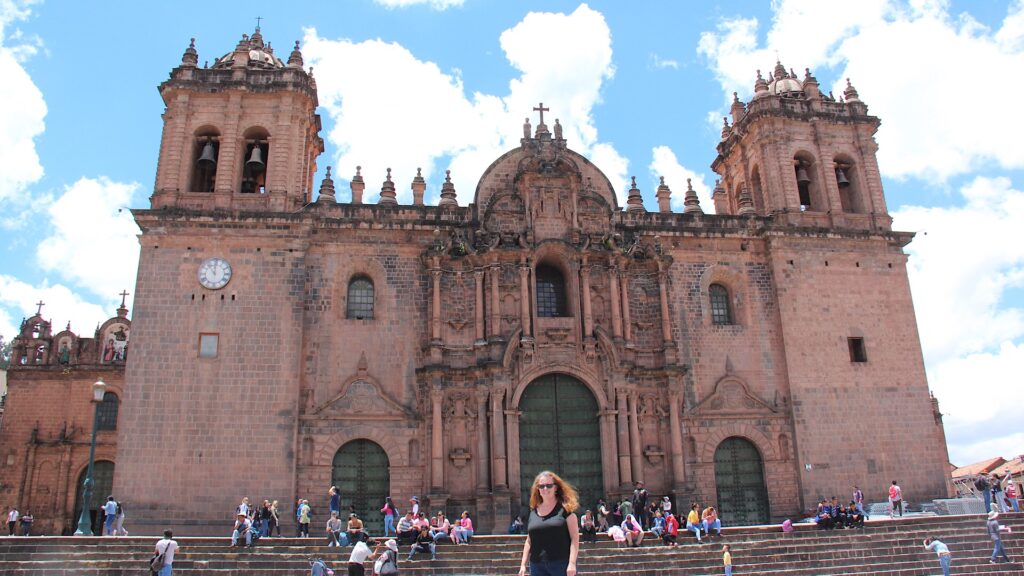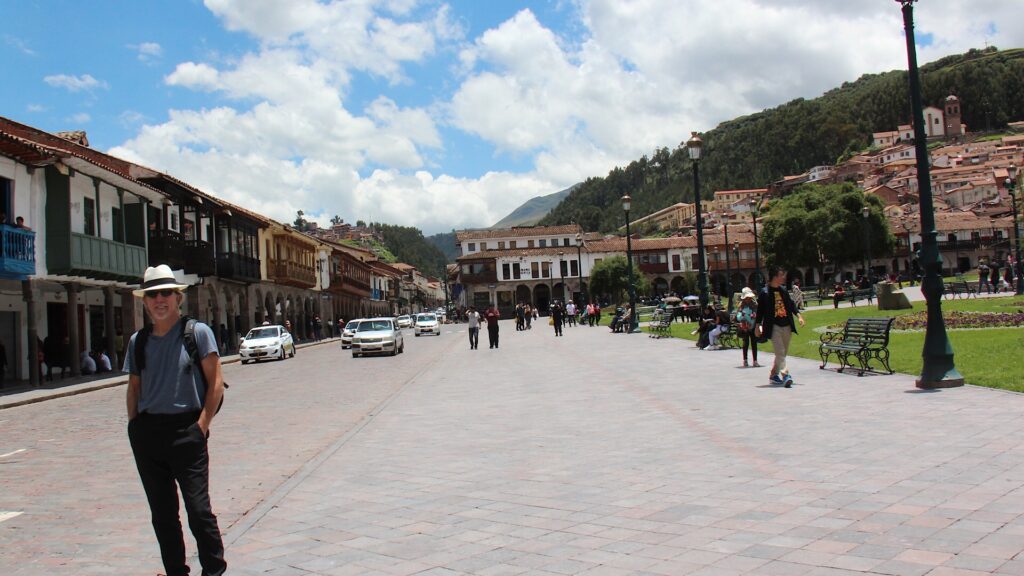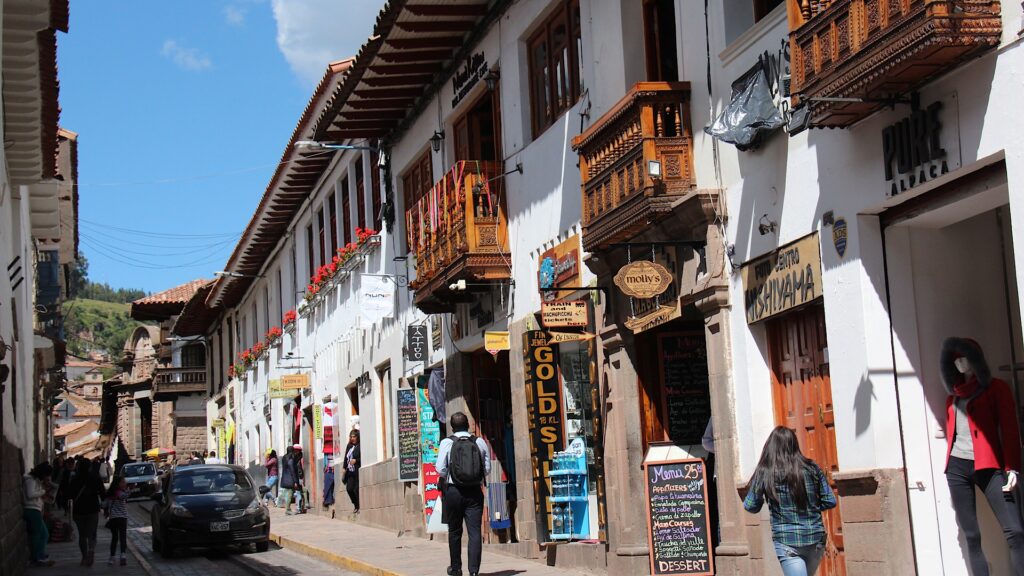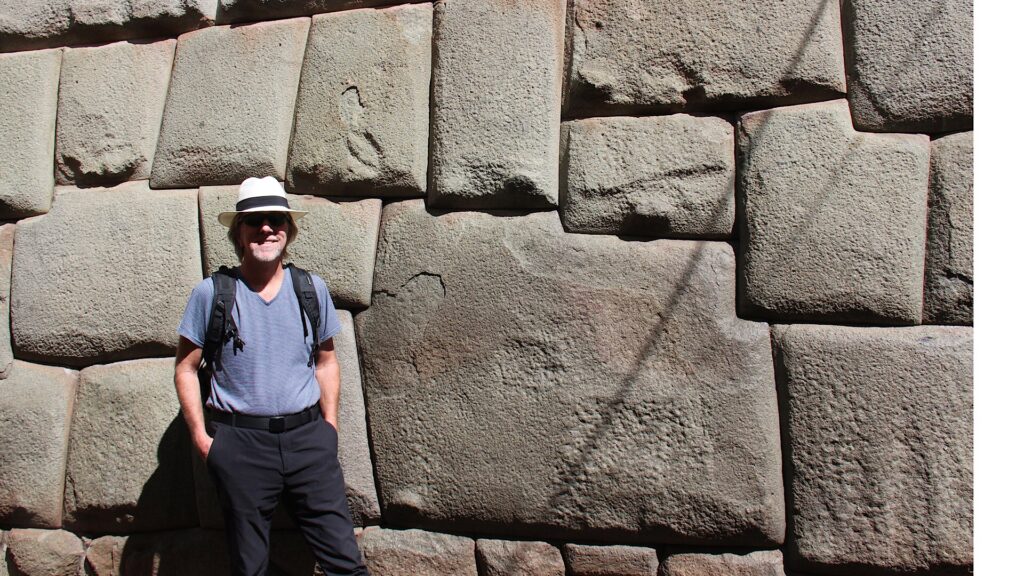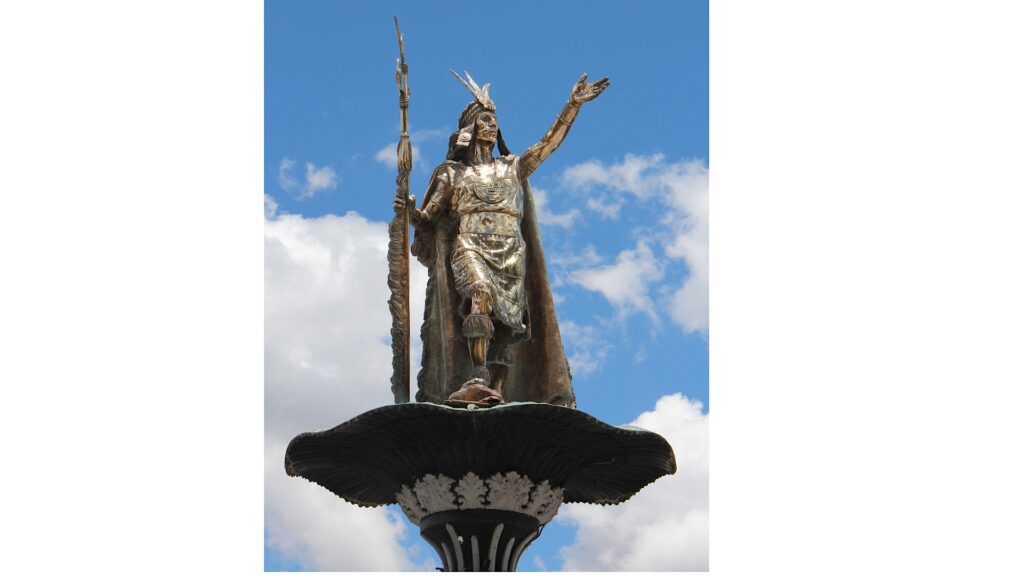 While it was wonderful to revisit Cusco and do a bit of the "tourist circuit", a key reason for coming was somewhat more "technical" in nature – it was necessary to have the local GM dealer reprogram the Electronic Brake Control Module on the truck. Turns out there had been a recall notice issued a couple of months back and since it affected brakes it was not something that could be ignored.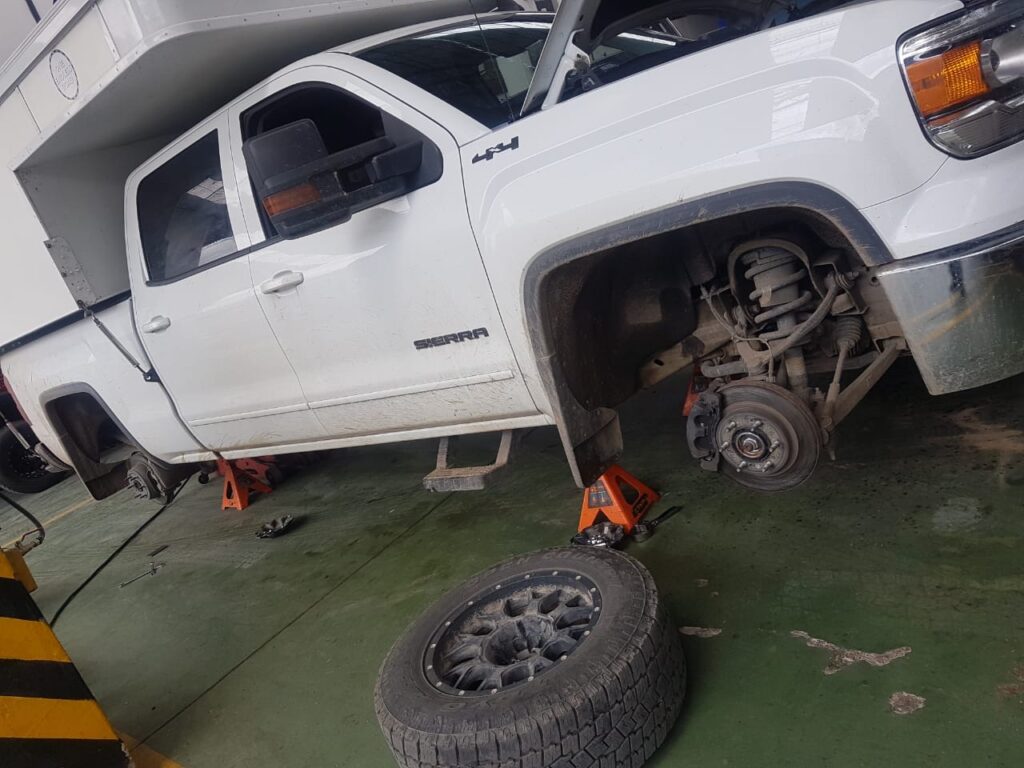 Easy fix if we were back in Kelowna, but GM Canada's vehicle coverage does not extend to South America. After telling them we were with our vehicle in Peru, and some pleading with their client service centre in Toronto, a GM dealer was identified in Cusco, Peru ( the aptly named "Inca" Motors ) who, it seems, had the diagnostic equipment to handle it. Also convenient since the 84,000 km general service was due and the front brakes were almost worn out. The truck spent a full day in their "shop" but now we should be good for another 12,000kms or so ( amazing how quickly those intervals roll around when you are permanently travelling).

One of the great sights of Peru we wanted to catch this time was Rainbow Mountain ( known as "Vinikunka" in Peru ) an incredible multi-colored mountain south east of Cusco. It's high, at 5,036 meters and you can't drive all the way but it is a spectacular sight…..the colors are stunning and make the strenuous hike to the top well worthwhile.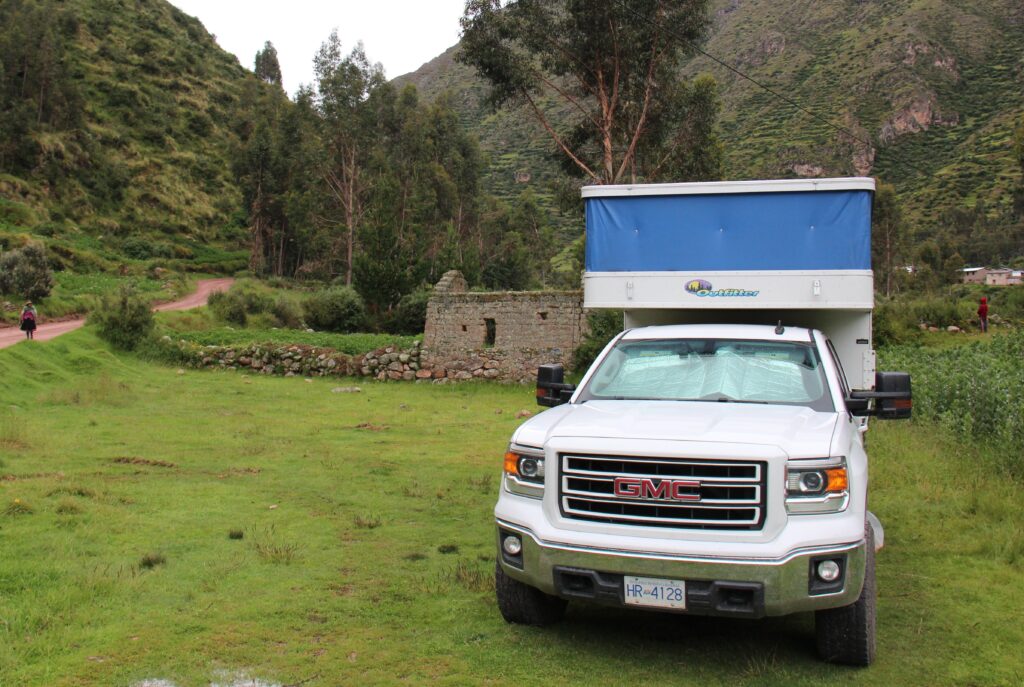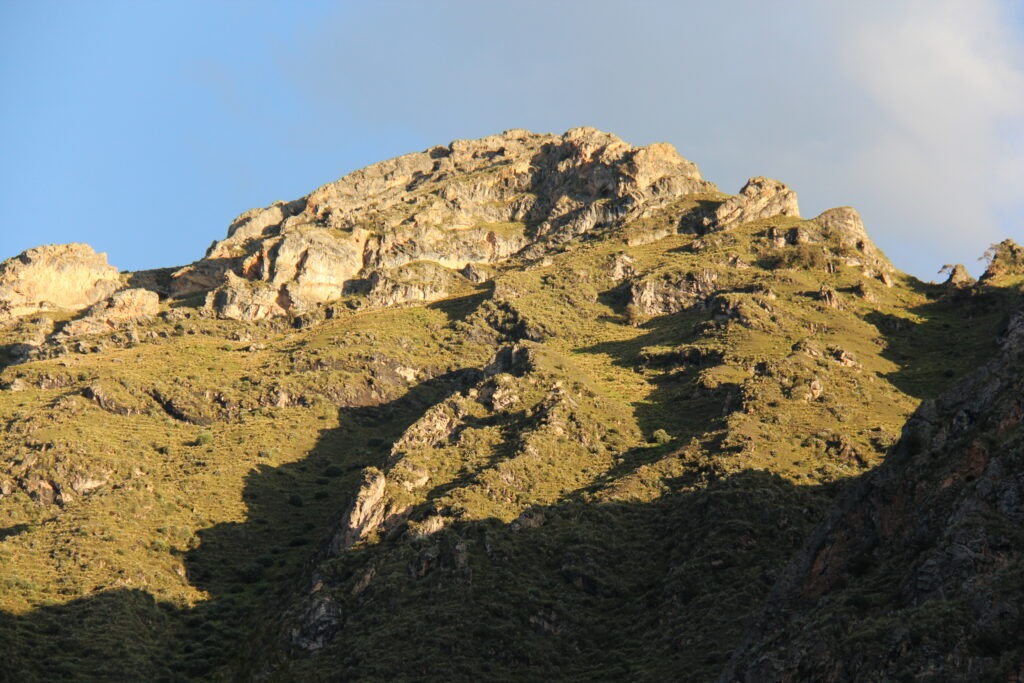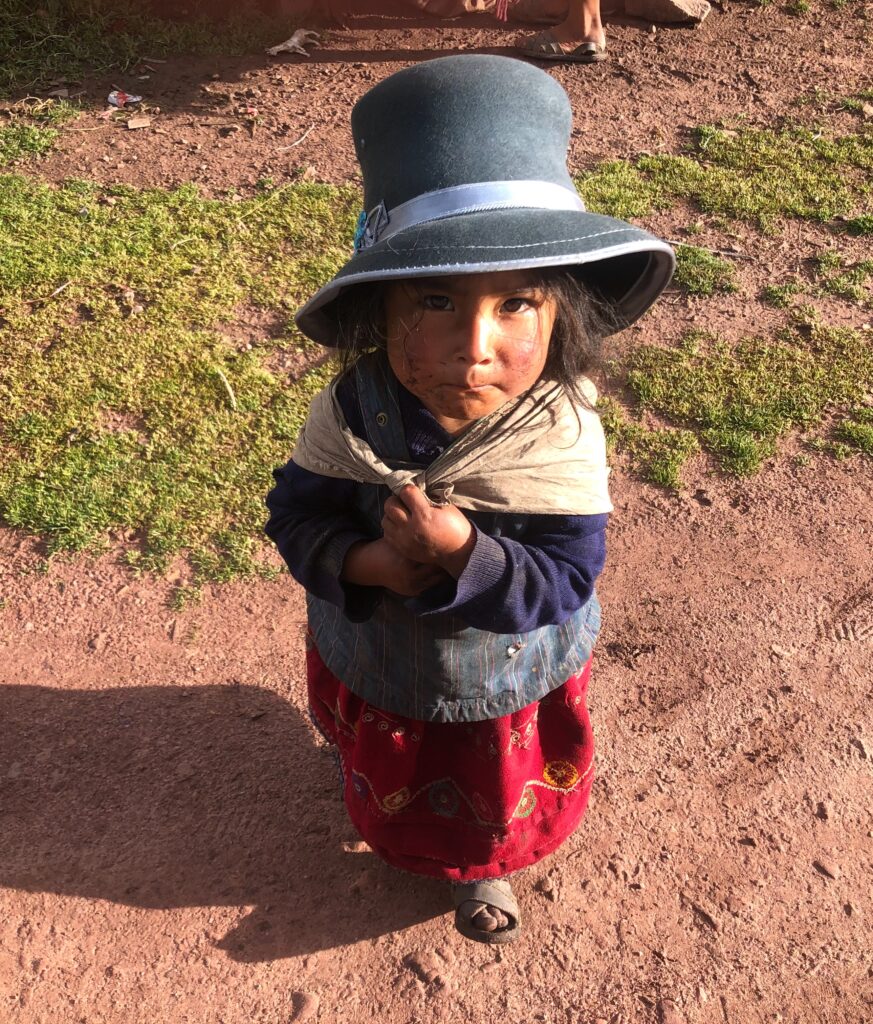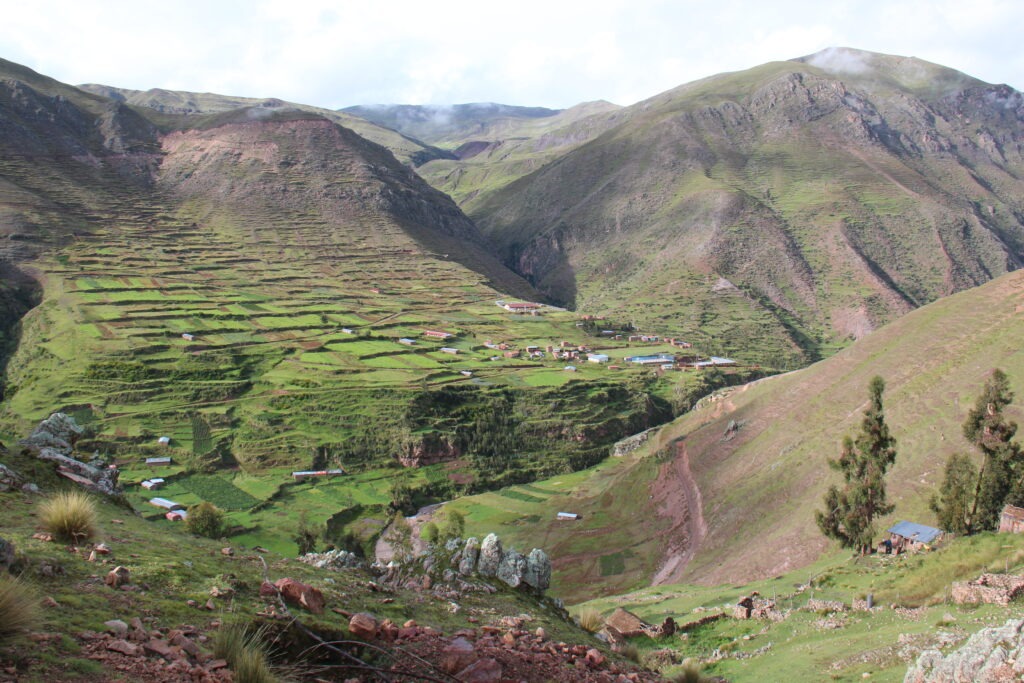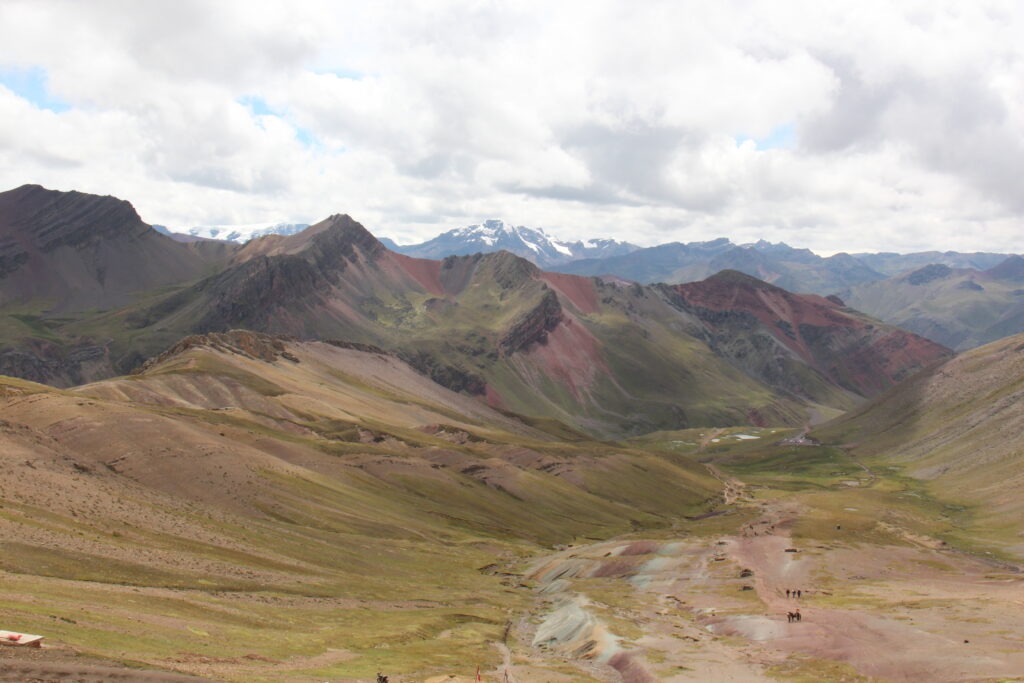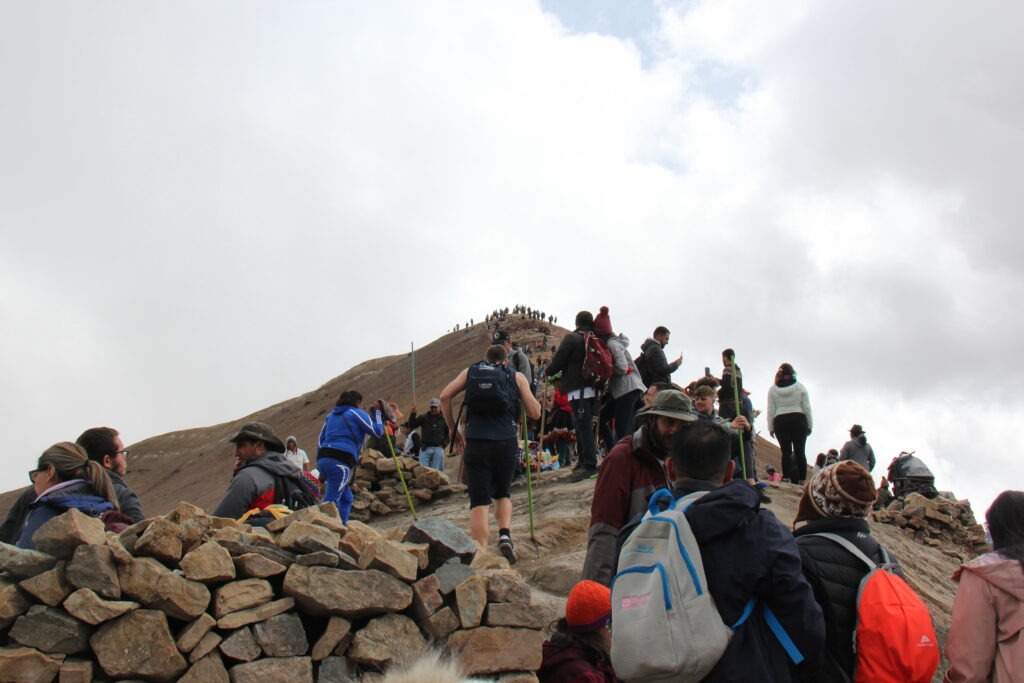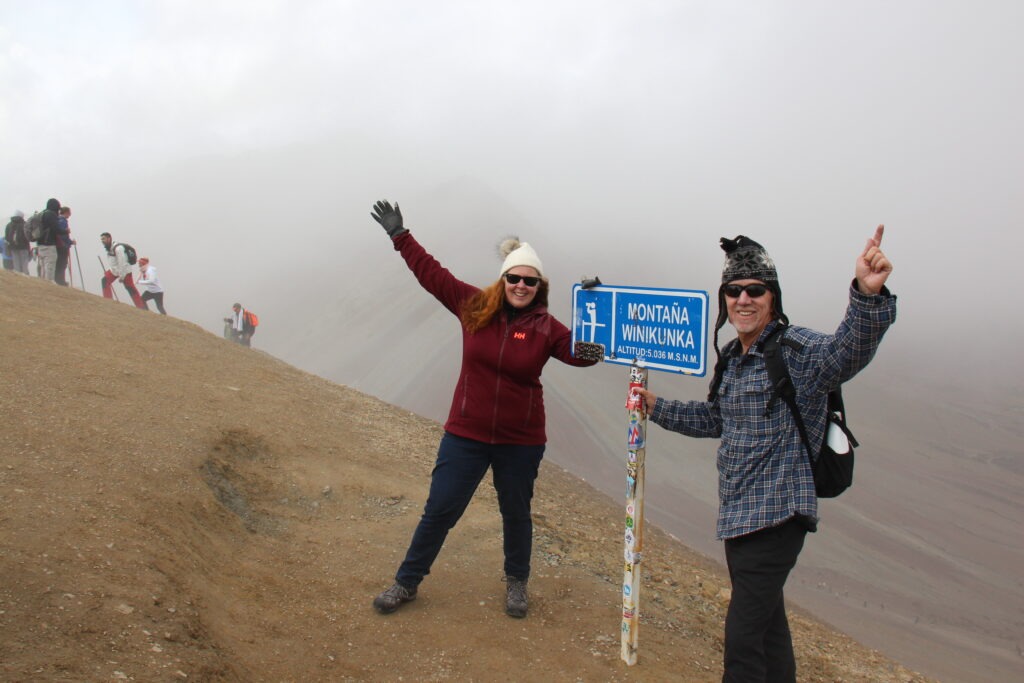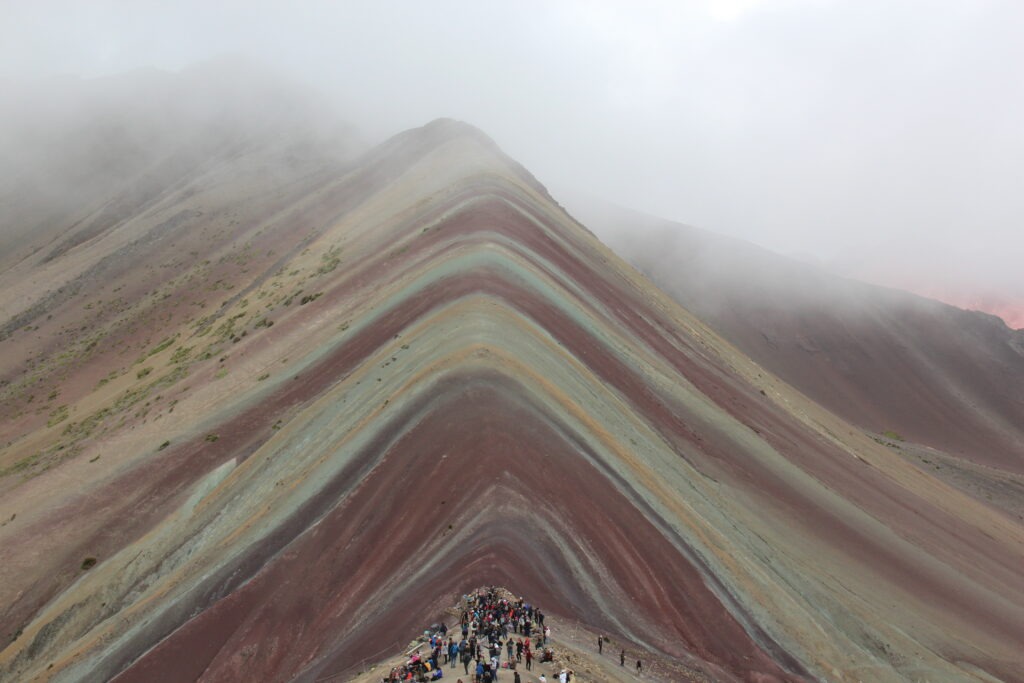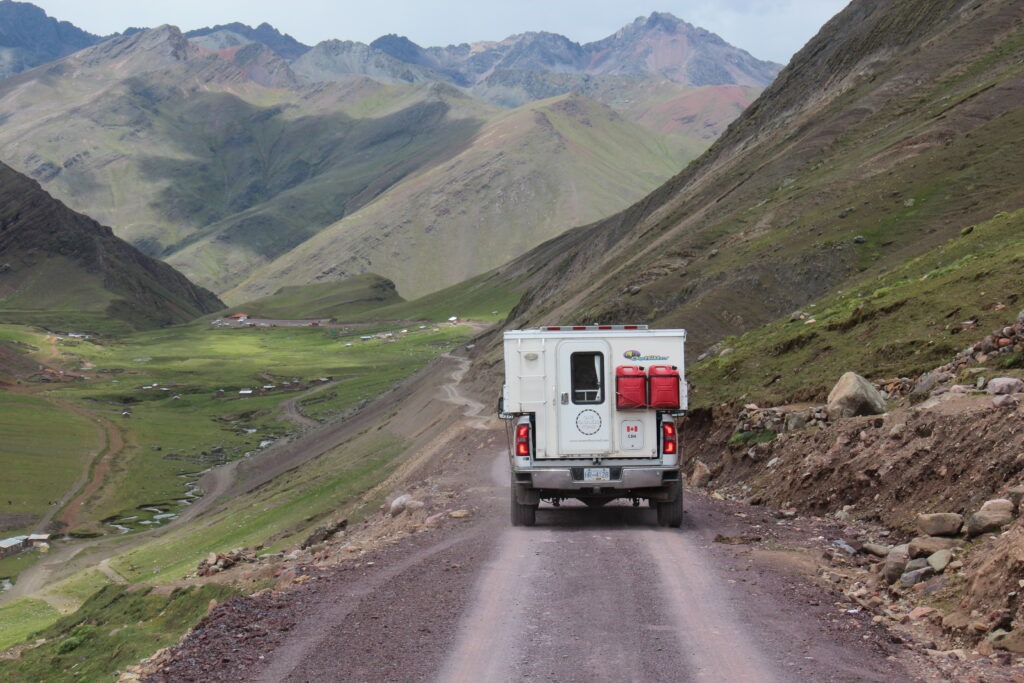 One of the great joys of travel is the interesting people you meet. As we walked back to the truck after the hike to Rainbow mountain, we struck up a conversation with a young American fellow. As always the conversation got around to what you did "back home". "A little theatre", was his initial answer. Curious, I probed a little further. "Anything famous ?", I asked. Now, anything to do with Broadway, in New York, I would consider quite noteworthy, but when the guy you are speaking with is Clinton Greenspan, who had just finished a season playing Aladdin, in Aladdin, you are in the presence of theatre royalty ! Below is a link to a review with his picture in costume and below that a picture of him hiking with us on Rainbow Mountain.
http://www.playbill.com/article/clinton-greenspan-is-title-star-of-broadways-aladdin-beginning-september-13