From Rainbow Mountain it was only a few hours drive south to Puno and then on to Bolivia via scenic Lake Titicaca. Arriving in Puno with time to visit the Uros islands we hopped on a short "tour" of the Uros  (floating ) islands. Home to an indigenous group that for  centuries have lived on islands made of reeds ( they also construct boats of the same material ), it's a highly "hyped" attraction but has become extremely commercialized with much more focus on selling trinkets than providing anything close to an authentic experience. I suppose once in a while you have a "fail" – this was one of ours…!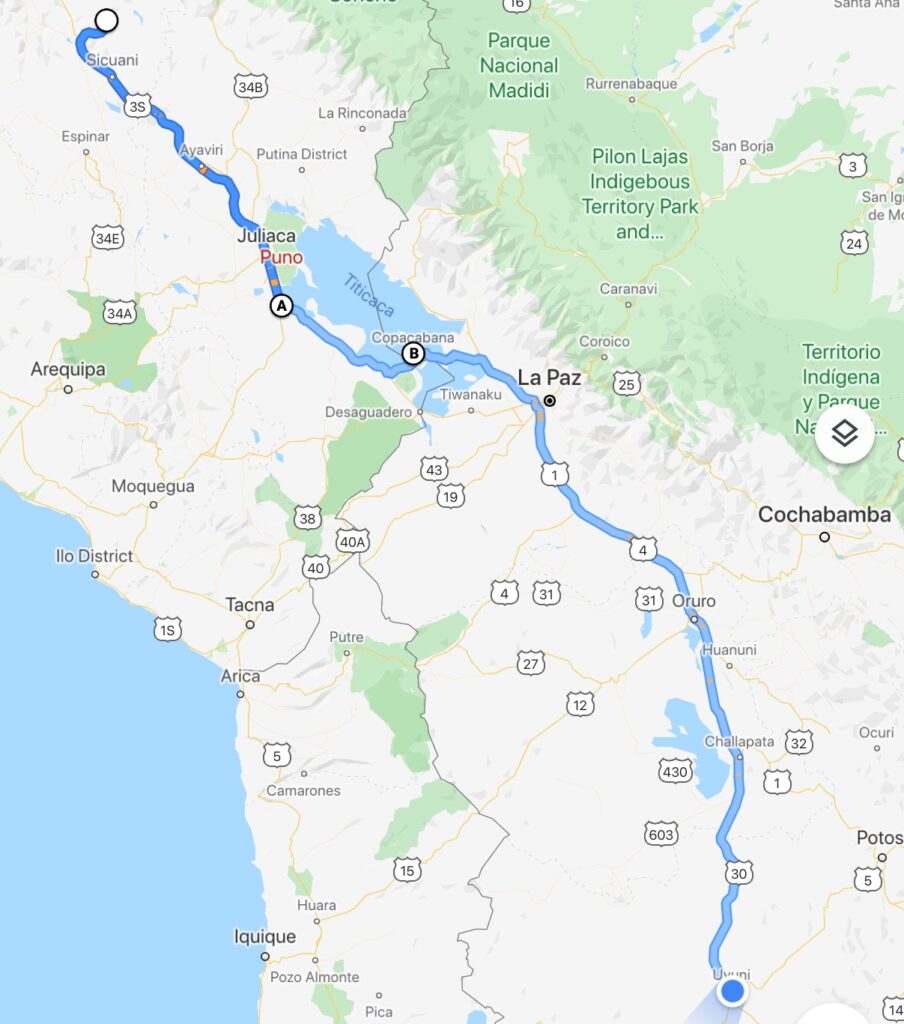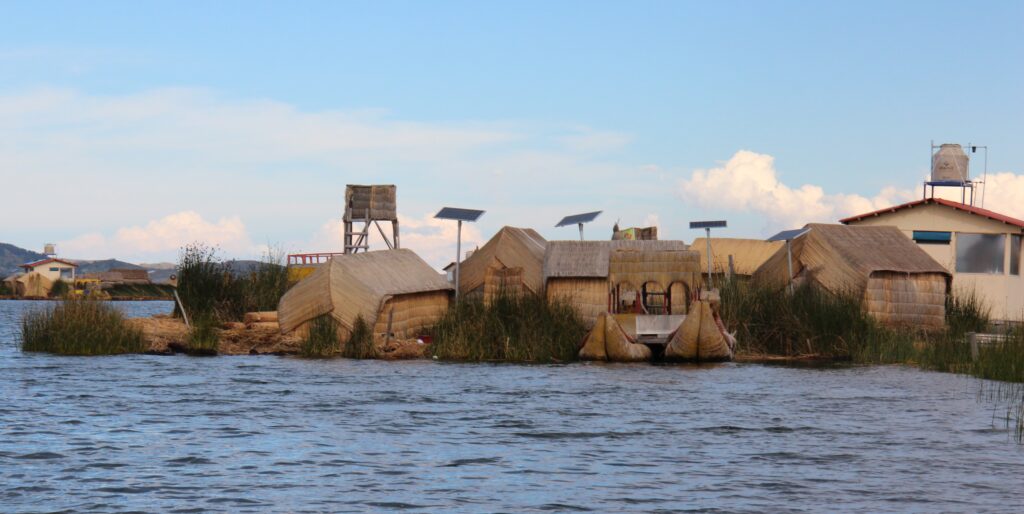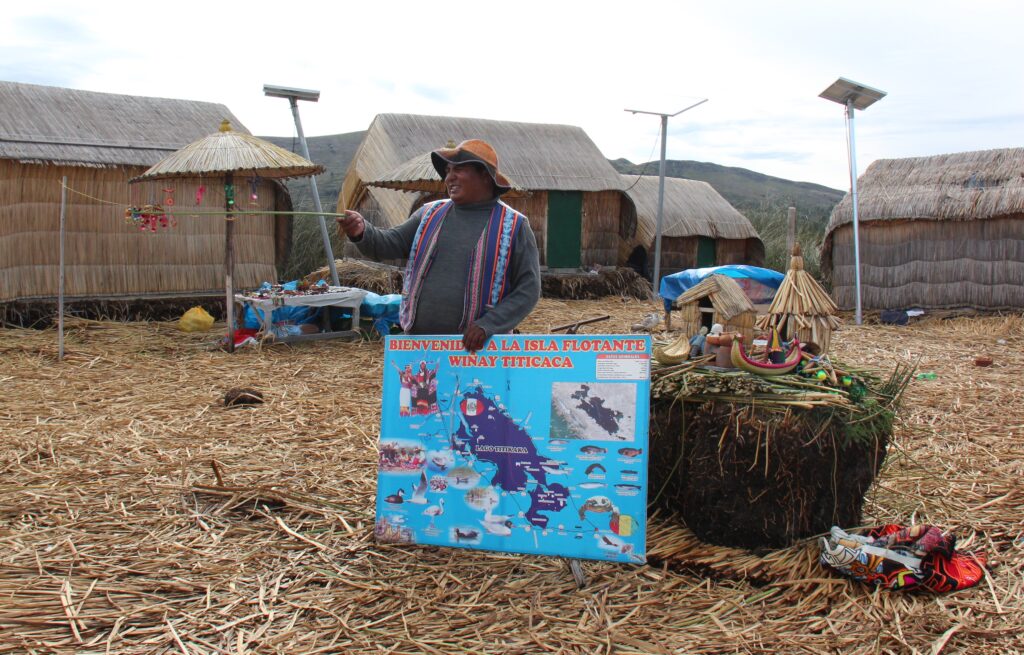 Staying just outside Puno before the Bolivia crossing, as luck would have it we bumped into a couple of fellow Canadian overlanders we had last met in Mexico – John and Kayoko. They have been on the road almost exactly the same period of time as us and travelled much the same route, so we had some serious catching up to do – it was great to connect again.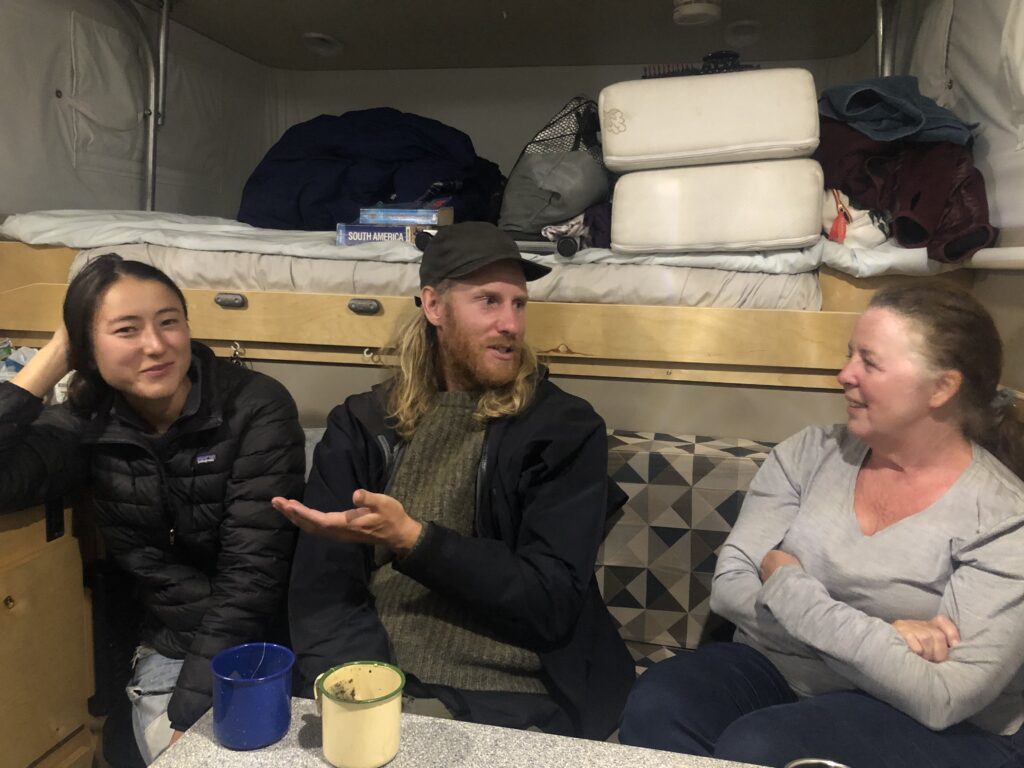 Bolivia beckoned and we were genuinely excited to be back – not just because we were happy to exit Peru but because we had such fond memories of it. It's definitely an overlander favorite and easy to see why. Previously we had entered from Chile in the south and travelled north via Uyuni, detouring to Potosi, Sucre and Cochabamba and on to La Paz. This time the plan would be a more direct route, south, crossing via the resort town of Copacabana, on to La Paz and then directly south to Uyuni – the primary aim for us in Bolivia would be to travel the Salar de Uyuni and then likely take the Western Lagunas route to Chile in our own vehicle. Much preparation would be in store ! Backup plan would be to enter northern Argentina through Tupiza in Bolivia, Tupiza reportedly being the location of the final shootout of Butch Cassidy and the Sundance Kid.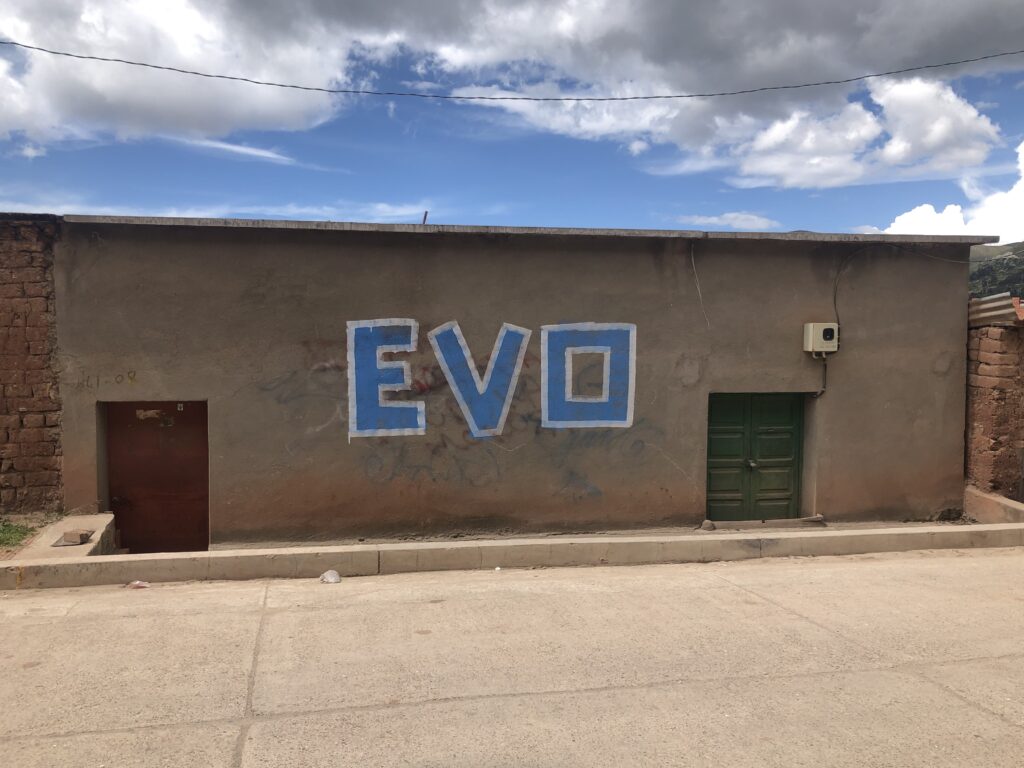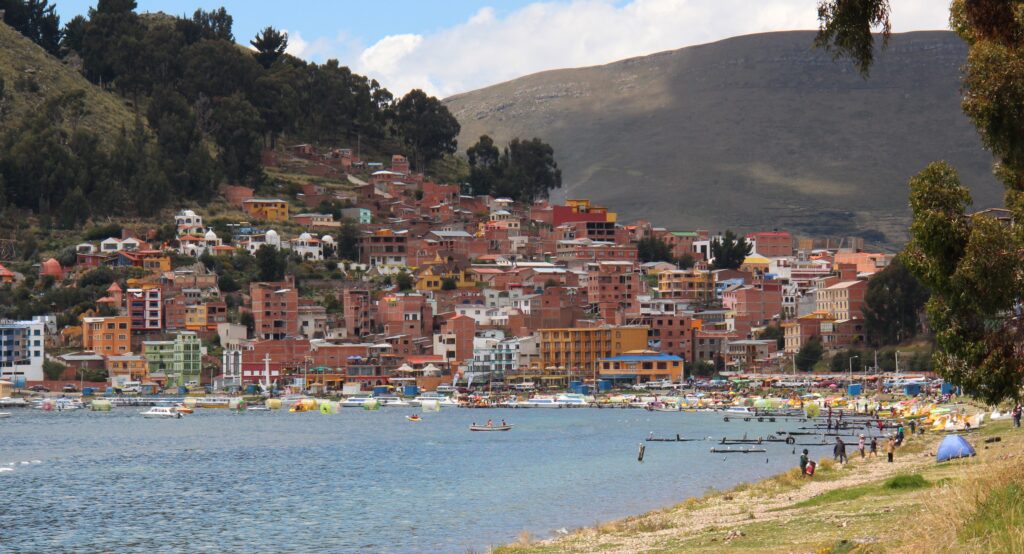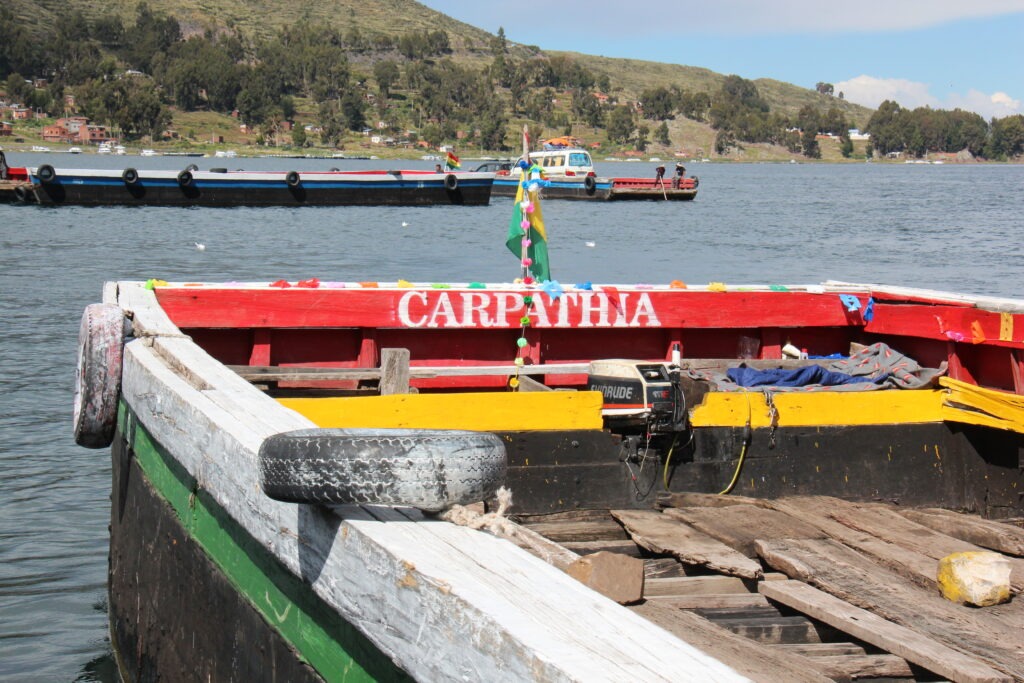 But first we had to get to La Paz and Google Maps had given us a tortuous route through the city that put us in the middle of a Sunday flea market where roads were closed. Not the first time it has led us astray. Getting out of that was no fun, in fact, it was one of the most stressful city drives we have had to date. The rerouting and heavy traffic had us traversing downtown La Paz in the dark, something we avoid at all costs as a rule. No fun, but we survived !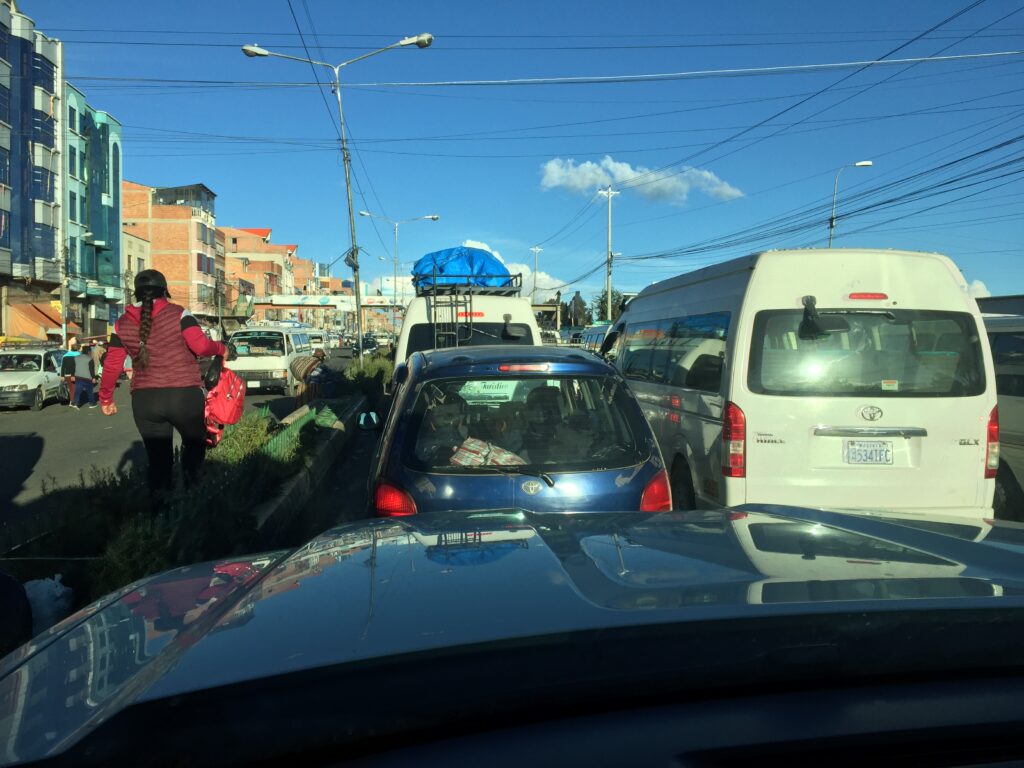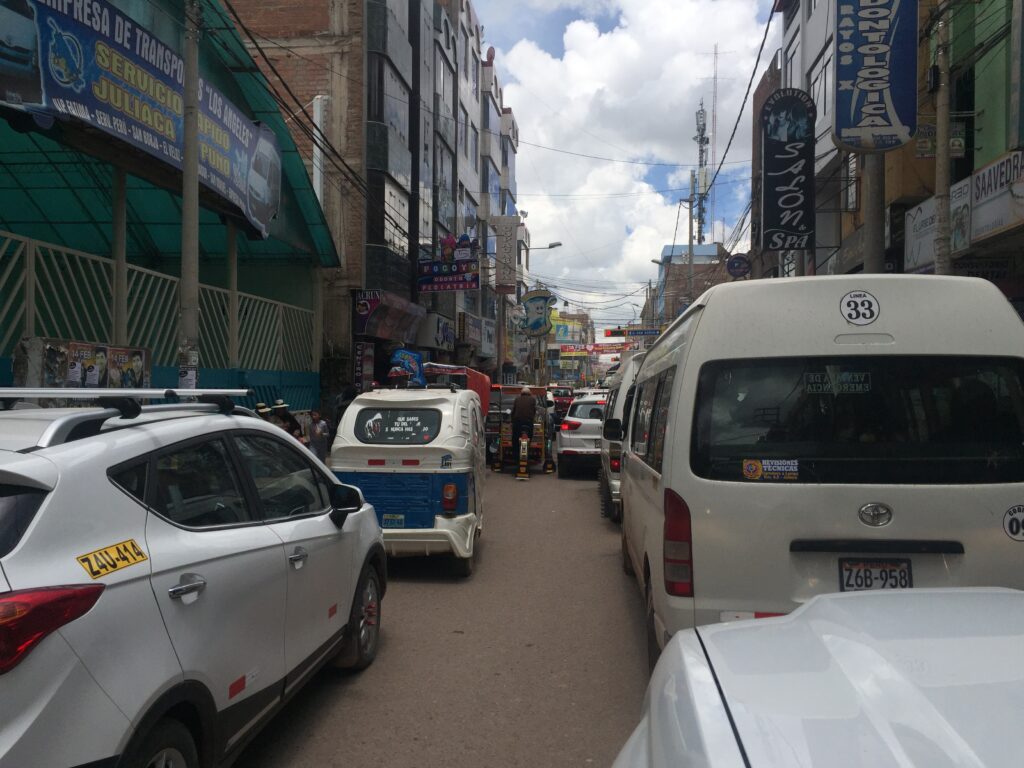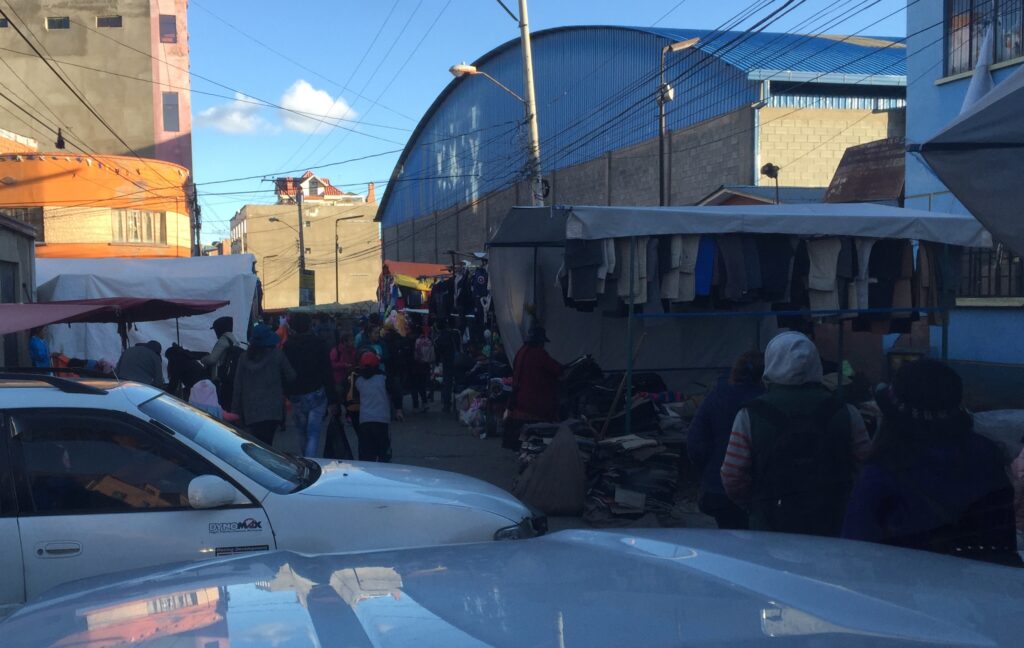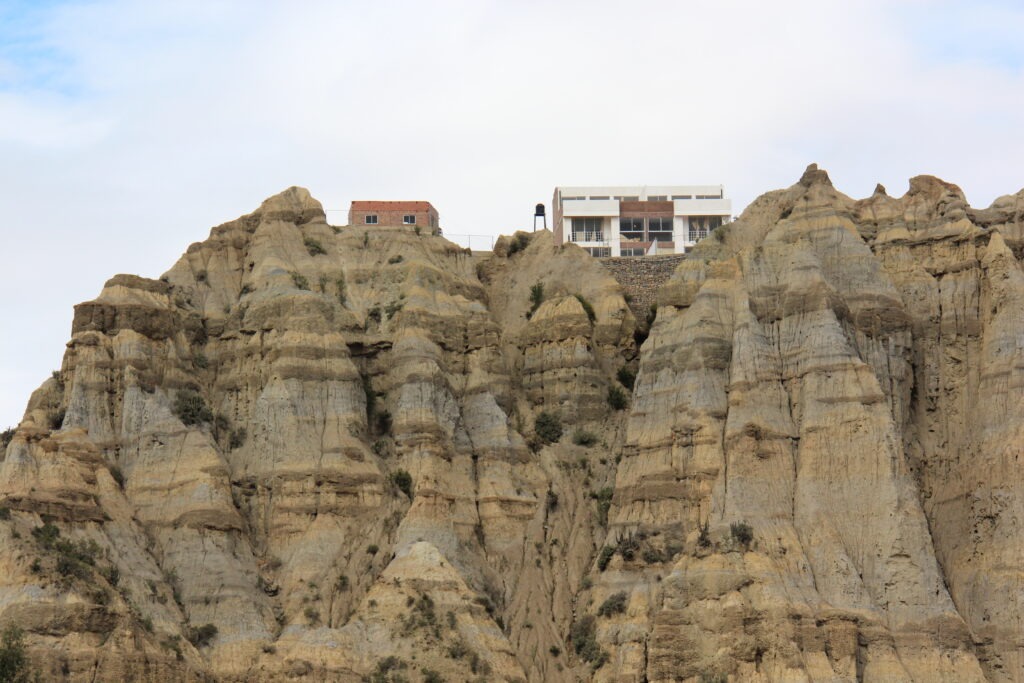 After resting up in La Paz at the excellent Camping Las Lomas and getting some sage "Salar" advice from our host Marcos ( who has travelled the Salar extensively ), we set off for Uyuni. The drive south was uneventful, Oruro being the only major city en route ( and not noteworthy in any obvious way other than being the only city where we have seen traffic lights in a roundabout ! ). As we neared Uyuni the terrain became more scenic with what looked like acres and acres of farmed flowers.
Uyuni is famous really for one thing – the legendary salt flat ( "Salar" ) that bears its name and at 10, 582 sq kms, is the largest in the world. It is a truly incredible sight and was one of the standout natural wonders from our initial trip to South America. Well, that, a "train cemetery" and some truly eclectic Marxist looking street art I should say – check out the images below. Other than that it is pretty much a rough and tumble, dusty frontier type town.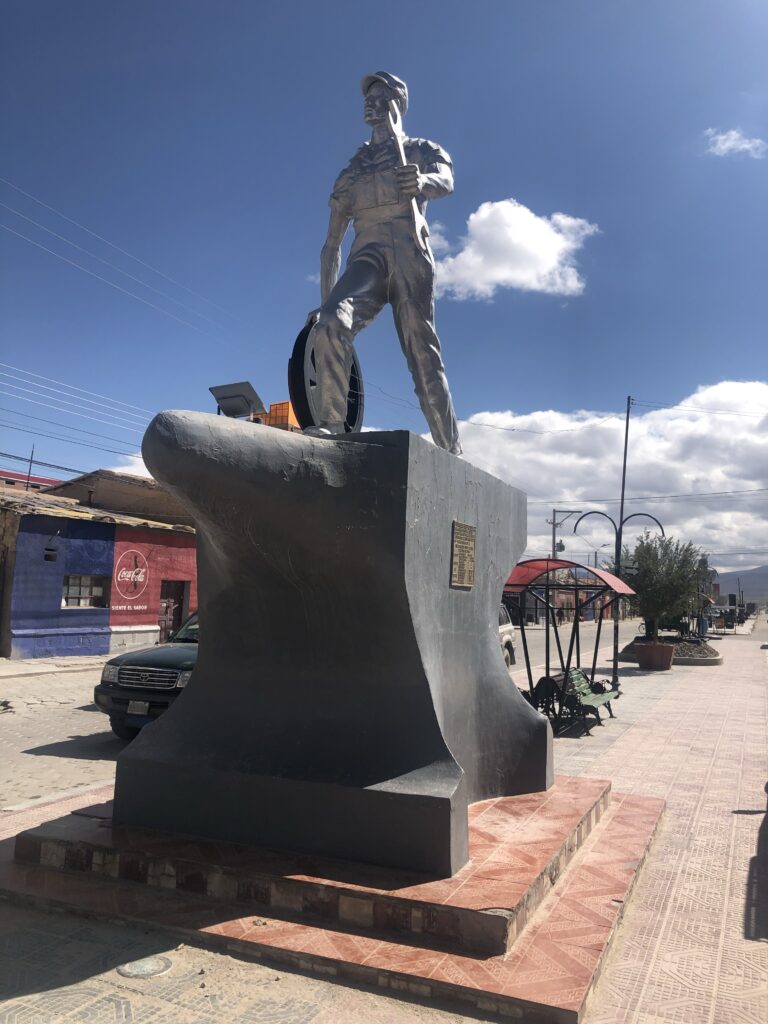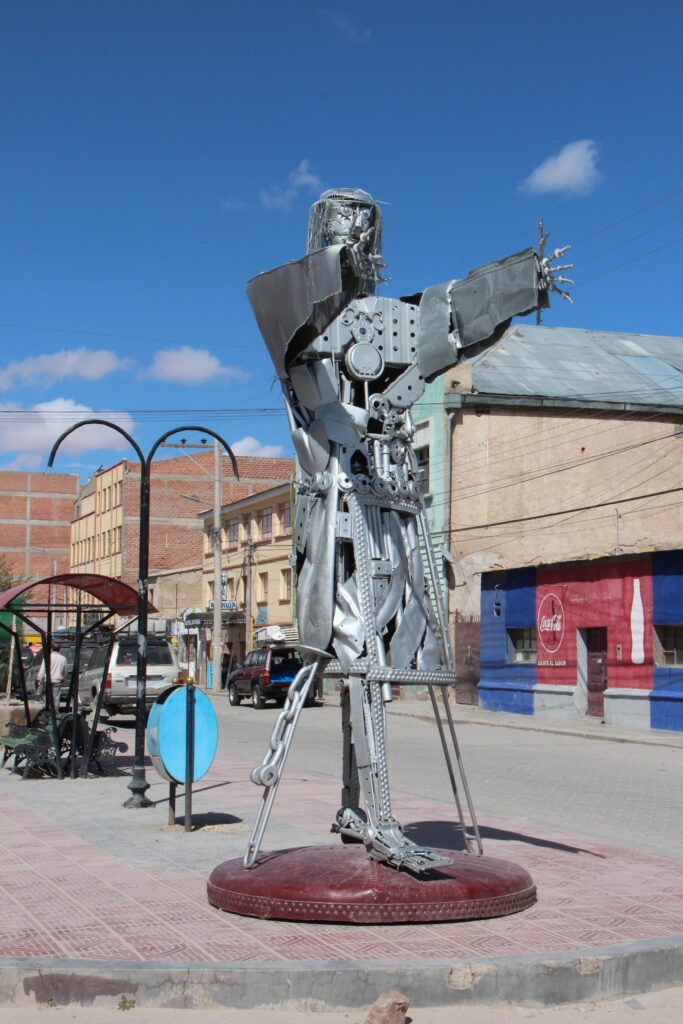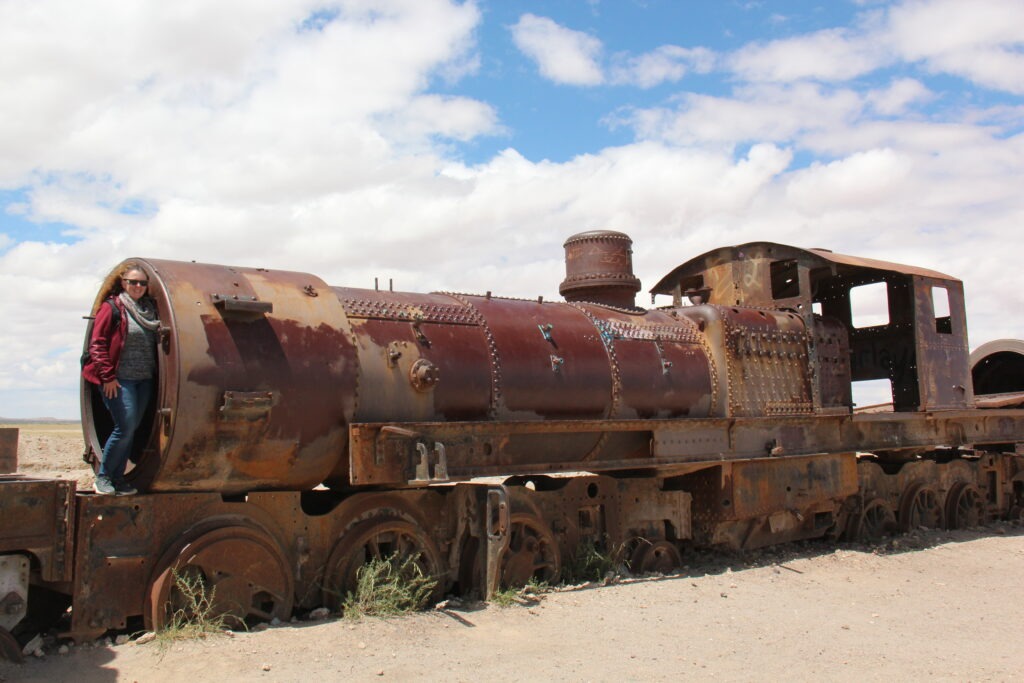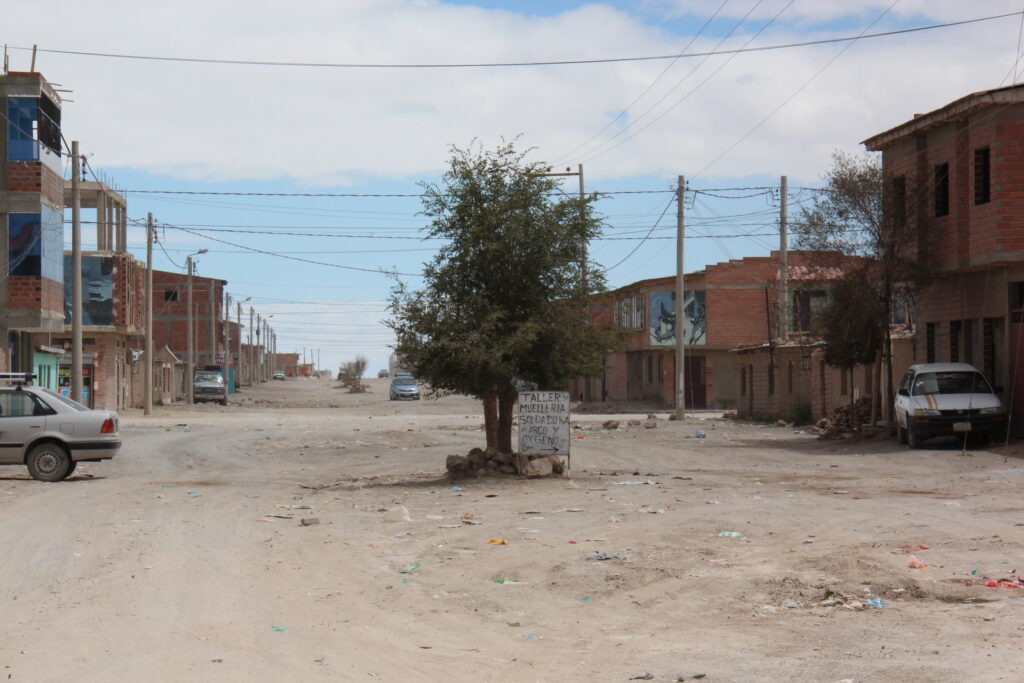 Beyond the Salar, Uyuni is the jumping off point for a famous, remote and fairly rough road known as the Western Lagunas Route – named for the beautiful high altitude lagoons you pass on this mountainous back road to San Pedro de Atacama in Chile.
Taking a vehicle involves much preparation since it is almost 500 kms of high altiplano desert, constant washboarding with no services to speak of en route. Many travellers take the trip in 4×4 Land cruisers as we did in 2003 – this time we would be on our own. Our time in Uyuni was thus spent researching routes, stocking up on supplies, and ensuring the vehicle was in good mechanical shape. Given that most travel the route via the Salar, a thorough undercoat of graphite oil is first applied to limit the impact of wet salt getting where it shouldn't on the car's underbody. Having seen what effect "Salar salt" could have on disc brakes we opted for the full treatment, including a high pressure wash off after driving on the Salar. Hopefully that will do the trick.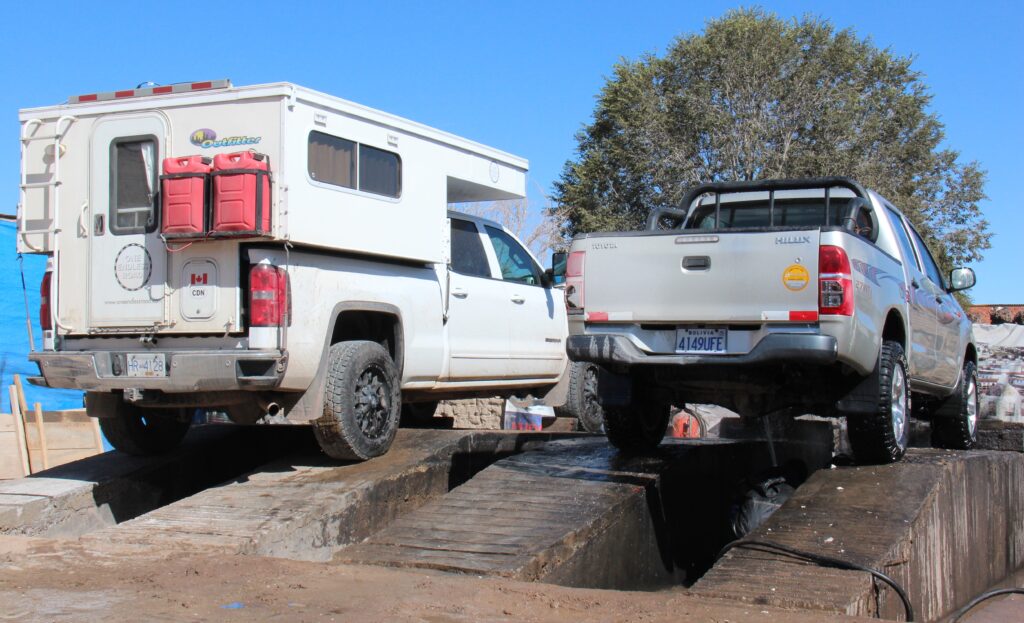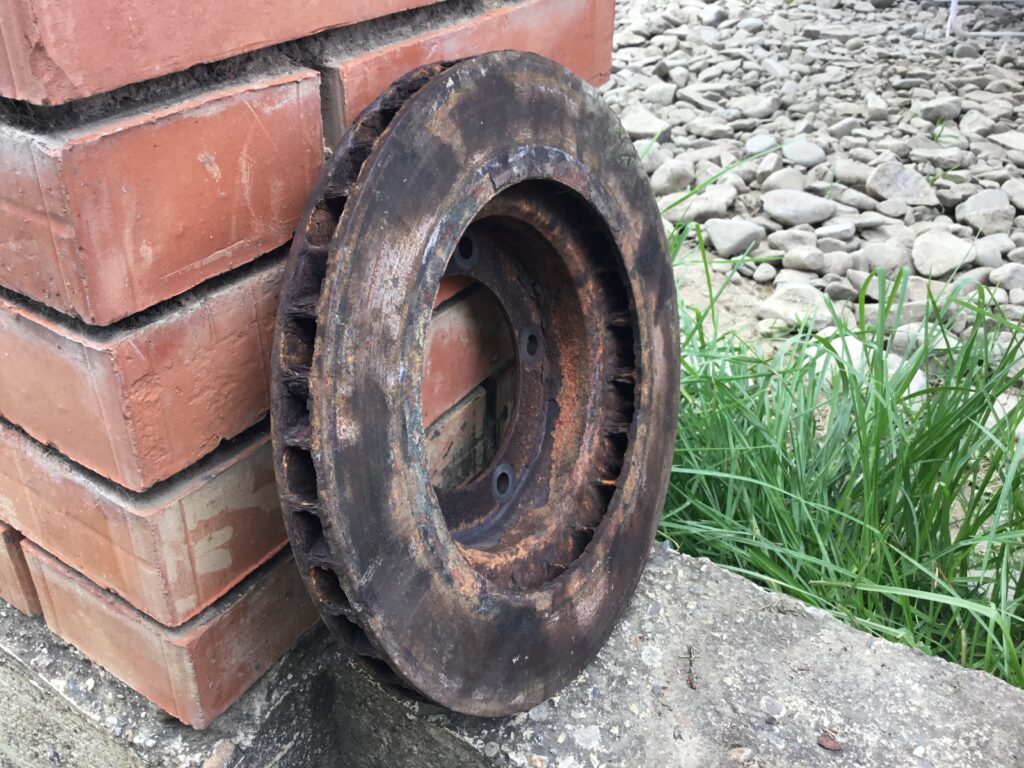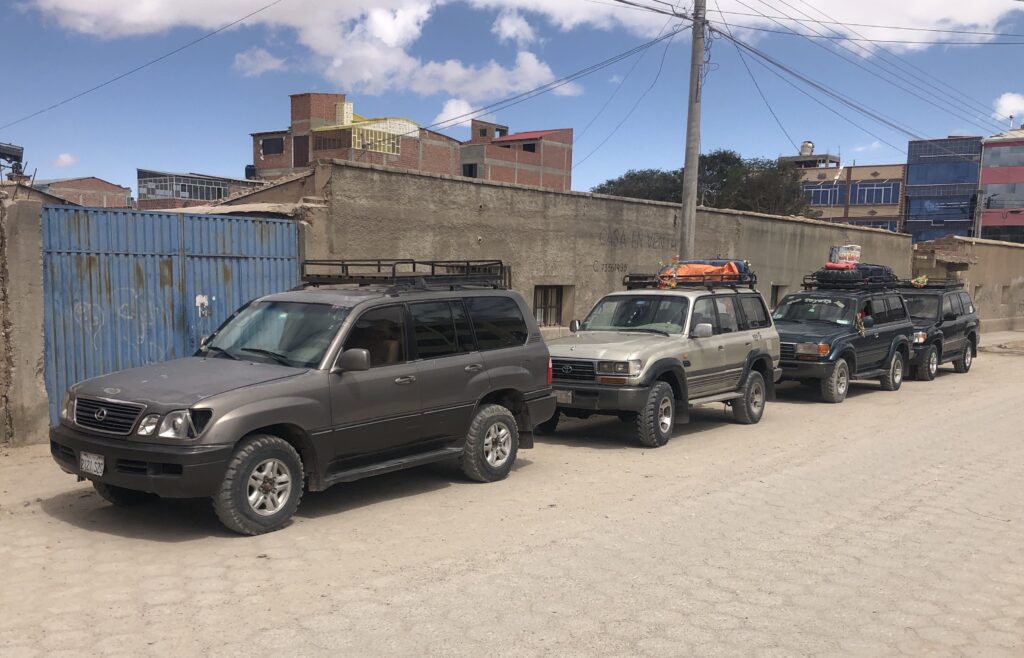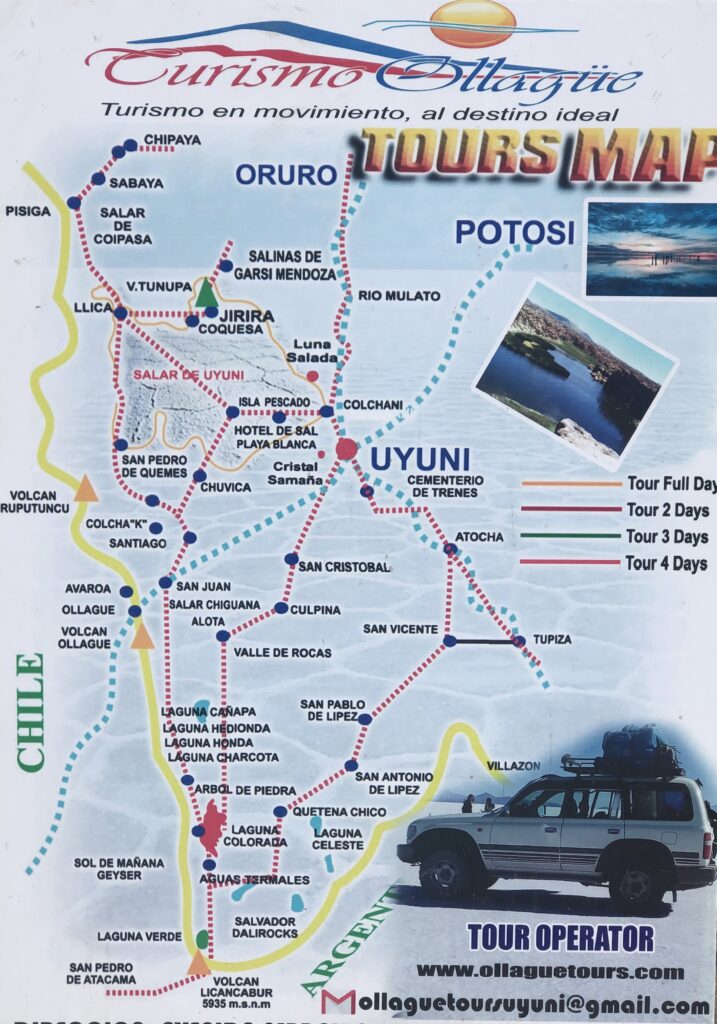 Watch for a full report on the Salar trip and our exit from Bolivia on our next blog !