You'll excuse me for borrowing this week's subject line from an old Ewan McGregor motorcycle adventure but it seemed quite apt.
So, you live in Western Canada and want to take your 4×4 van to Australia for a year or so of touring and exploring. Australia lies thousands of kilometres across the Pacific to the south west. Logically, you would drive to Vancouver, put it on a ship ( going in that direction), allow a month or so of transit time, then fly down to meet it and begin your trip. Or so you might think. Alas, with an oversized Sprinter van it gets more complicated – much more complicated in fact.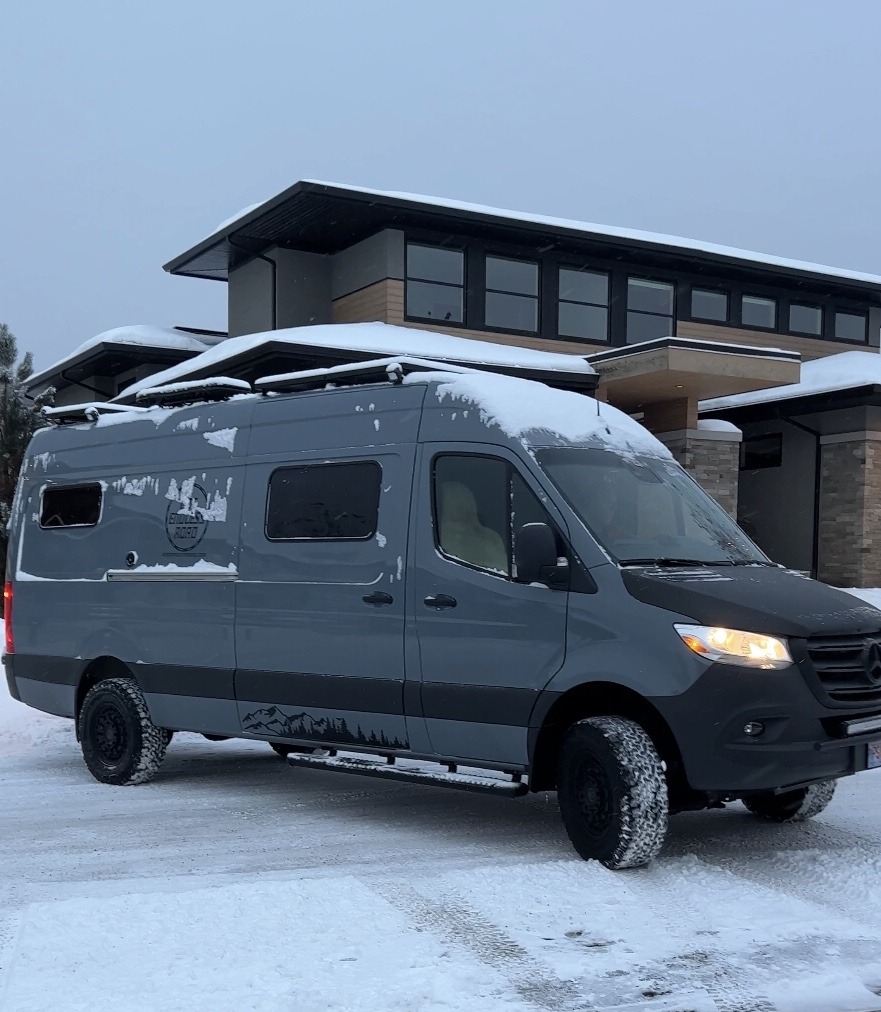 That all said, I'll save the sordid details of shipping a van from North America to Australia for a future blog when the whole process is ( hopefully ) complete and has ( ideally ) gone off as planned. Right now there are still more hoops to jump through, a ship ( coming from Europe ) to wait for and then a long passage from the East coast of the US to the East coast of Australia. Yes, I said the the "EAST" coast. For reasons I will explain later we have chosen to drive the van to the US East coast ( Savannah, Georgia specifically ) to catch said ship to Australia – this week's blog will chronicle the first part of that journey – getting to Savannah.
Driving diagonally South East across the US would have been faster ( and warmer ! ) but following our general principle of "why make things easy when you can make them more complicated", we chose to drive directly East across Canada ( to Winnipeg ) before turning hard South East to Savannah. We had good friends in Winnipeg we wanted to see so chose that route, all the while thinking how cold could it really be on the Canadian prairies in December ? I mean, it was only December – technically, it wasn't even quite winter yet. The plan was pretty simple; we'd drop the van with the shipping company in Savannah then fly home to Kelowna in mid December for Christmas with our family before flying on to Australia in January to eventually meet up with our van later that month. But, first things first – the drive across Western Canada……. in December.
As we left Kelowna it was already snowing ( not a good omen ) and that got heavier as we crossed the Rockies. Frankly, it was pretty hair raising at times especially with so many heavy trucks on the route. Centre line mostly invisible, fog patches a constant worry, we made it only as far as Calgary – normally just a 6 hour drive, it took us all day. We knew not all campgrounds would be open in December but did not count on none being open ! This would be a recurring theme. That, and the extremely short days of December, made worse by the fact that we were driving East – there were simply not a lot of daylight driving hours in each day. Without campgrounds we made do with the best that iOverlander could offer – a Husky Truck Stop in Calgary, and a Walmart parking lot in Moose Jaw ( where we spent our coldest night: -26.5 celsius or -16 Fahrenheit ). Perhaps unsurprisingly we were the only campers parked in both locations.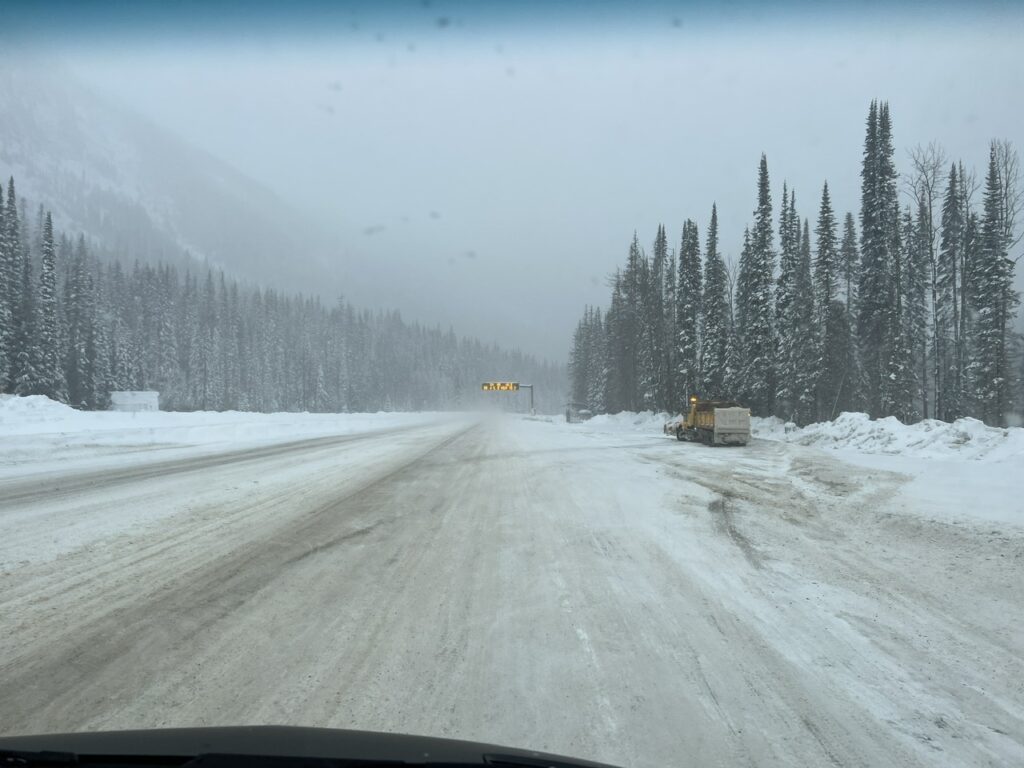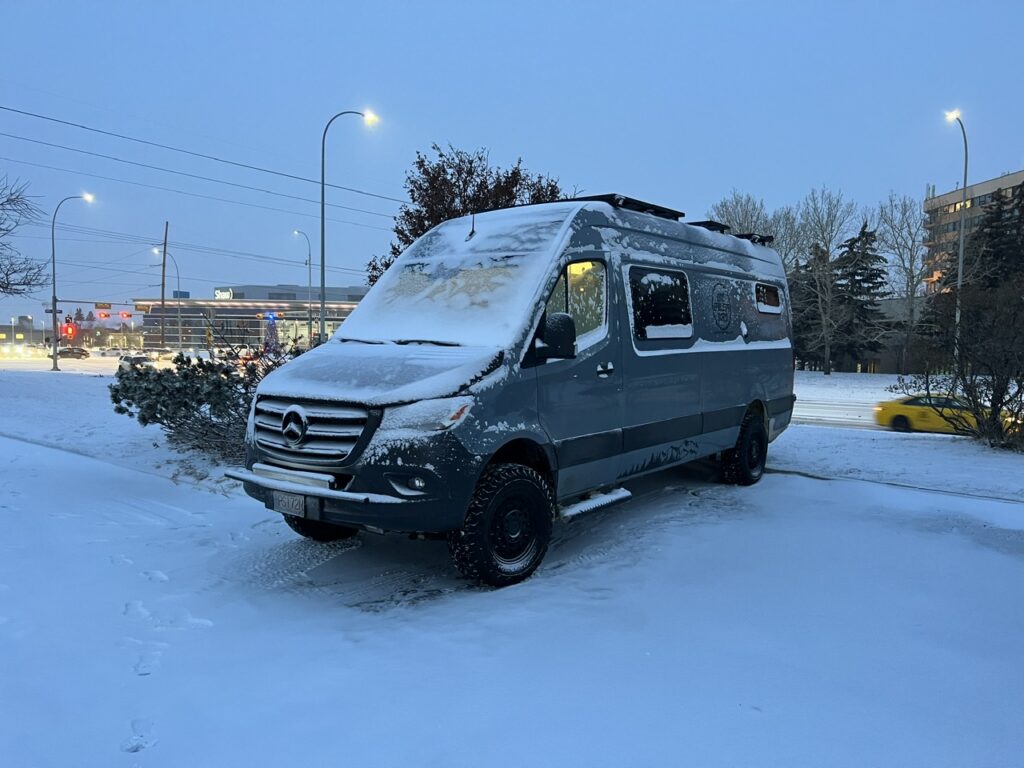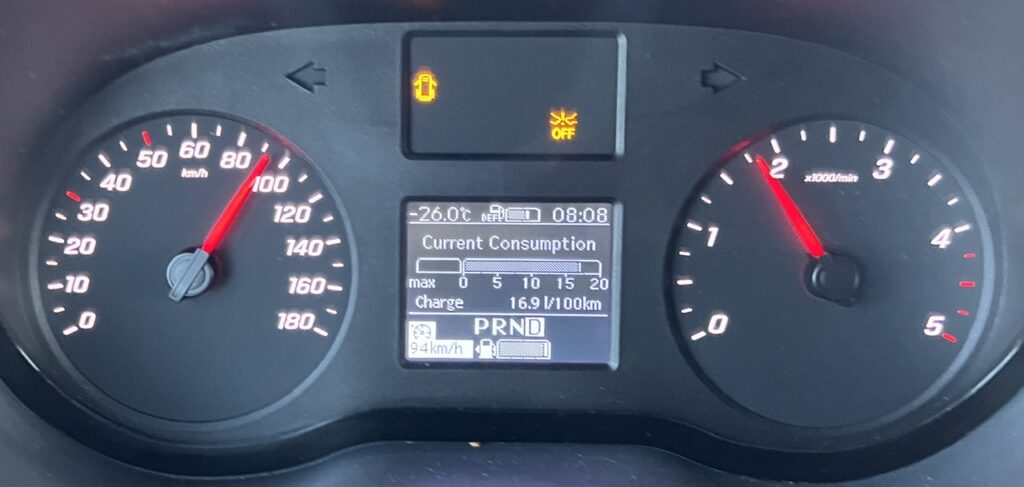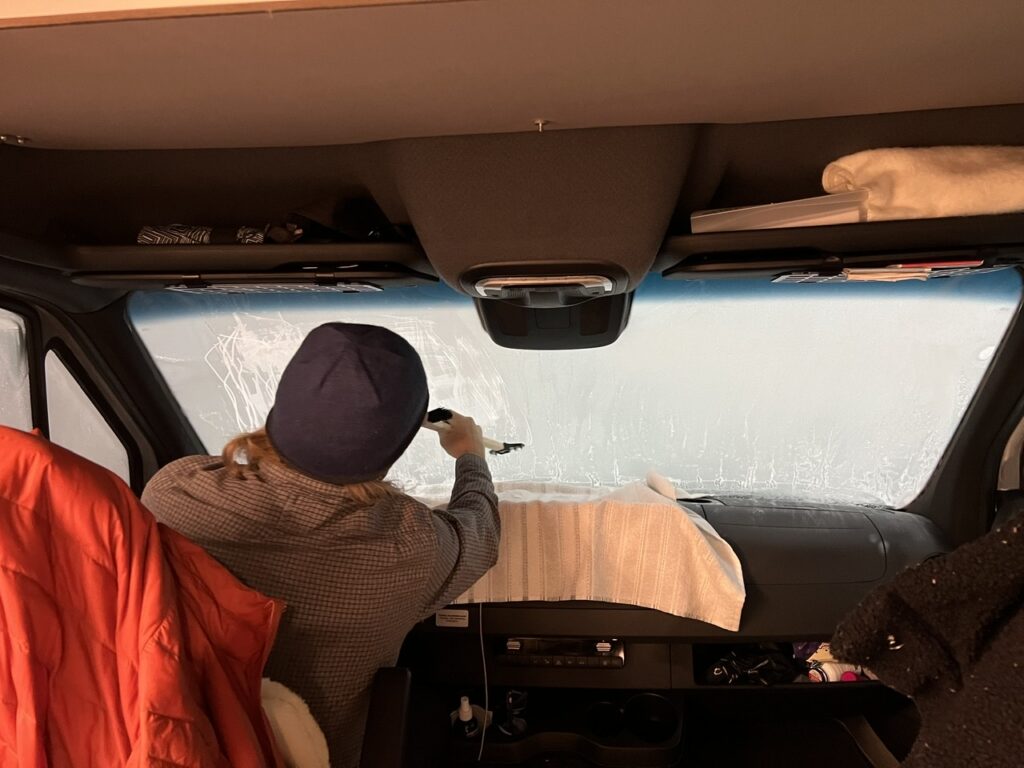 The extreme cold proved an excellent testing ground for the insulation qualities of the van and the performance of the diesel heater – both proved up to the challenge and at no point were we cold inside the van. Outside was another story entirely with all three days it took to reach Winnipeg being in the high minus teens or low minus 20's. Serious cold ! Once across the Rockies ( after Calgary ) visibility generally improved with the only real driving challenge being the mesmerizing snow drifts swirling across the road for much of the journey. The vast expanses of white offered up their own beauty, albeit best viewed from inside the van ! Mixed with that winter beauty were typical Canadian Prairie scenes and a few local tourist attractions. Neither of us had much enthusiasm for getting outside the vehicle for photo ops – it was so cold at times that we simply took photos from inside the van – we did NOT walk inside the worlds biggest teepee in Medicine Hat, nor stand in front of the worlds biggest ( fake ) moose in ( where else ) Moose Jaw. Quirky and kitschy, yes, but definitely not worth a case of severe frostbite !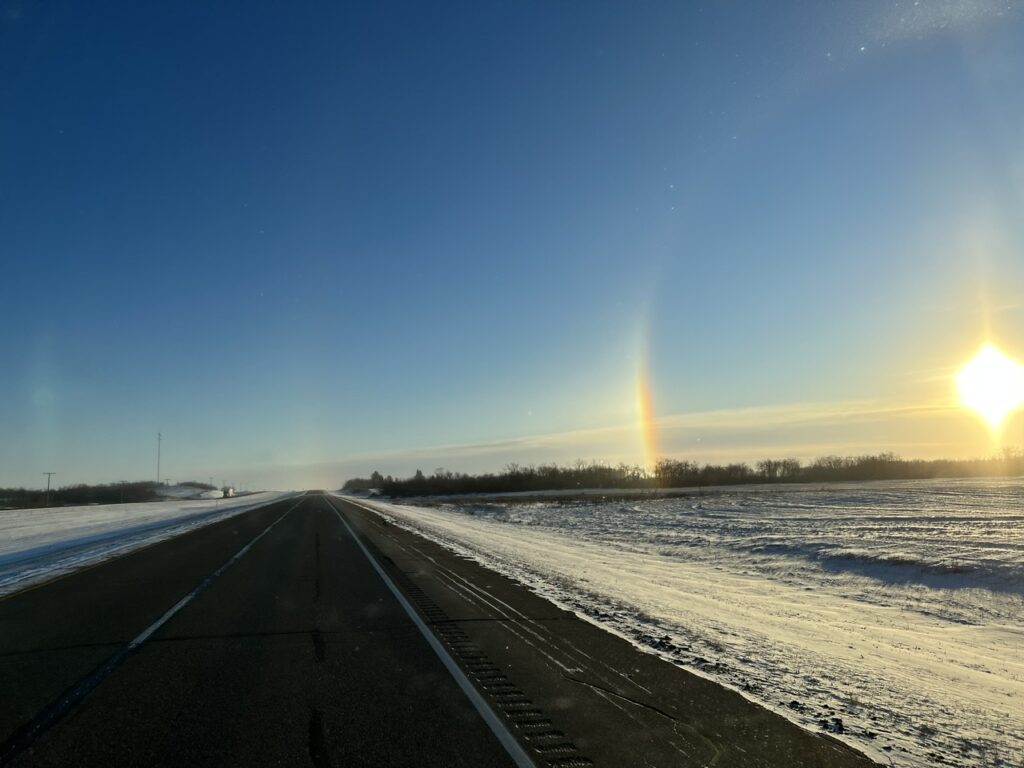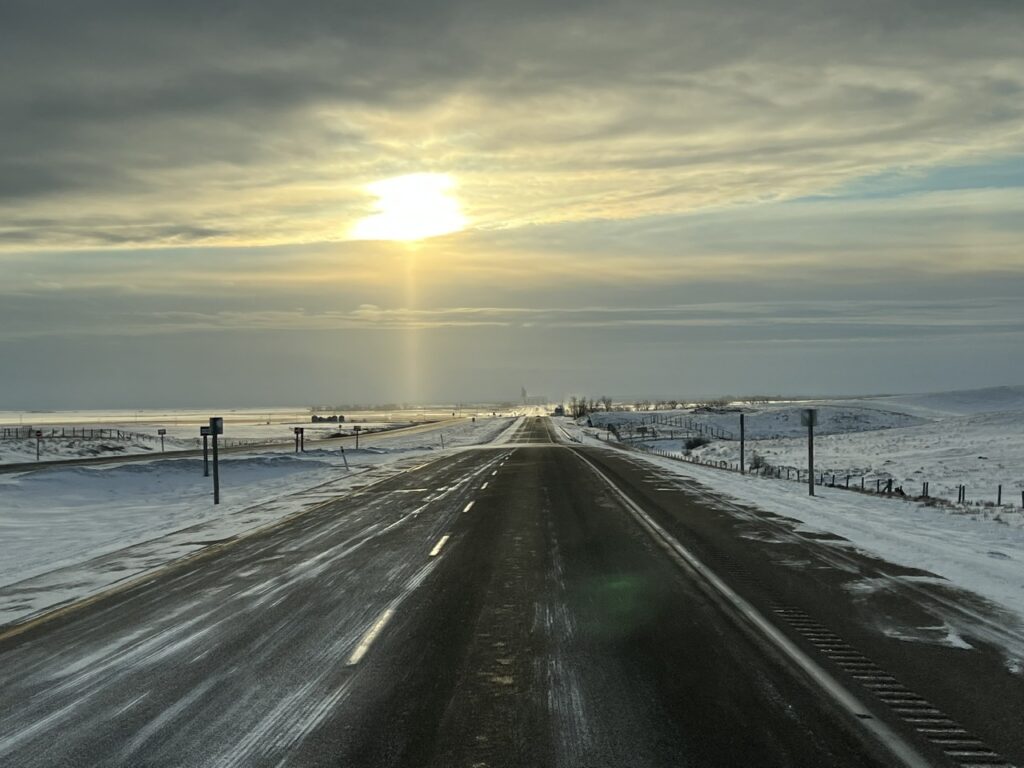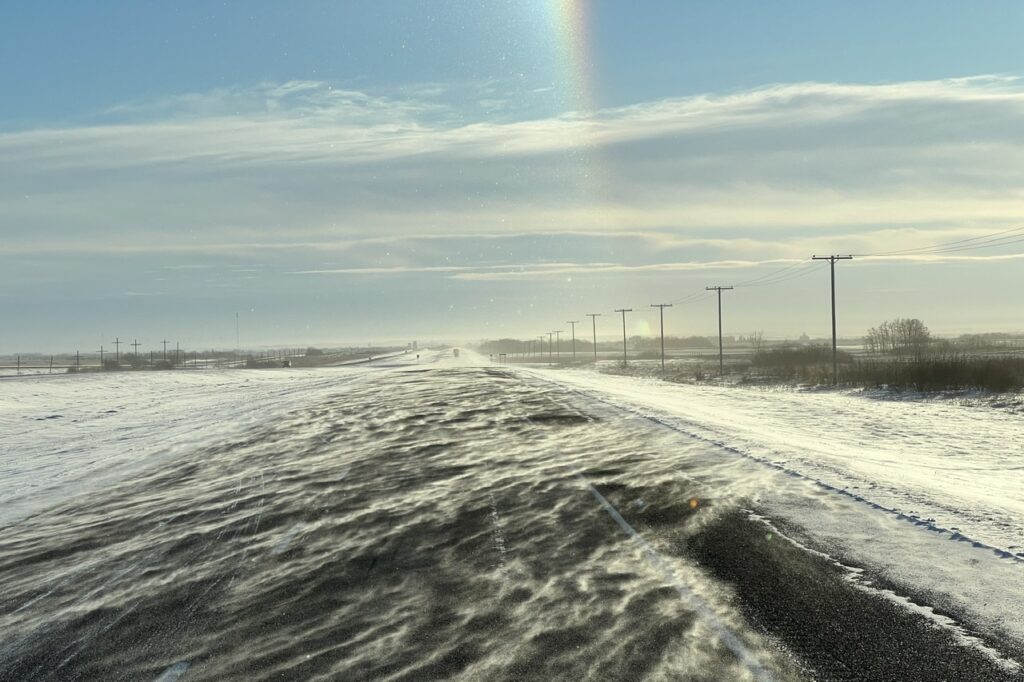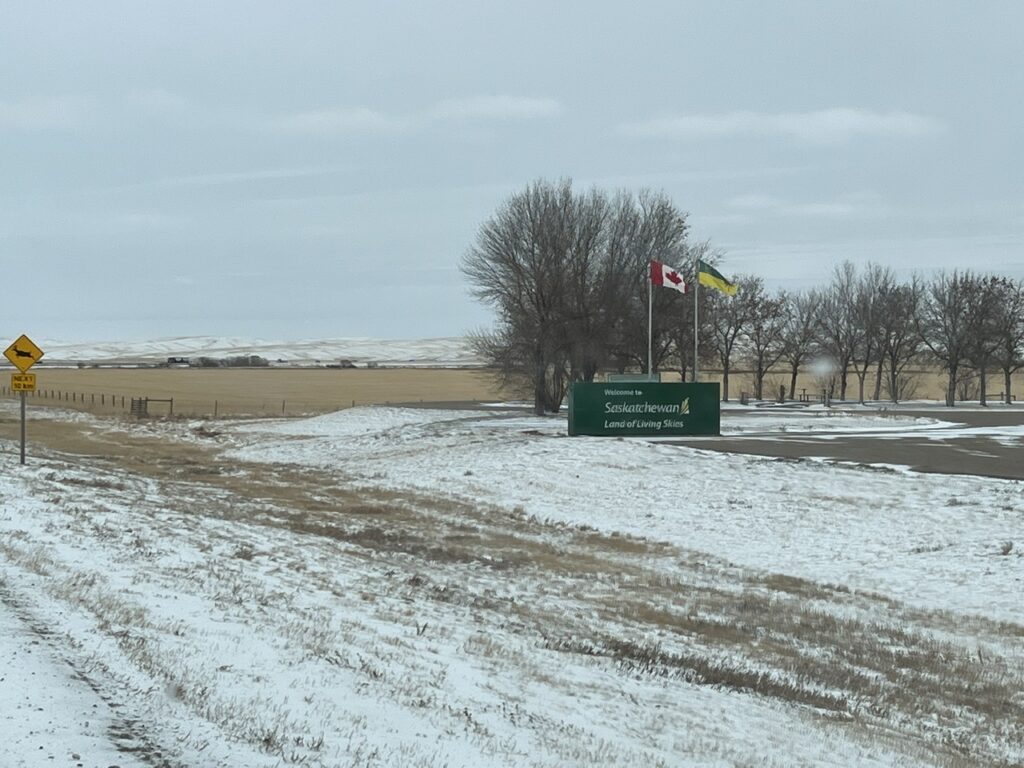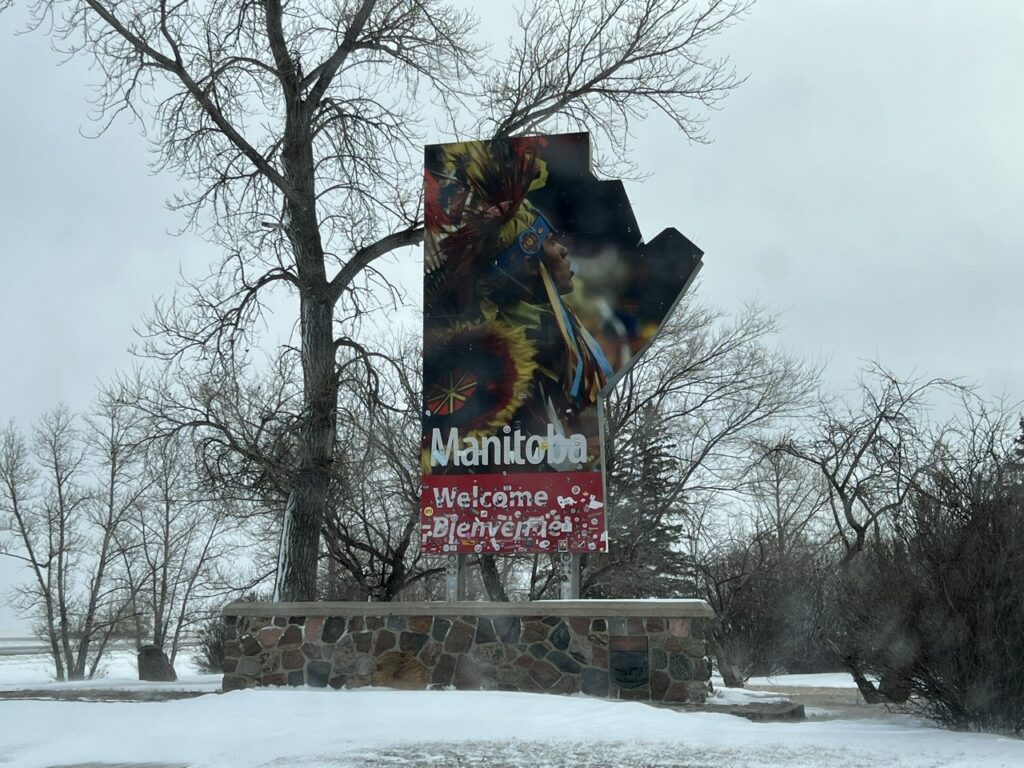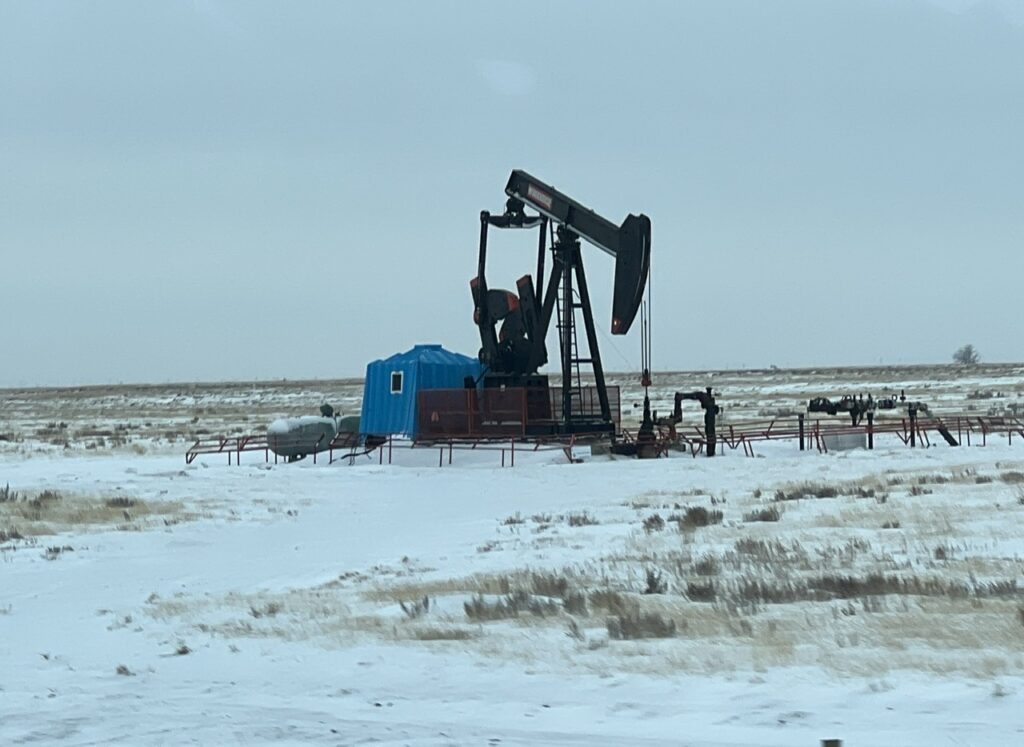 Our good friends, Aldyn and Keith, who had recently moved to Winnipeg, gave us a very warm welcome for the night and we spent a wonderful evening celebrating a milestone birthday of Keith's while enjoying Aldyn's awesome chili dinner. Thanks guys, it was a fun night and the highlight of our trek across the Prairie's.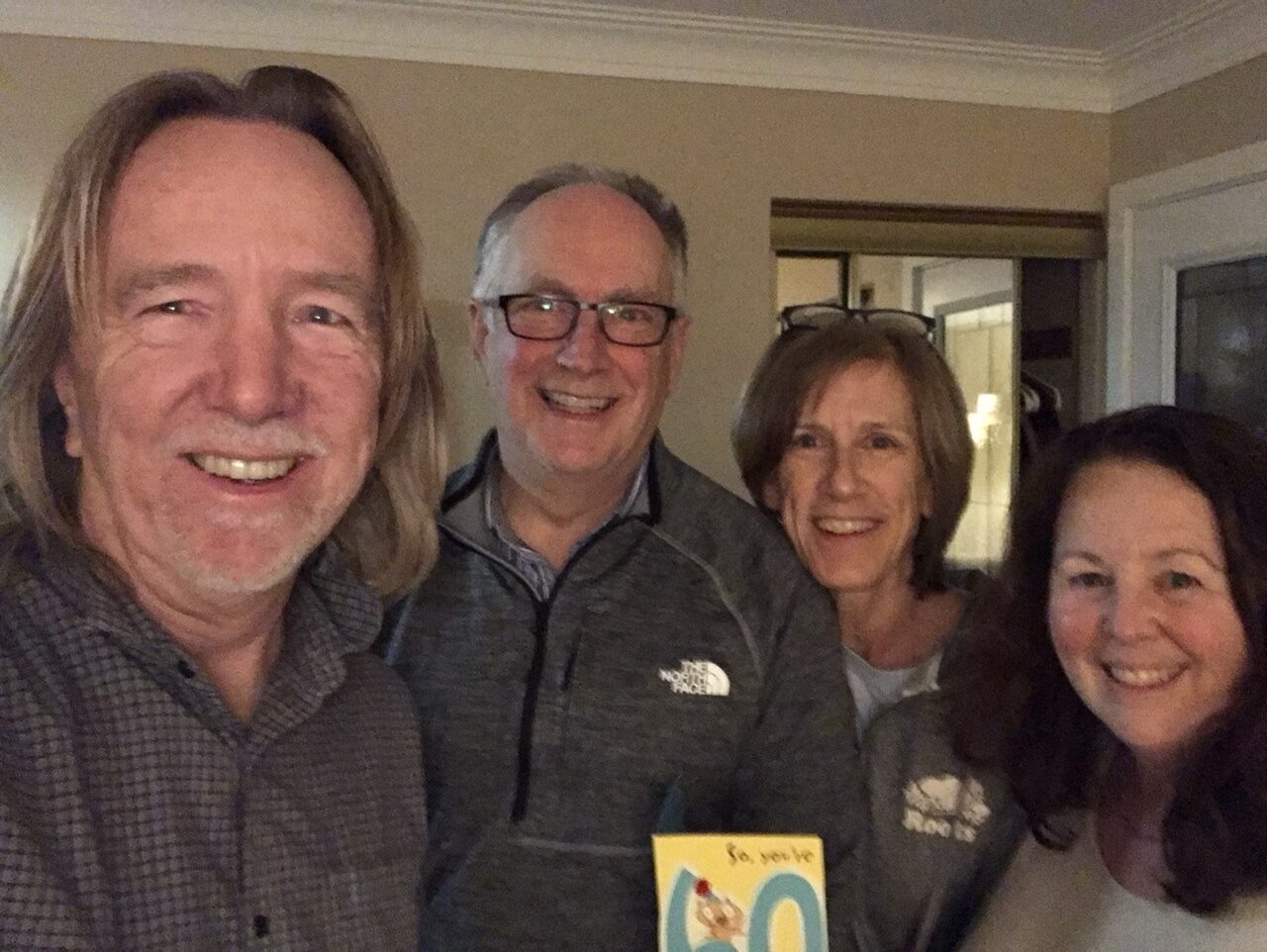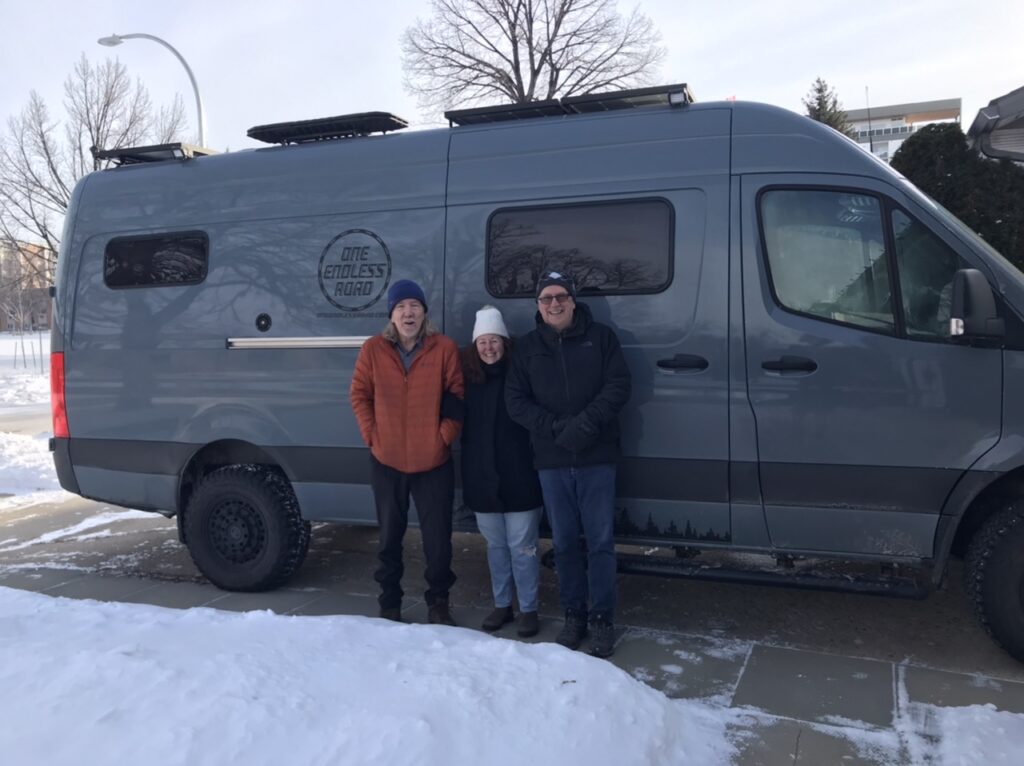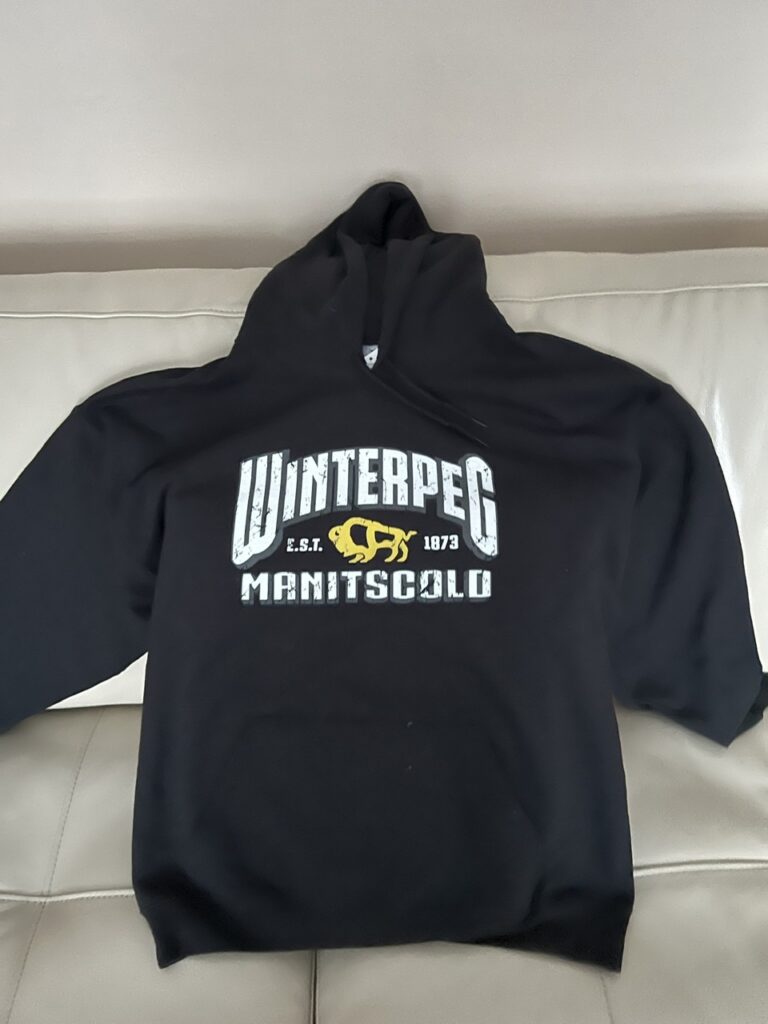 Just a couple of hours south of Winnipeg lies the border town of Emerson where we crossed into the US. Could not have been easier, nor any quicker, with the US border staff super friendly and helpful. Crossing south of the 49th parallel did not bring any immediate respite from the biting cold – there'd be a little more cold weather yet. More of that to share next week.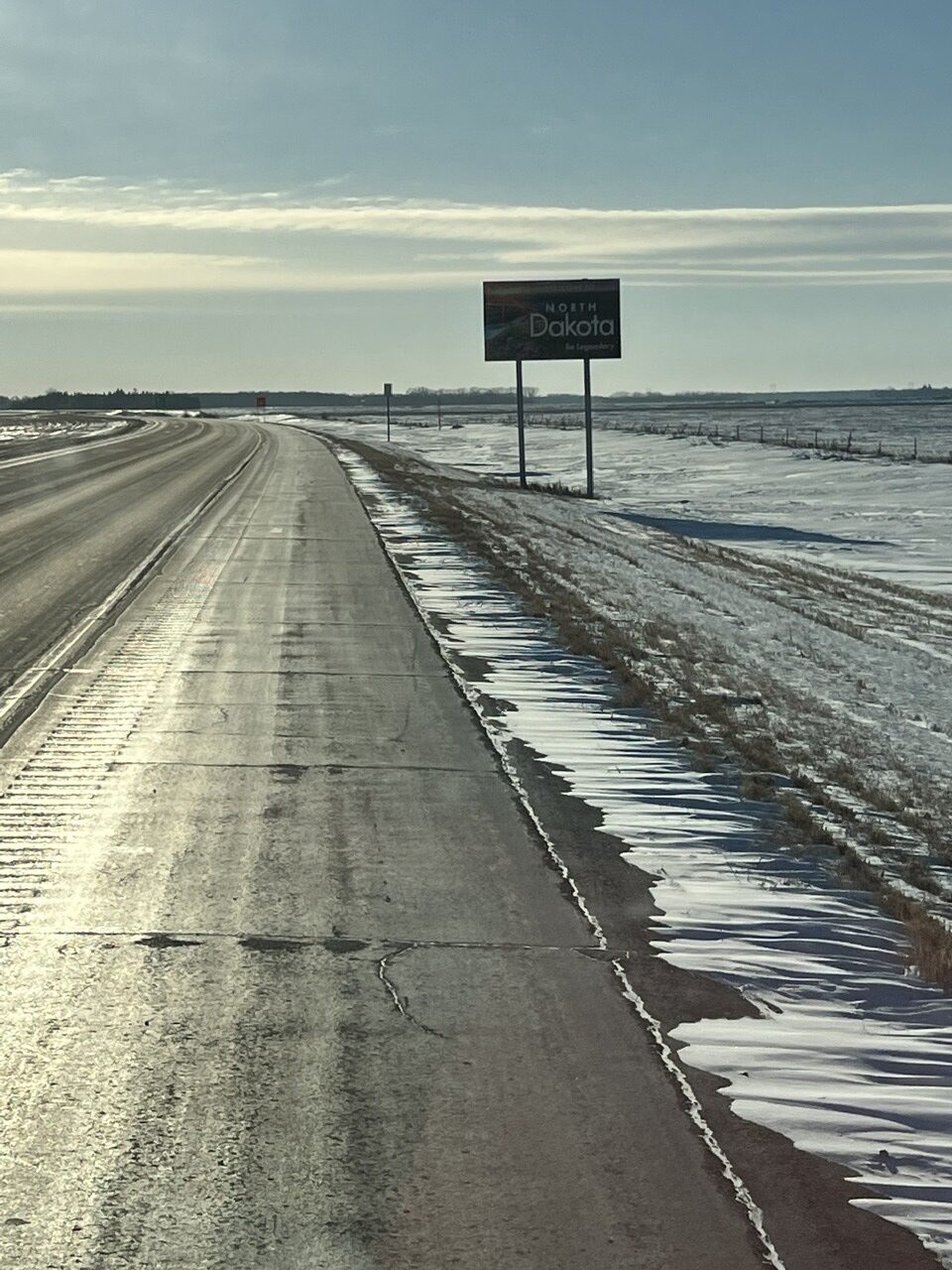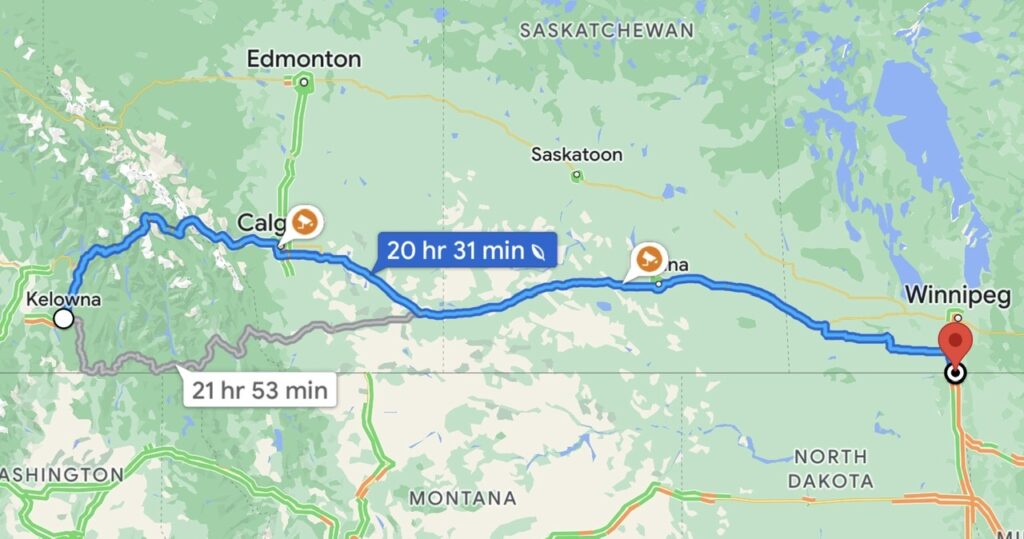 Stay tuned…….