At the end of next month it will be a full year since we pulled out of our driveway in Kelowna, BC, headed ( ultimately ) for Melbourne, Australia. With our time travelling in the van across North America ( in the dead of winter ), and now around Australia ( where it's been mostly summer-like ) we've had almost 8 months full-time living in it to really test it out. Ample time, it would seem, to provide a review of sorts, both of the van itself, and how we are handling this extended time living "on the road". I've put together a one-off blog this week to answer some of the common questions we get ( but if you have one that we have not answered here, by all means send us a comment ). I know we have quite a few readers that are getting ready to buy/build out vans so this edition may be of particular interest to them.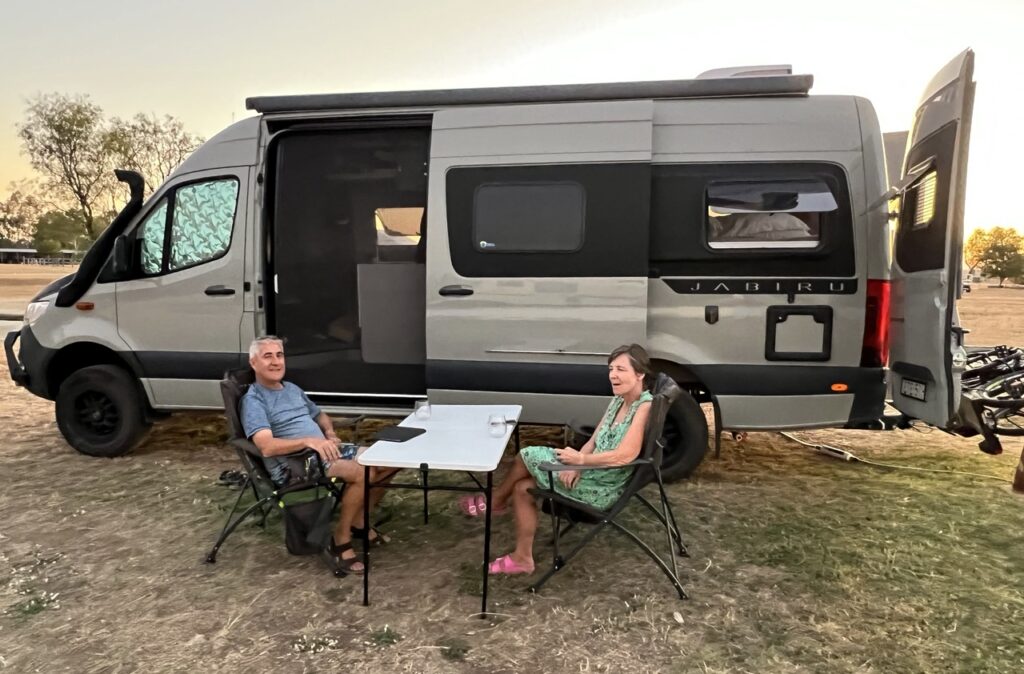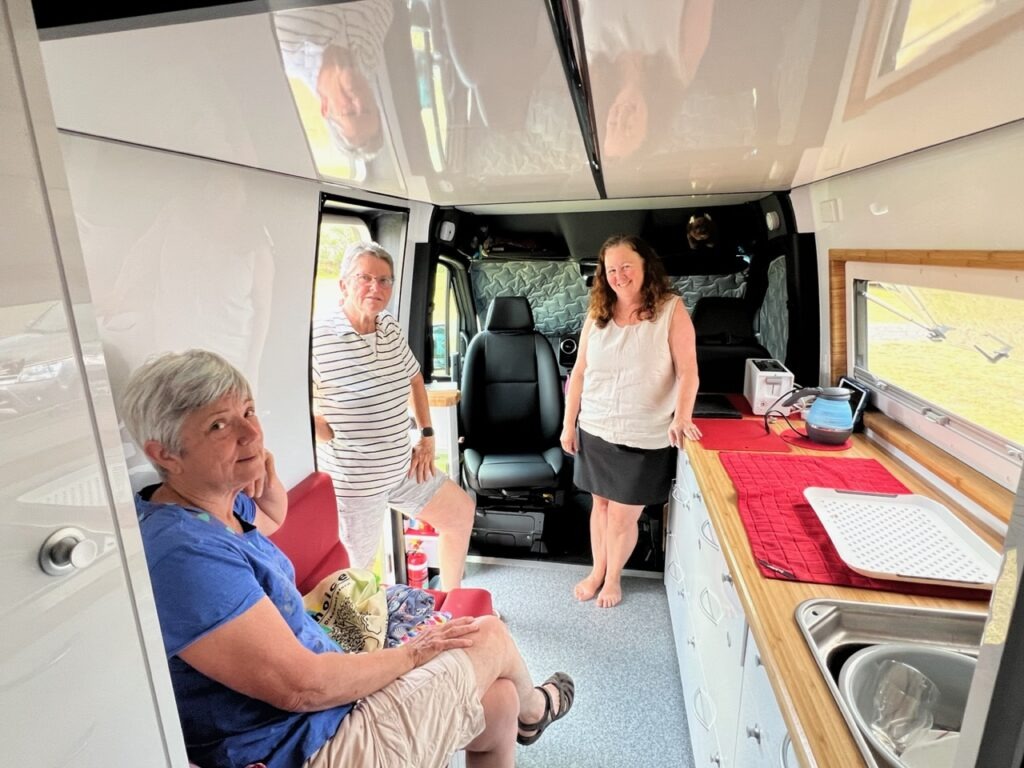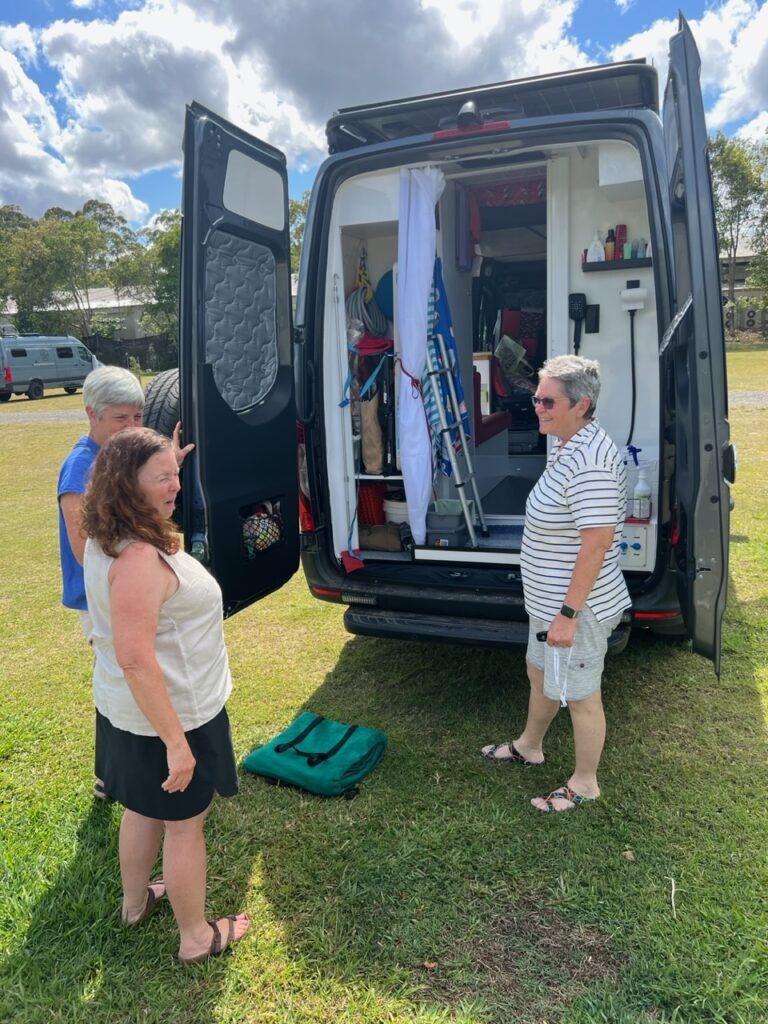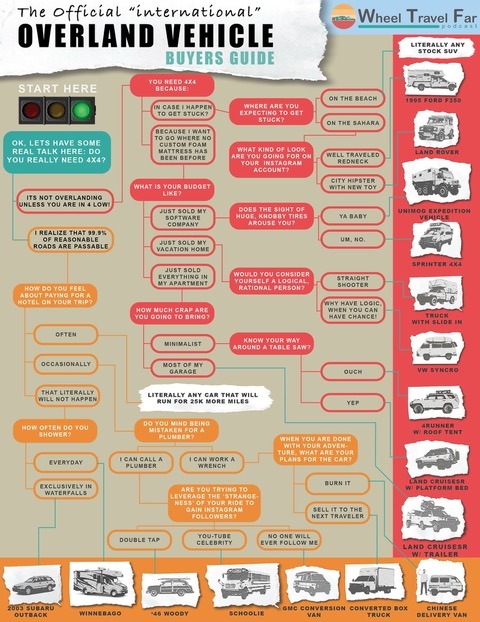 One of the really enjoyable parts of being on the road in the van is that there seems to be an almost insatiable curiosity among Sprinter owners about other people's Sprinters ( and other vans in general ) – no different than checking out someone else's house ! The specification options are myriad – short wheel base or long ? A 4×4 drivetrain or not ? Diesel or gasoline ? Four cylinder or V6 ? Beyond those questions folks are extremely interested in the layout ( interior design ), there being so very many options there as well. The two different Sprinter owners (above) were among the many we've met, all of whom have shared their thoughts on priorities and "must have" features – one of the above, quite like ours, but the other ( also a beautifully made van ) totally different.

Here, in no particular order, are some of our thoughts ( first, the van itself ):
Vehicle: 2020 Mercedes Sprinter "170" V6 Turbo Diesel 4×4

A great deal of thought, based on our own personal lived experiences in previous recreational vehicles ( spanning more than 35 years) combined with feedback from others who have travelled in similar circumstances, went into the choice of vehicle and van design. I am pleased to say that, overall, we are thrilled with it; both with the build and overall with just how it has performed. Bottom line, there is very little we would change if we were to do the whole thing over. It's easy to drive, powerful, roomy and reasonably economical for a bigger van ( we average 13-14 litres/100km ). We've really tested it out on some of Australia's most rigorous outback tracks and been truly impressed with what this big 4×4 is capable of – few thought we'd survive the rigors of the Gibb River Road, or get to the very top of Cape York – yet we did.
Things We Love:
Skylight over the bed is practical – always bright, airy and provides egress in case we ever needed out it an emergency. A must have for us, used every day and often at night.
The full queen bed is very comfortable. It's north-south in configuration (which, admittedly does take up more space in the van), but given ours is the longer "170" (LWB) model it's a "space" luxury we can afford. No climbing over each other to get in and out – would never have it any other way. For us an absolute "must have".
The shower/toilet is used always ( the latter more so, obviously ) and both work very well – we appreciate that it's in a dedicated space and the fact that nothing has to be disassembled to use it. Again, probably a luxury afforded only by choosing the long wheel base version of the van. Really glad to have both for the independence it gives to avoid campgrounds.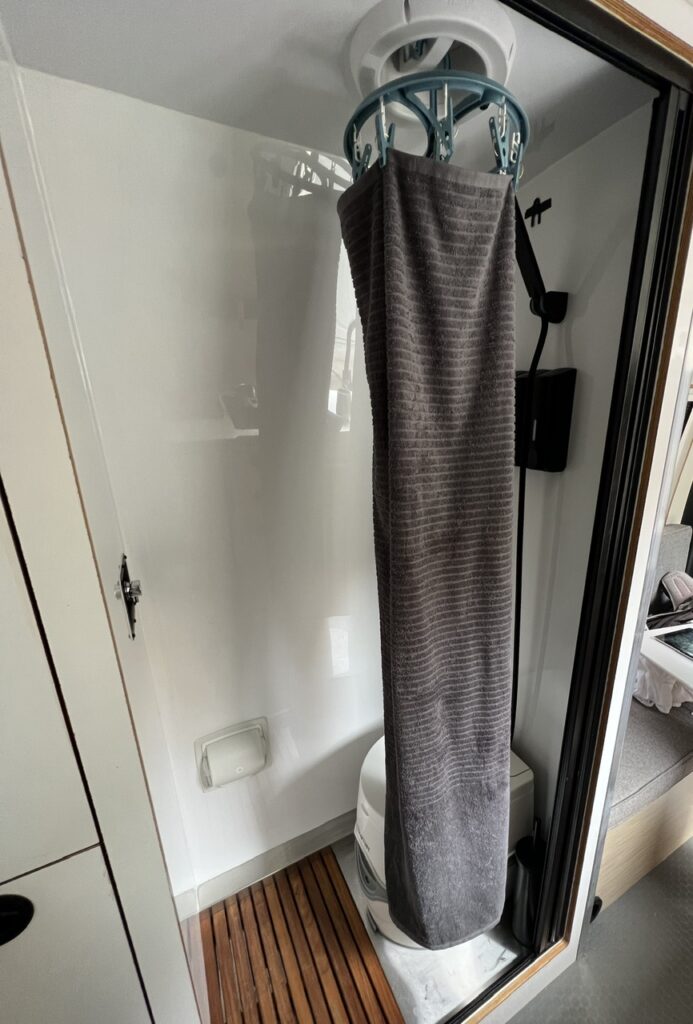 4. The kitchen is functional, fridge big enough ( having a remote compressor helps considerably ) and the induction cooktop has been amazing. I had nagging doubts we'd have enough battery power to run it but that simply has not been an issue. With 480 a/h of lithium batteries, 700 watts of solar up top ( and 300 watts of external solar ) with a 40amp DC/DC charger we are always powered up having "plugged in" of necessity only twice while in Australia. We went heavy on power, with a 3000 watt inverter, and can run multiple appliances at once ( hot water is electric as well ). Even our portable 120v A/C unit on a really humid night !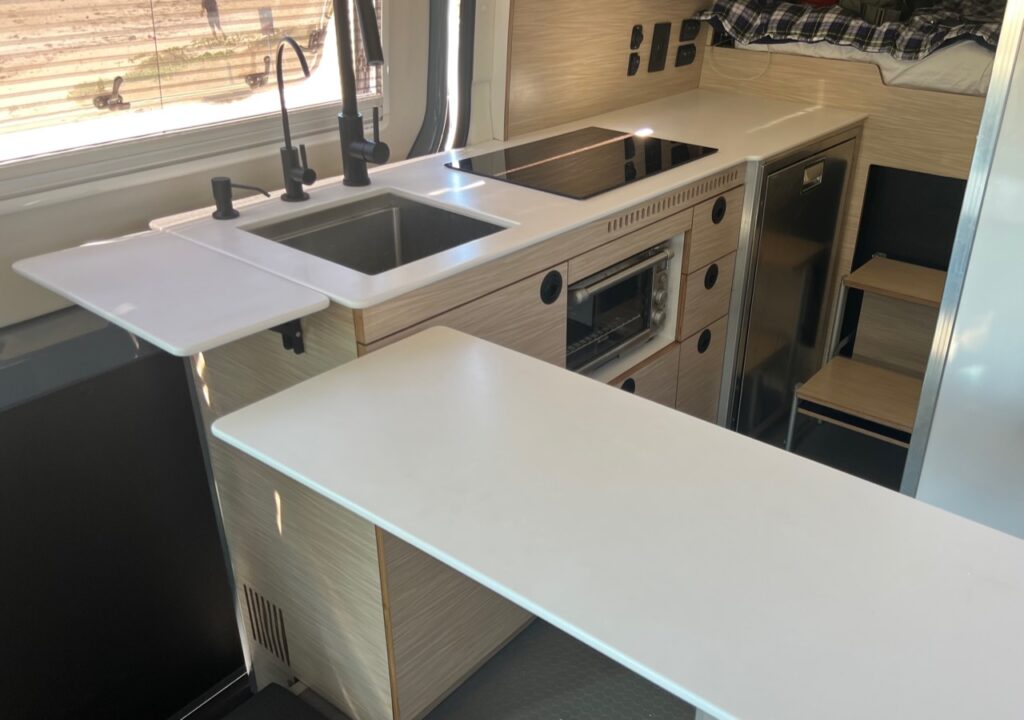 5. Slide out pantry was difficult to install but makes inaccessible space accessible and holds lots of our dry food – worth the effort to put in and an indispensable feature !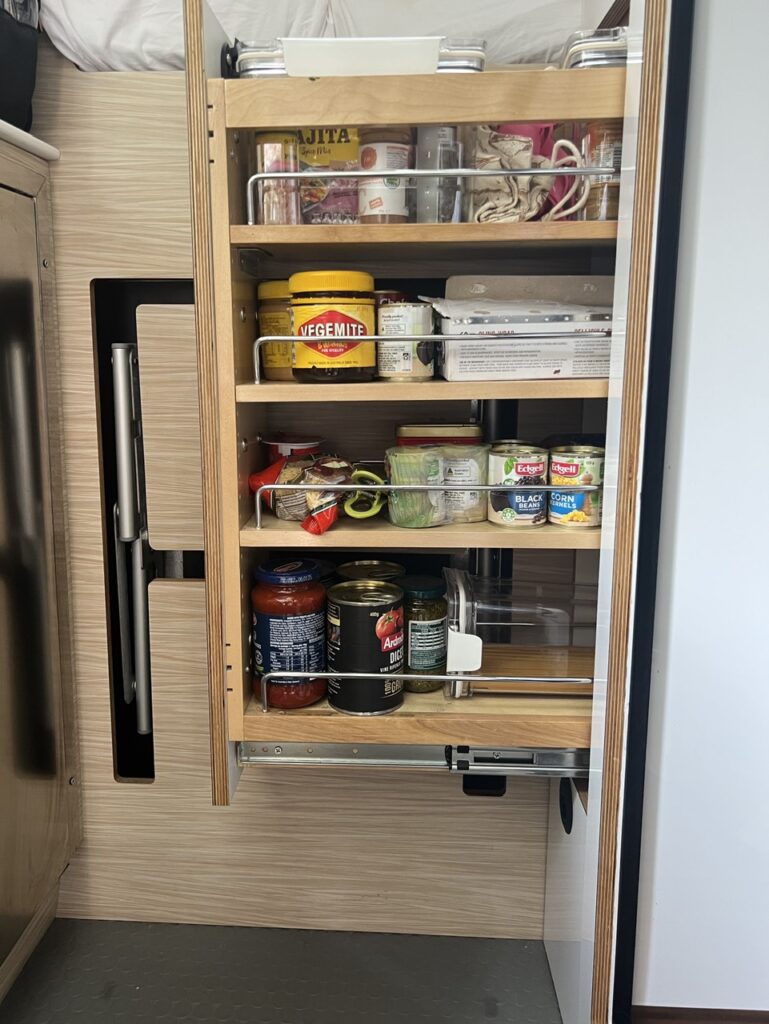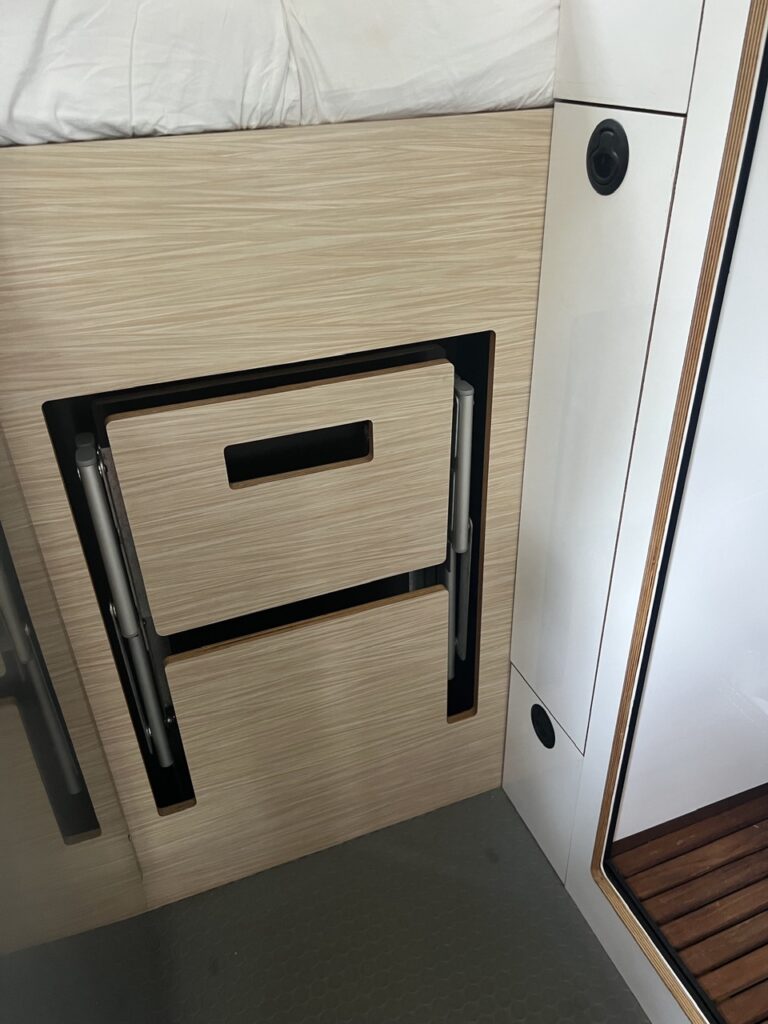 6. The toaster oven is used multiple times a day ( we have no microwave ) and it's a call we're glad we made. I'm blown away
by some of the meals Lois has made with it – we can even bake bread !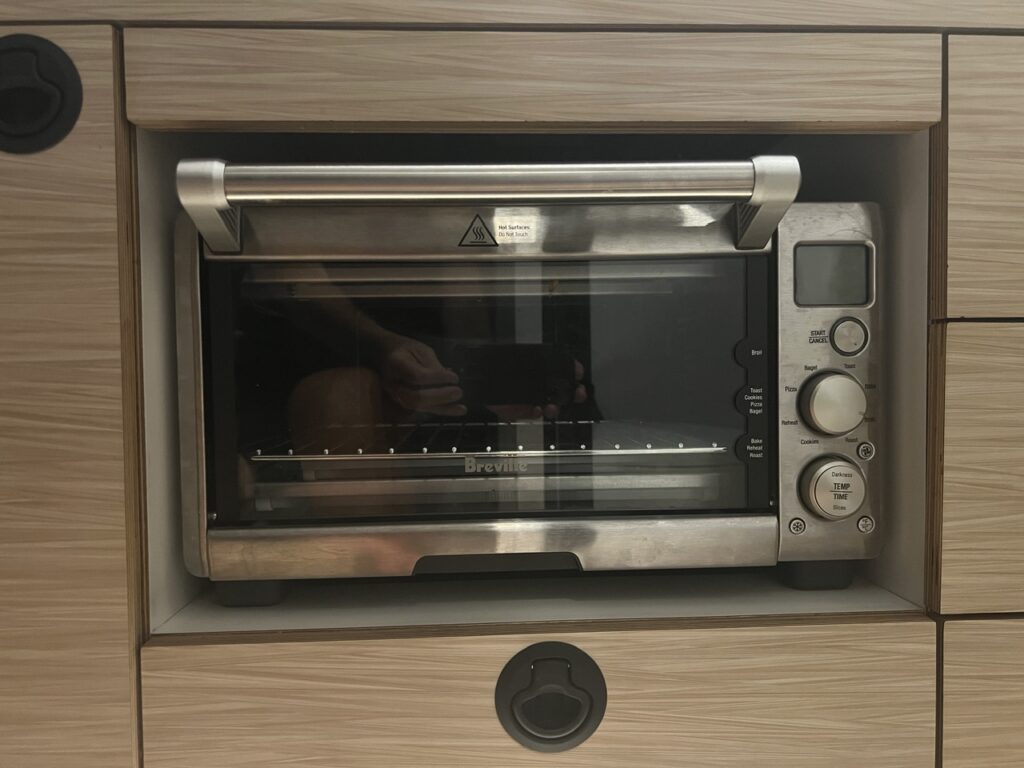 7. Storage in any van is at a premium but we have plenty given that we opted NOT to bring bikes in the end. So far, we're happy with that call – if we can't walk somewhere the van is so easy to set up and pack up that we are easily able to drive where for larger rigs this is more of a challenge. Hence, less need for a bike.
8. Awning style windows are excellent and, versus sliders, can be left open in the rain, which is a practical feature. They cost more but in our view are well worth the money.
9. Most importantly, given our two water tanks ( 175 litres in total ), extra fuel capacity ( almost 200 litres in total ) and large battery/solar set up, we can go "off grid" for extended periods almost never needing campgrounds. It provides great independence and flexibility especially in outback areas. We have REALLY appreciated these – three HUGELY important features.
Things We Dislike/Might Change:
Not that these things bother us much at all and we really likely won't even make the changes, but, if we are splitting hairs:
1. Garage is huge – bigger than it needs to be ( though many would love that ! ) and we just don't carry much junk, so I would perhaps lower the bed a few inches to reduce the "wasted" space in the top area of the garage. We were foolishly talked into ensuring the base of the bed was at least 36 inches above the floor of the garage in order that pretty well any current model bicycle could stand up in the garage (with the front wheel off). We figured that we "may" be buying bikes, so bought into that theory. In reality, we didn't buy the bikes, we don't miss the bikes, and we don't think we'll ever get them, so we have more storage where we don't need it and a little less where we could use it more. Minor grievance I suppose and a bike lover would undoubtedly want it just as it is. Indeed, when we meet them they drool over our garage. Storing bikes externally not only presents a HUGE theft risk but also effectively lengthens a vehicle that is already almost 7m long, dramatically impacting angle of departure. Not something we would sacrifice when "off-roadability" is a key aim of the van.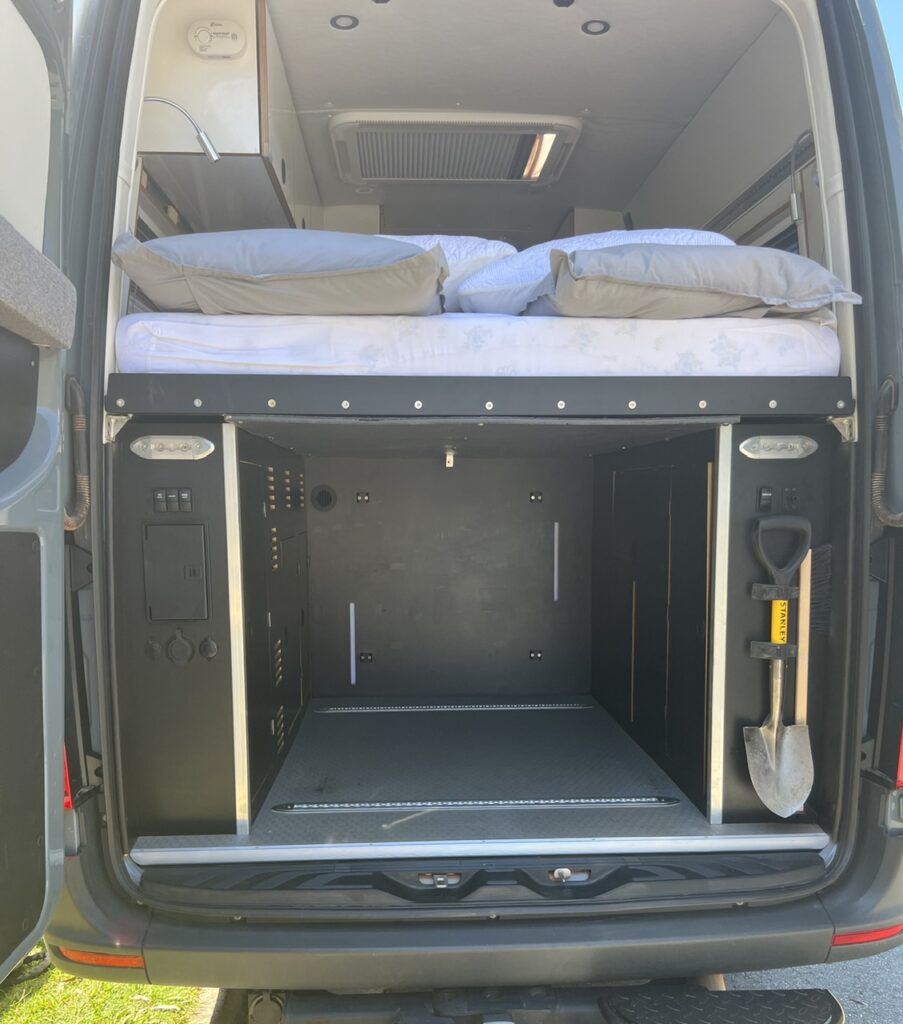 2. We have more AC electrical plugs than we ever use – so some are wasted ( but we do use ALL the DC/USB outlets we installed ). You just don't need many of these AC outlets we have found.
3. Kitchen counter extender ( Lois whines to me about this a lot ! ). I designed it shallower ( so we could enter and exit the van while it was still raised ) and slightly narrower than the counter itself (so we were less likely to accidentally "hipcheck" it as we walked by). It serves both tasks admirably but Lois still wishes the extender was just a bit longer ( it would actually be very easy to replace – perhaps when we get home if she is still complaining about it ! ).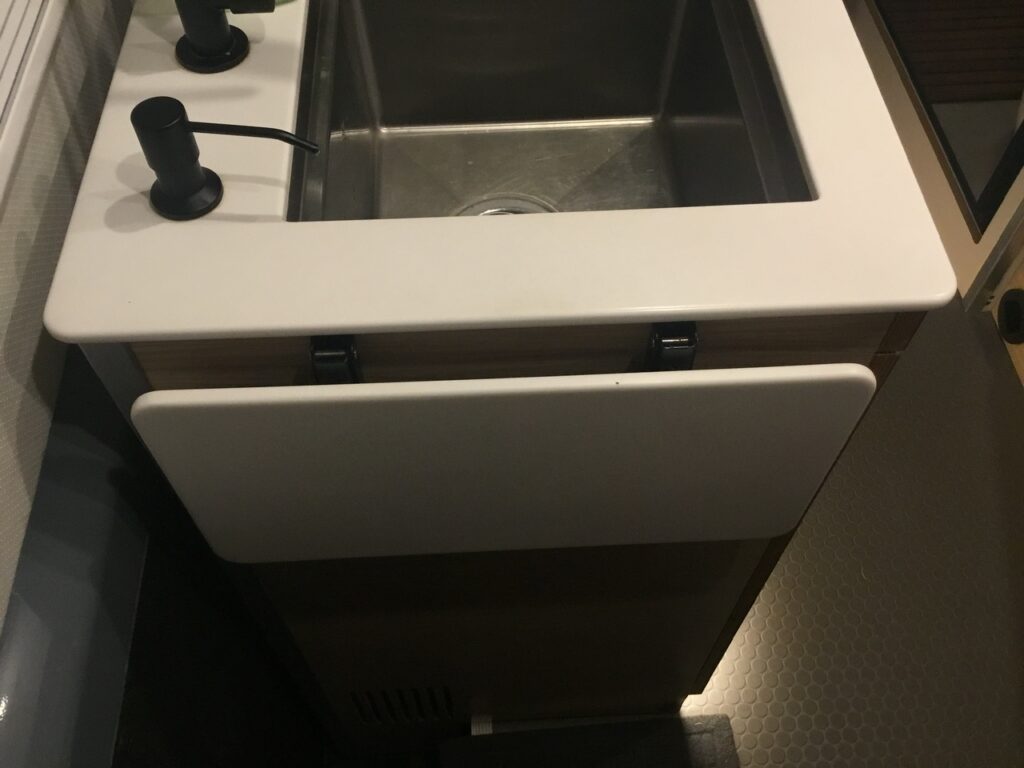 4. Could have used more shoe storage – used this natural space under the kitchen cabinet but access is not as practical as it could be. We need to completely open the door to get our shoes ( annoying if it's raining ) so we usually put them elsewhere.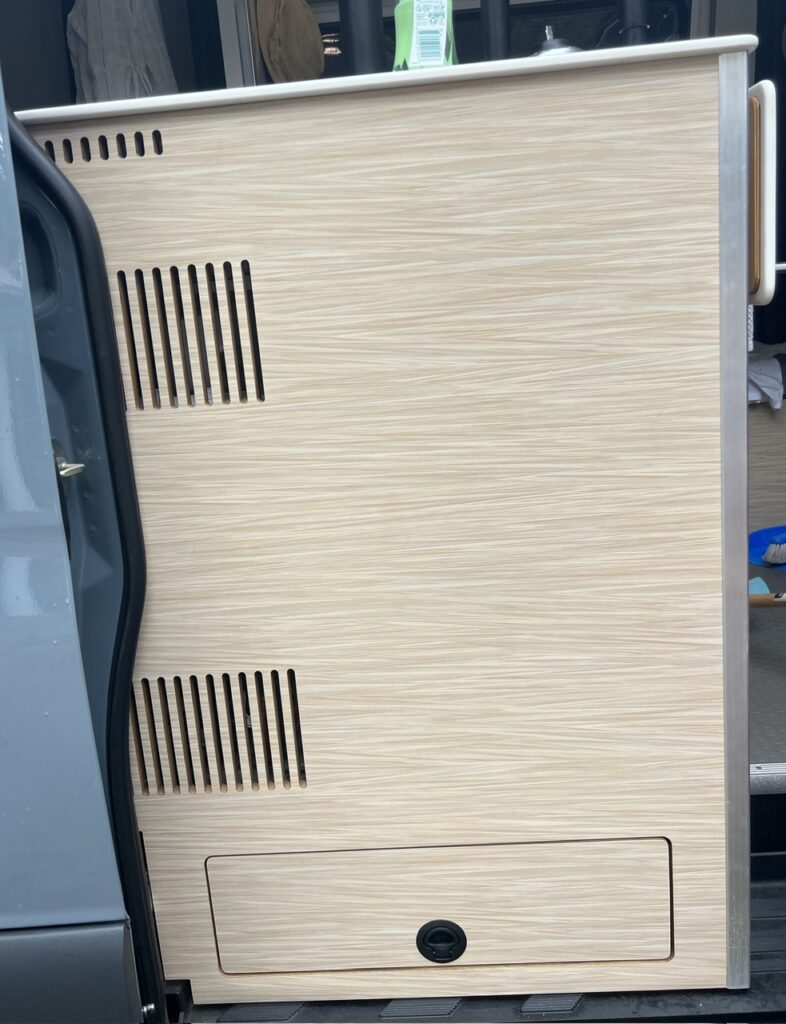 5. It's too tall for a shipping container so we need to use a car carrier to ship it. Normally this is the cheaper shipping option of the two but of late that is not the case; that, and the fact that with a car carrier you have fewer route options means shipping has ( and likely will continue to ) cost us more than we had originally expected. Not a deal killer, but, in fairness, a potential negative ( depending on where you intend to go of course – travelling domestically it's a non-issue so would not bother 95% of van livers – but it bugs me ! ).
Life On The Road
So, that's about it for our van likes and dislikes. As for "life on the road" generally we have settled into pretty regular routines and both of us manage to stay busy. Each of us have specific "chores" (some we like and some we don't !). Apart from the fact that Australia is vastly different than South America, our daily routines in the van are much the same as they were in the truck camper. We don't rush, we get up late, stop often for morning and afternoon tea's and try not to drive for long periods at a time. We have the facilities to cook just about any meal we can at home – here are some examples: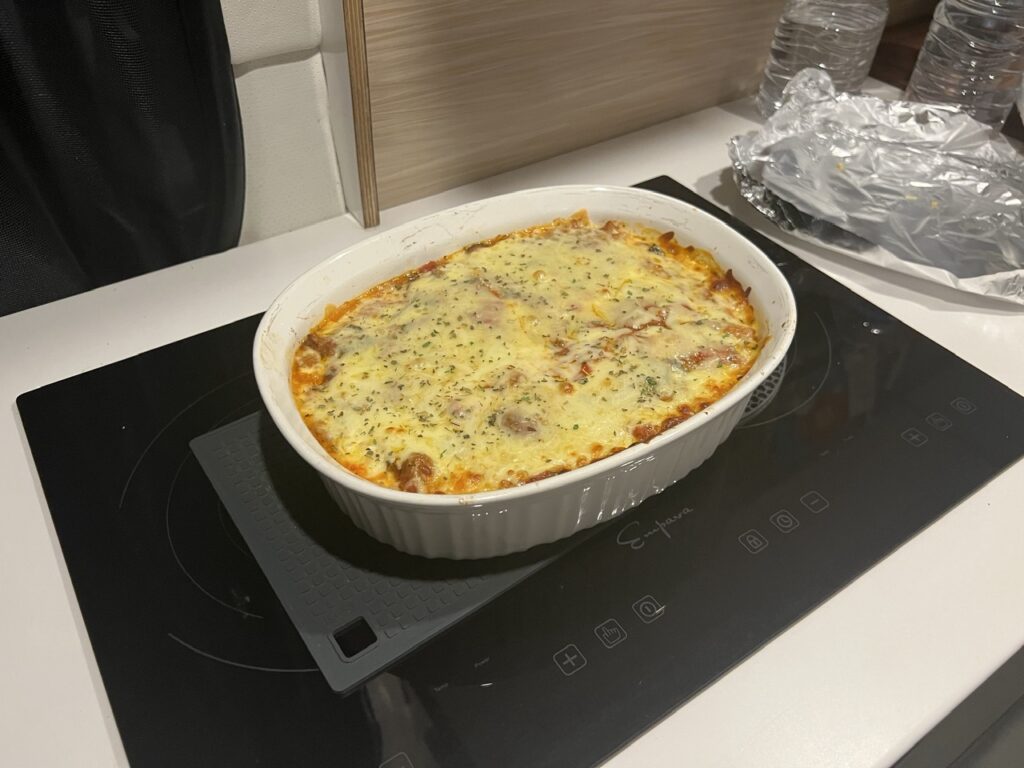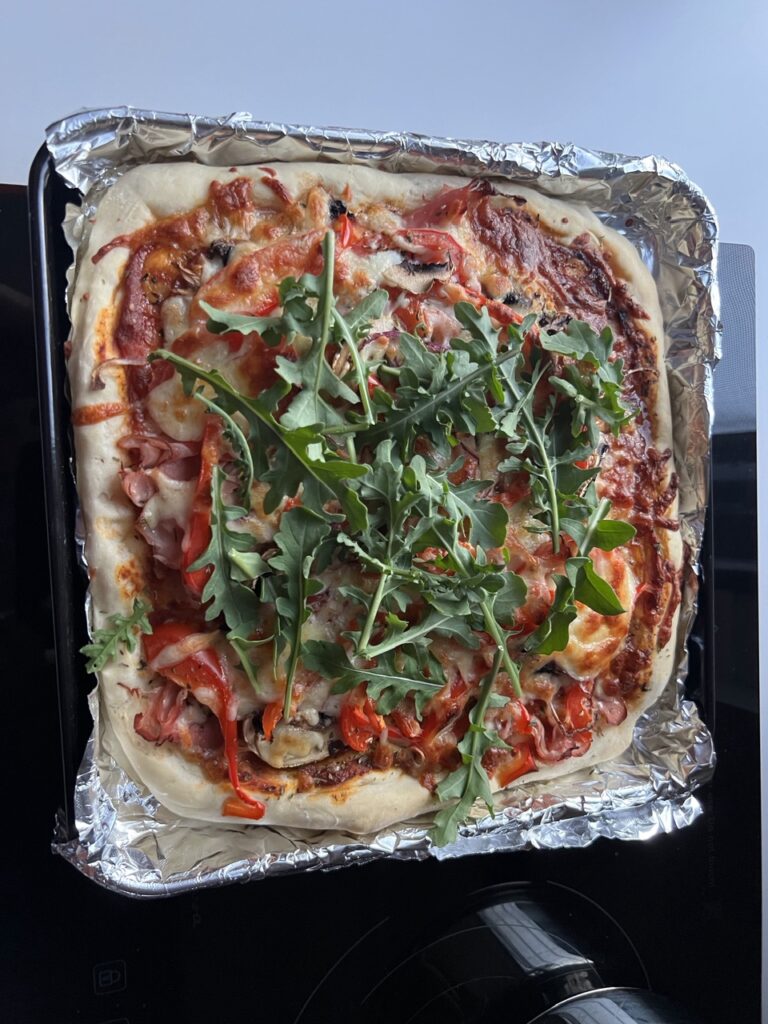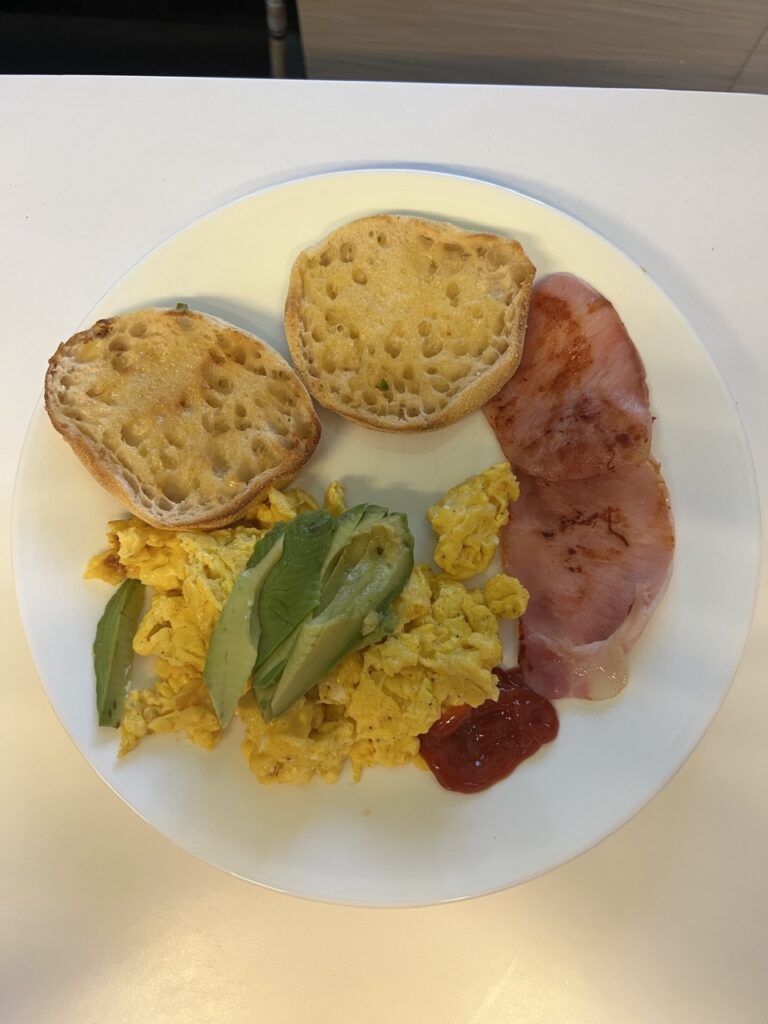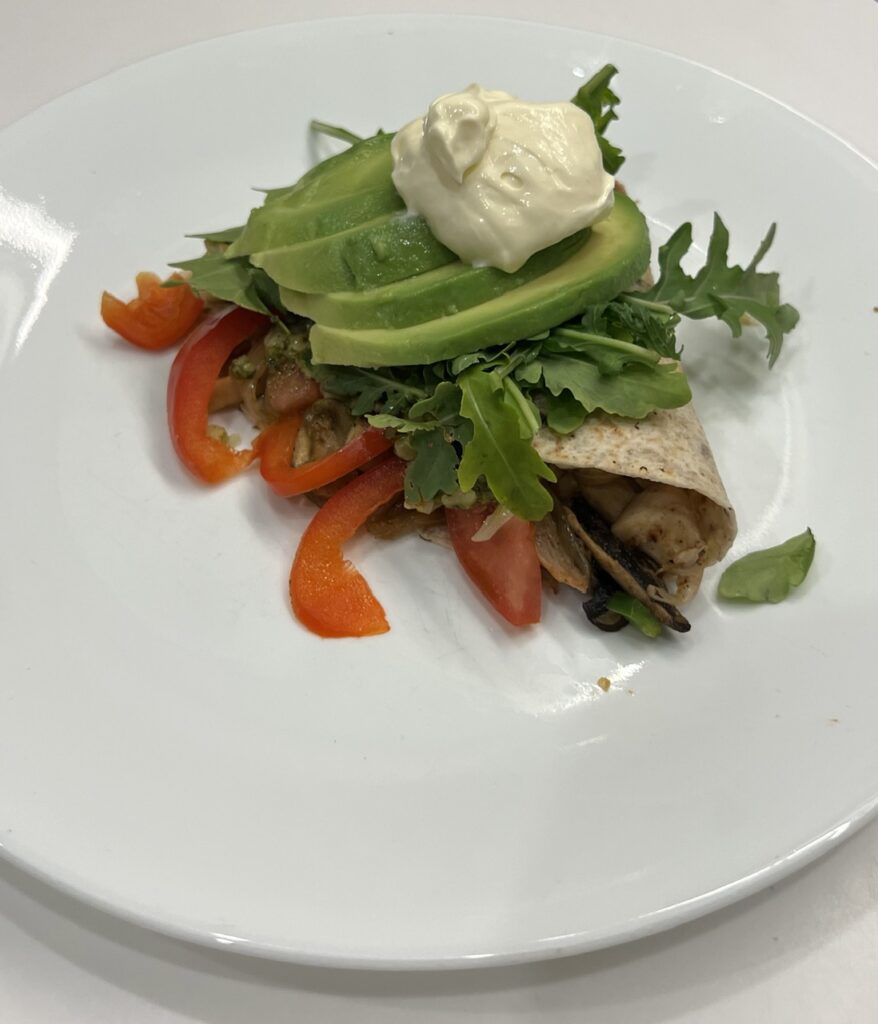 There are of course the things we love about being on the road in our own vehicle – sleeping in as long as we like, taking our time to do just about anything, meeting lots of new people, changing plans on a whim, and knowing that just about every day brings something new (& quite often something exciting ). Some look at our rig and are stunned at what a big van it is . Others ( usually in much larger traditional motorhomes or caravans ) consider it too small. It's amazing how easily one adjusts to living in a confined space ( albeit, much easier when the weather is agreeable ! ), but then again this is not our first rodeo and the Sprinter is much bigger than any of our previous overland rigs – to us it actually feels kind of palatial ! We are not into towing ( anything, ever ) and to have a vehicle any bigger just makes driving/parking more problematic ( and shipping it internationally even MORE prohibitively expensive ! ). It's no Jeep of course, but we can go ( and have gone ) so many places (with the 4×4 version and it's higher ground clearance) that many other vehicles can't. We have paid close attention when camping and our set up and take down process is easier, and the time required, significantly less than many others we see. Those are important considerations for us but may not be for some others – in the van world it's very much different strokes for different blokes ! With a huge sliding door and insect net we can ( and do ) cook and eat inside enjoying the comforts and convenience that brings while still feeling like it is "outside" – when the flies and mosquitoes are bad that is especially nice. There are absolutely no "cooking smells" in our van since it ventilates so well.
While cooking is one of the fun parts, there are also those annoying things that are part and parcel of life on the road – cleaning being one of them ! Emptying cassette style toilets is another – always a "Jeff" job ! And yes, we know about composting toilets ( popular among some younger folks ), but we are not fans. The cassette style toilets are as popular here in Oz as they are in Europe (and are becoming in North America) and we find them simple and easy to use. Would not change this.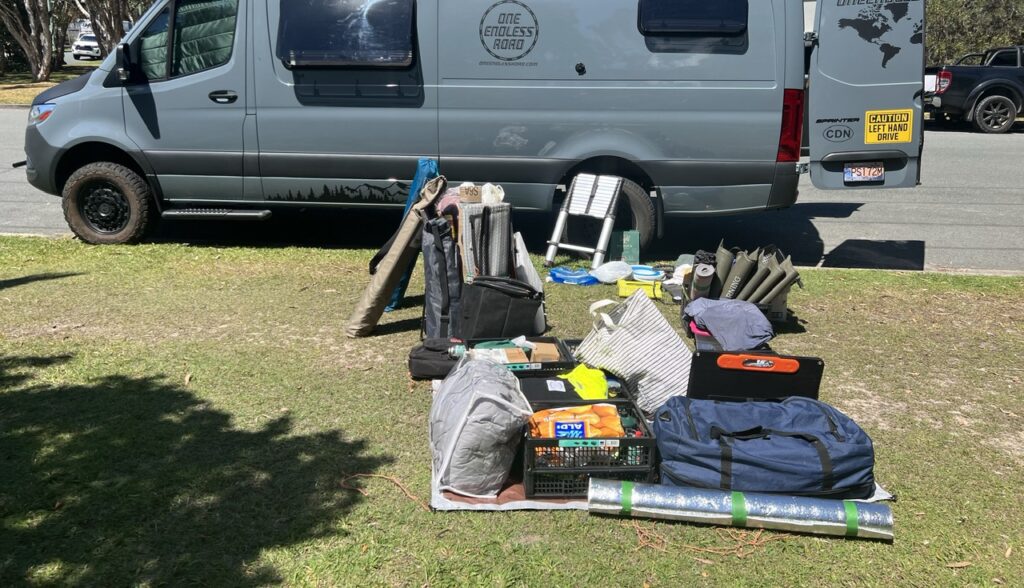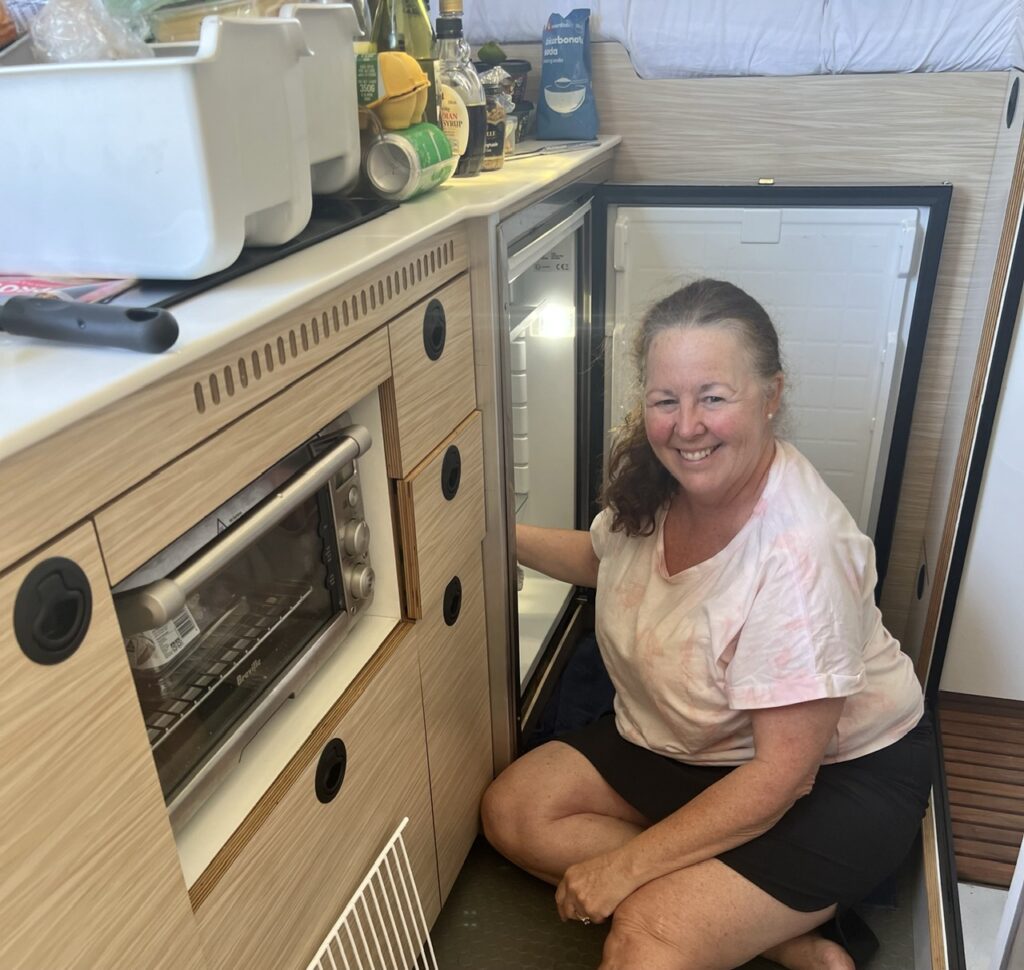 More generally speaking there are certainly days we miss home, our friends and family ( and especially our new granddaughter ! ) but we FaceTime daily and have committed to more frequent trips back in the months/years ahead. We really don't feel out of touch. I'm a total news junkie and love the fact that I now have time to read so much of it. Frankly, this blog has also been a wonderful tool for "keeping in touch" with many people ( so keep the comments rolling in – we answer every one ). We enjoy creating it each week, treat it like a travel diary, and look forward to it being something we can read to our grandkids in the future. In the meantime, if it inspires even one or two readers to get out on the road and explore the world, we are very happy to encourage that…!
Till next week…..