Had we realized just how long and tedious the drive would be from northwest Argentina all the way to Iguazu Falls in the far northeast corner, I'm not sure we would've actually made the effort. Frankly it just seemed to take forever. Perhaps it was the monotony of the scenery – for the most part flat scrub and cattle ranches – and it didn't really get interesting until the jungle-like to terrain of Misiones province ( it's that little bit of Argentina in the northeast that is tucked up between Paraguay on the left and Brazil on the right).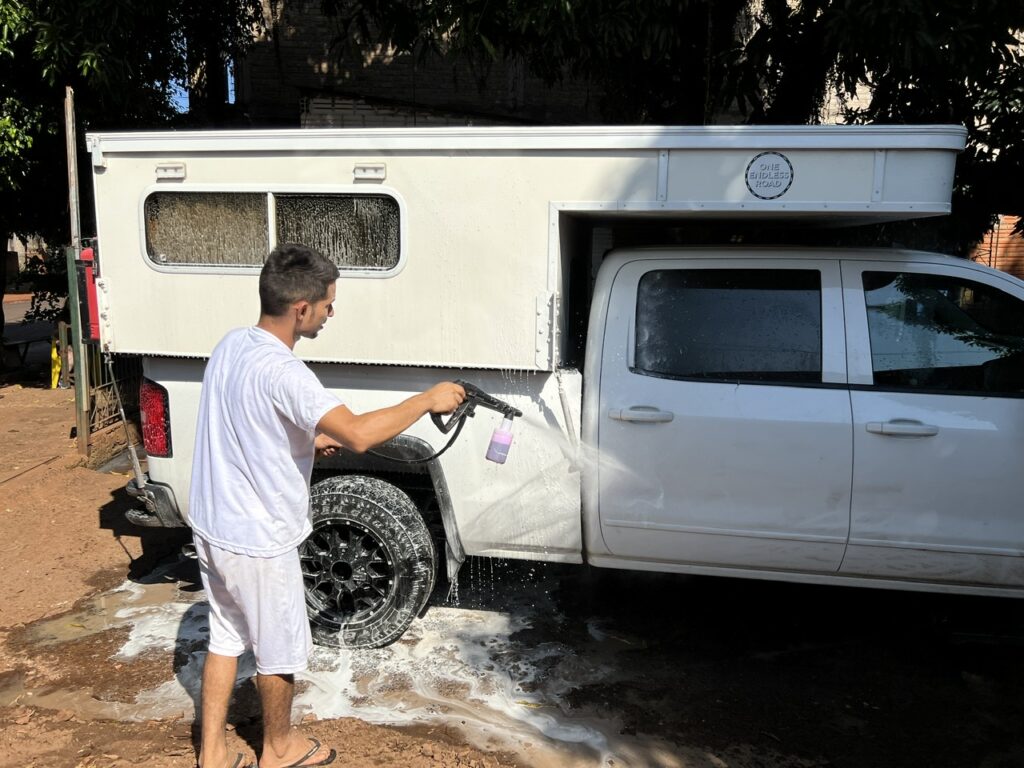 Having made the long haul to get there we were of course glad to have done it, though the humidity there was intense. Our previous visit almost 20 years ago had been in the middle of the southern winter which, I would suggest, is actually a far more ideal time to visit Iguazu falls ! At least the campground had a pool – it got lots of use.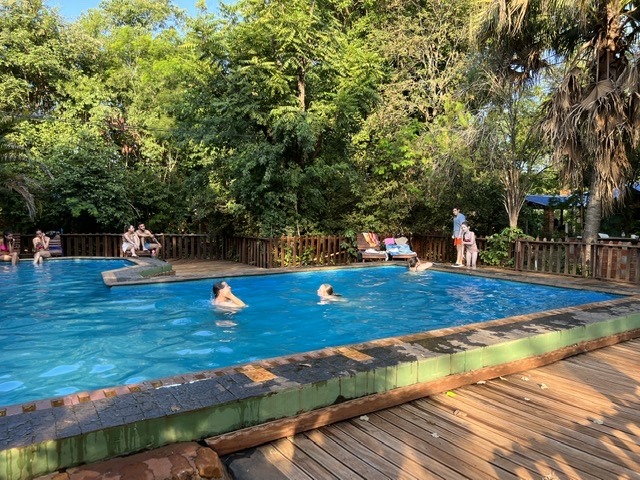 Iguazu straddles the border between Brazil and Argentina ( with Paraguay only a stones throw away ) and most visitors take the opportunity to see the falls from both sides. We'd done that on our previous visit when there were no Covid border restrictions but this time such a seemingly simple thing was far more complicated. Crossing into Brazil would have been easy – visitors need only show proof of a double vaccination, however getting back into Argentina required yet another PCR test. We have no fear of a PCR test itself nor do we have any concern about getting Covid since we are both triple vaccinated and any infection would likely generate only mild symptoms. Those aren't the issues. A positive Covid test around this time, however, would seriously limit our ability to cross borders in the next two weeks and thus seriously interfere with our ability to ship the vehicle back to North America ( planned for later this month – more on that below ). Needless to say we stayed on the Argentine side !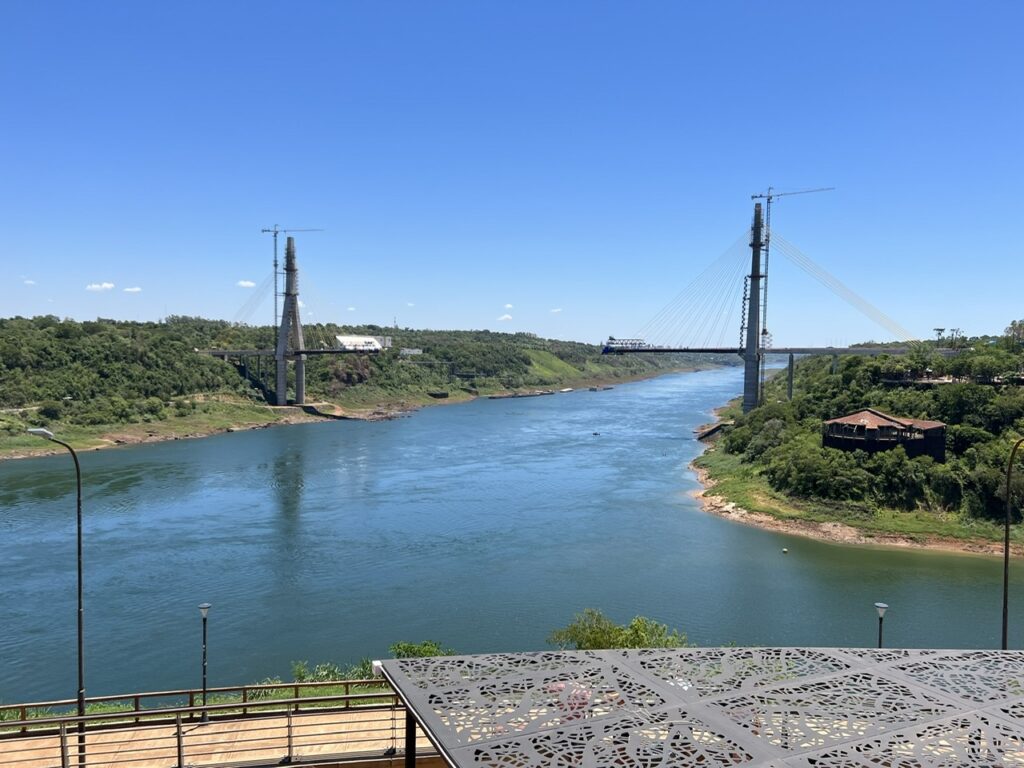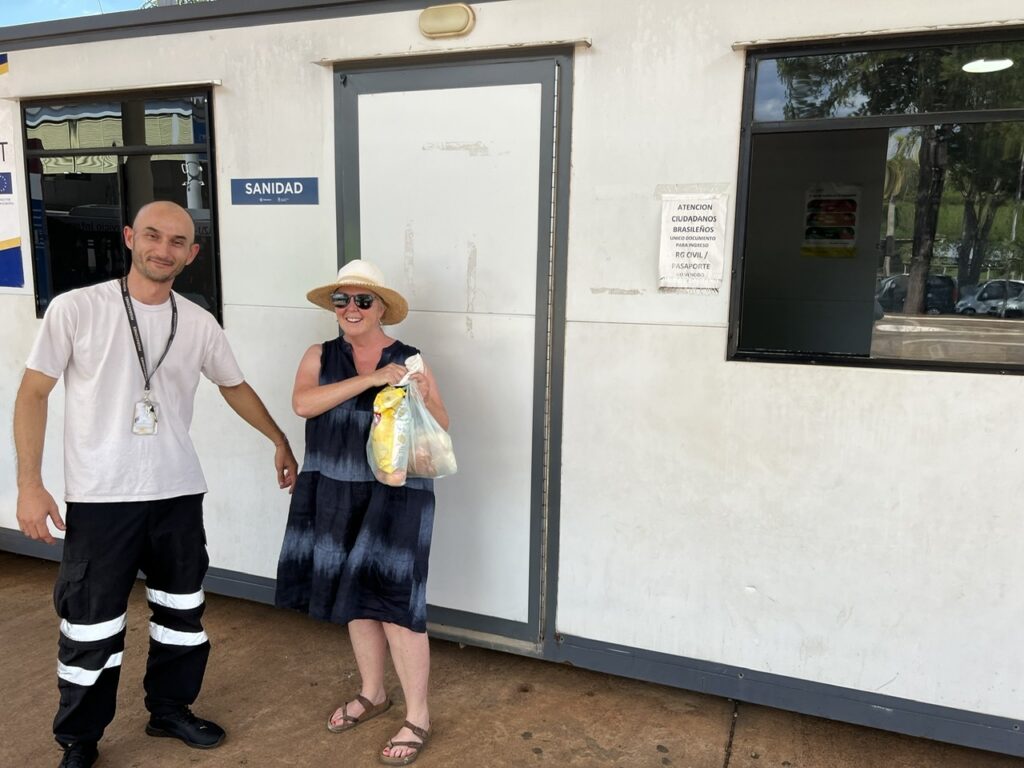 With January and February being absolute peak season in South America, the crowds at Iguazu falls were unbelievable. It was actually difficult sometimes to take photographs because there were just so many people around and in a situation like that the social distancing that we have been practicing fairly rigorously was also rather difficult to maintain. Add to that the fact that while some Argentines wear masks religiously there's a fairly significant percentage of the population that does not – not the kind of situation you want to be in in a very crowded spot. Regardless, Iguazu Falls has lost none of its majesty and, crowds or not, is an incredible sight ( and one of the Seven Wonders of The World ). They are truly amazing no matter which side you see them from and the setting, with the jungle backdrop, only adds to the allure.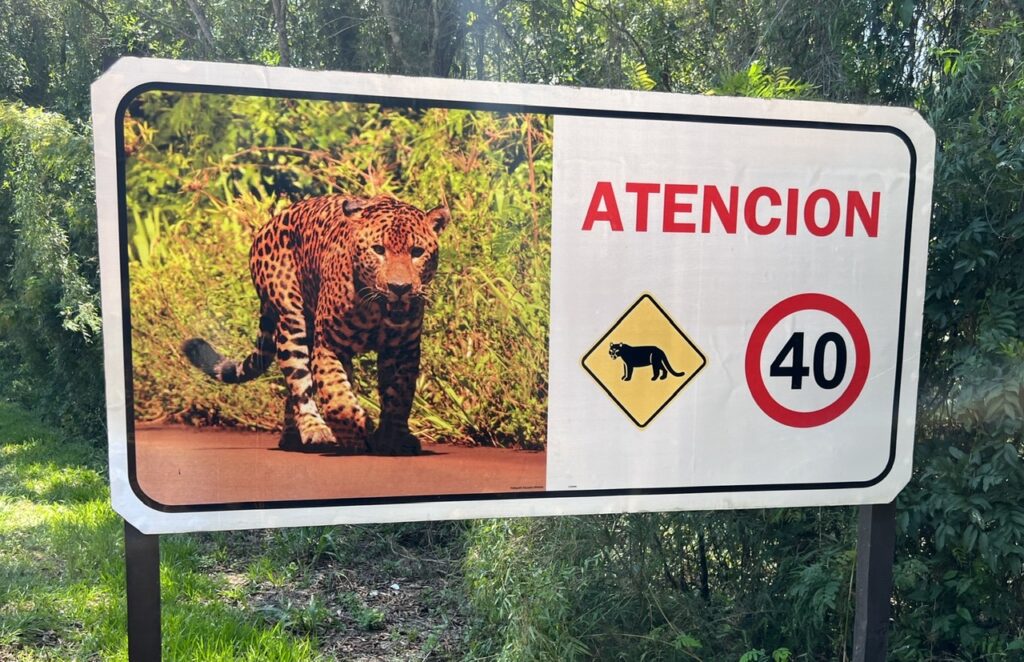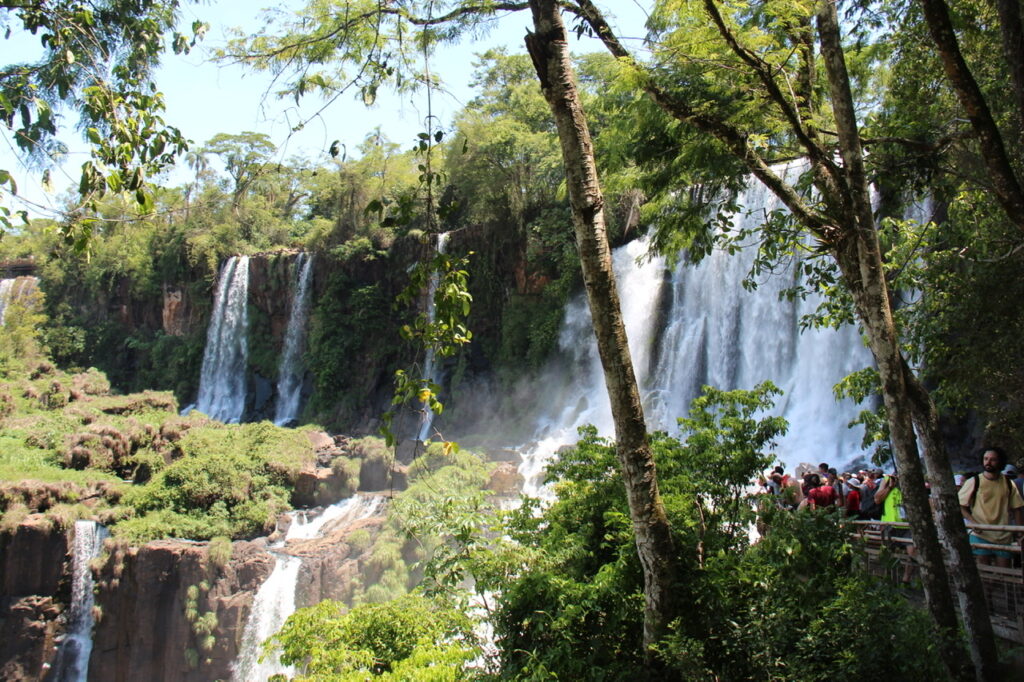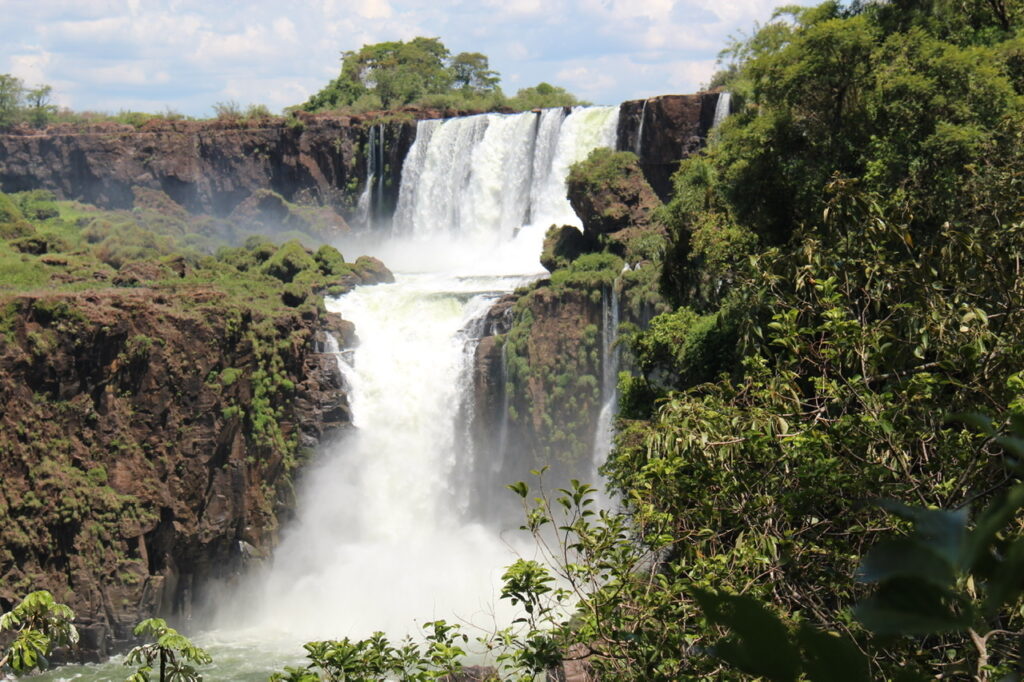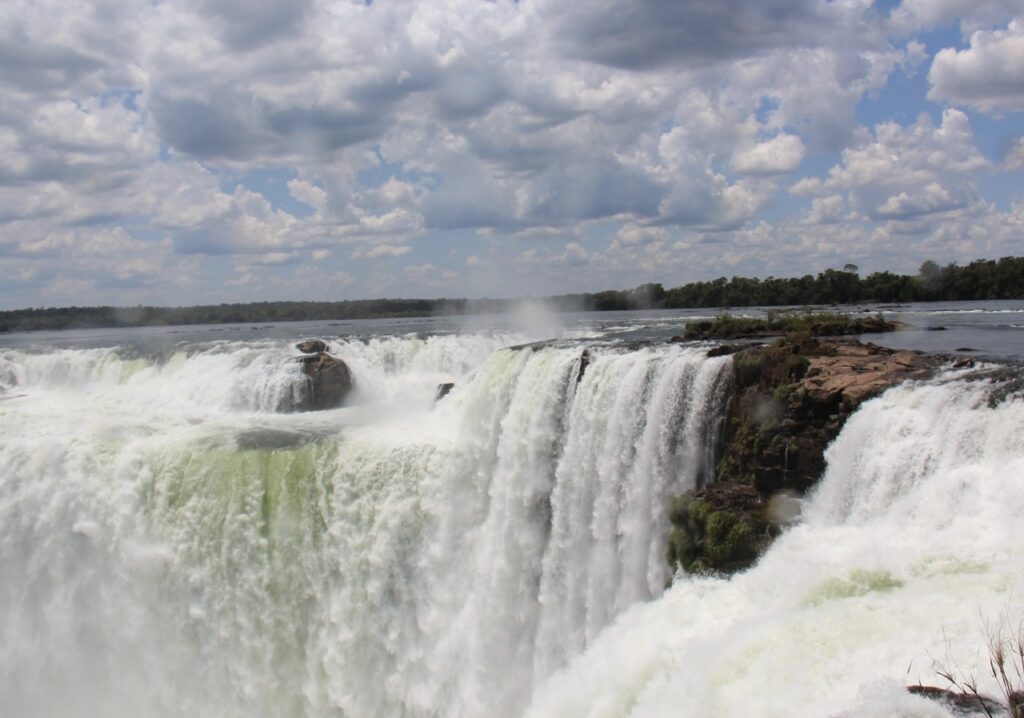 Despite the heat it was a pleasant few days in Iguazu and we spent much of the time with a young Argentine fellow who spoke impeccable English and who was about to set off for two years to my home country of Australia. He had many questions for us, and that gave us an opportunity to ask many of him in return – we whiled away the evenings talking about our respective countries, our different cultures, and various assorted problems of the world. Not sure we solved any, but we enjoyed the robust discussions !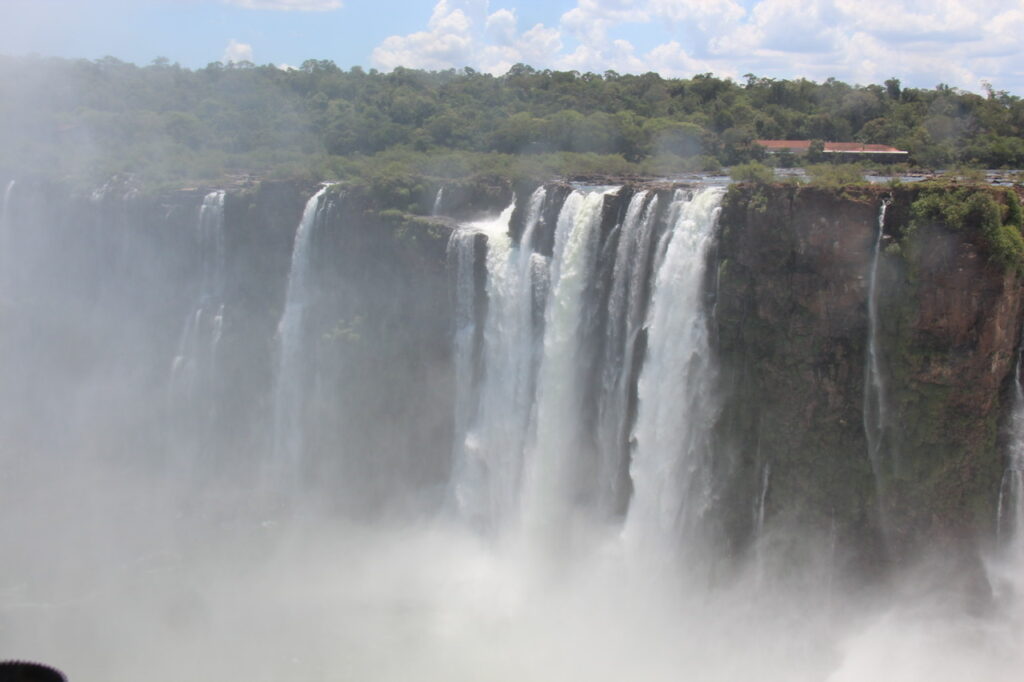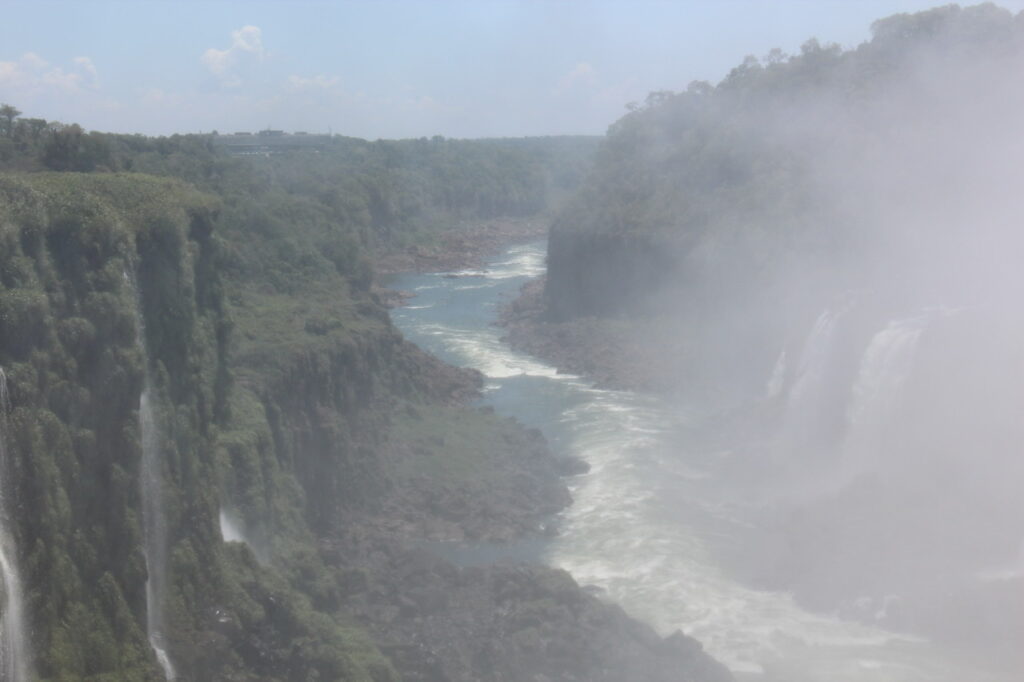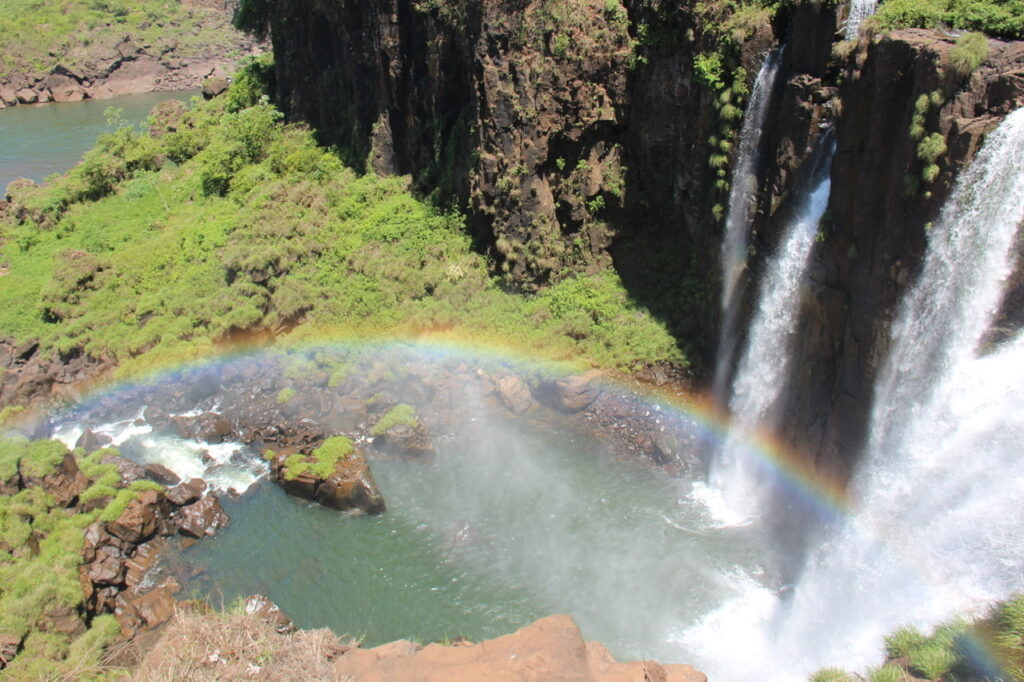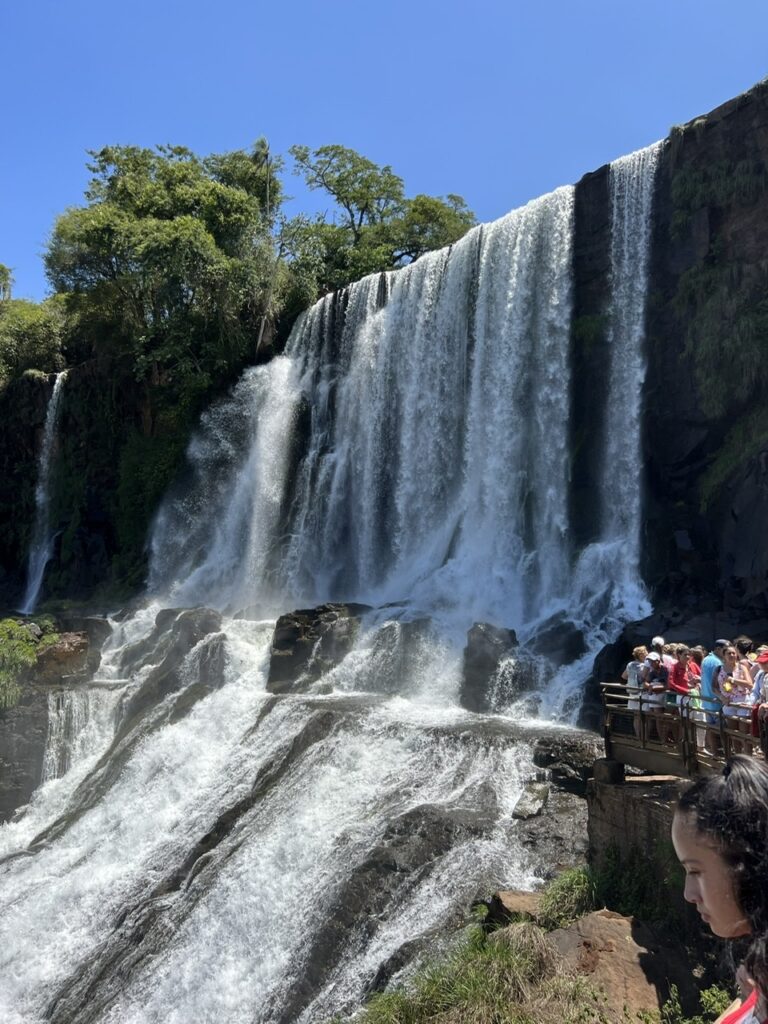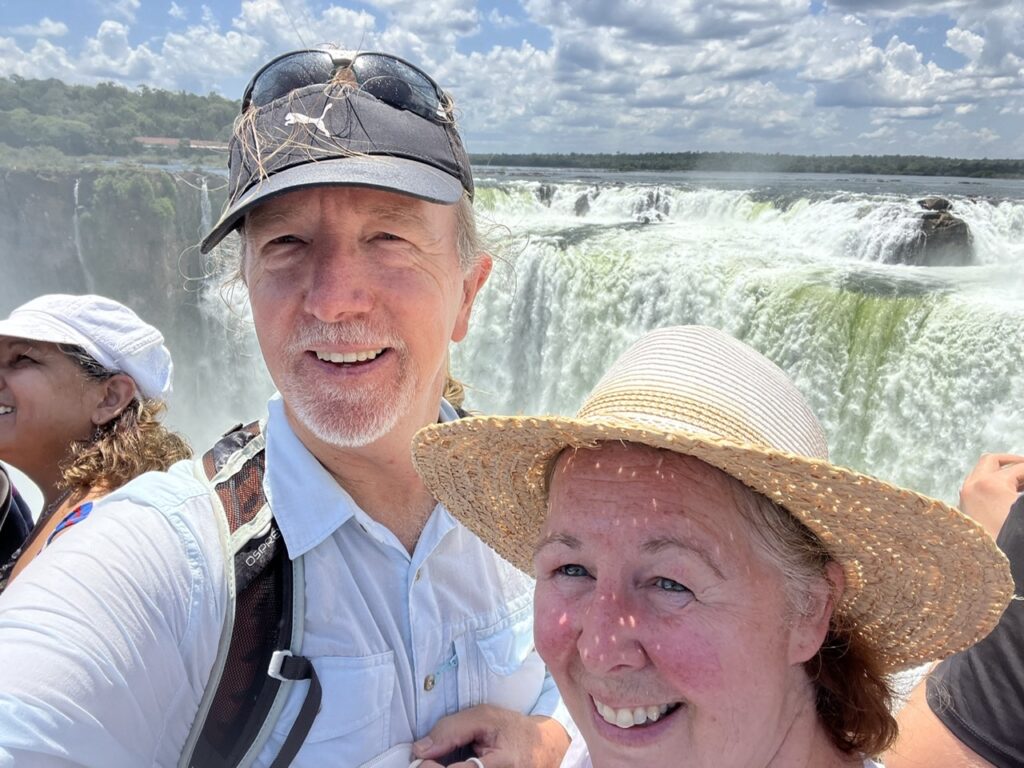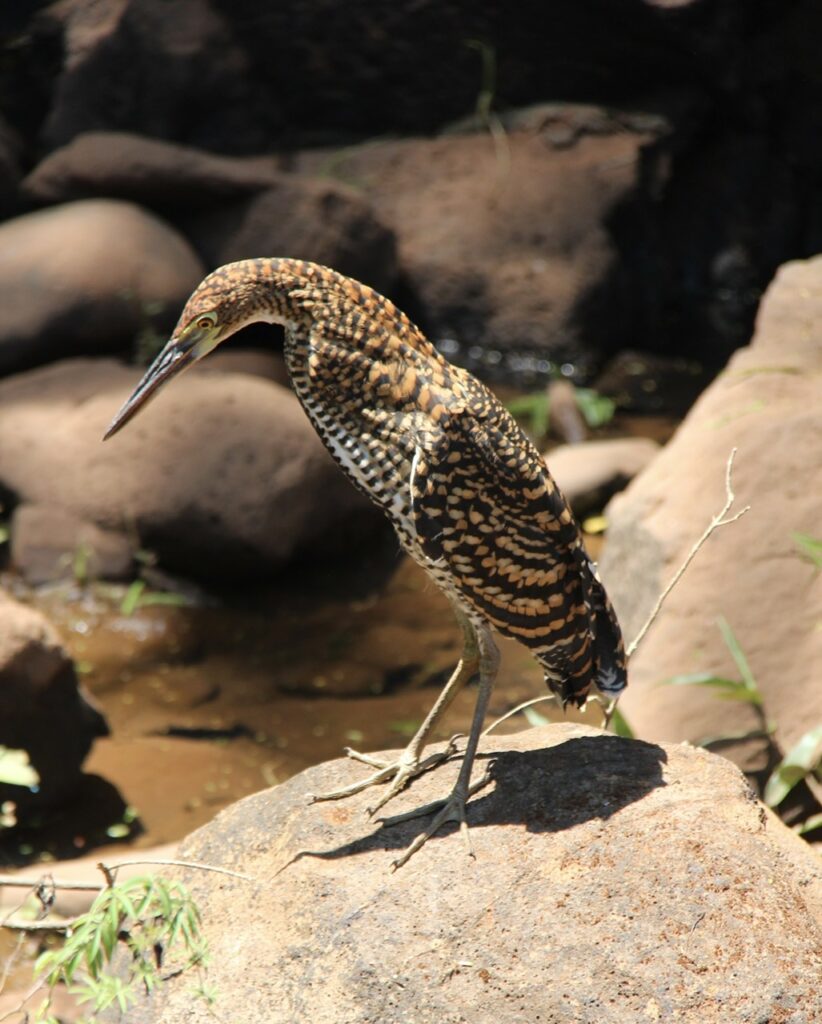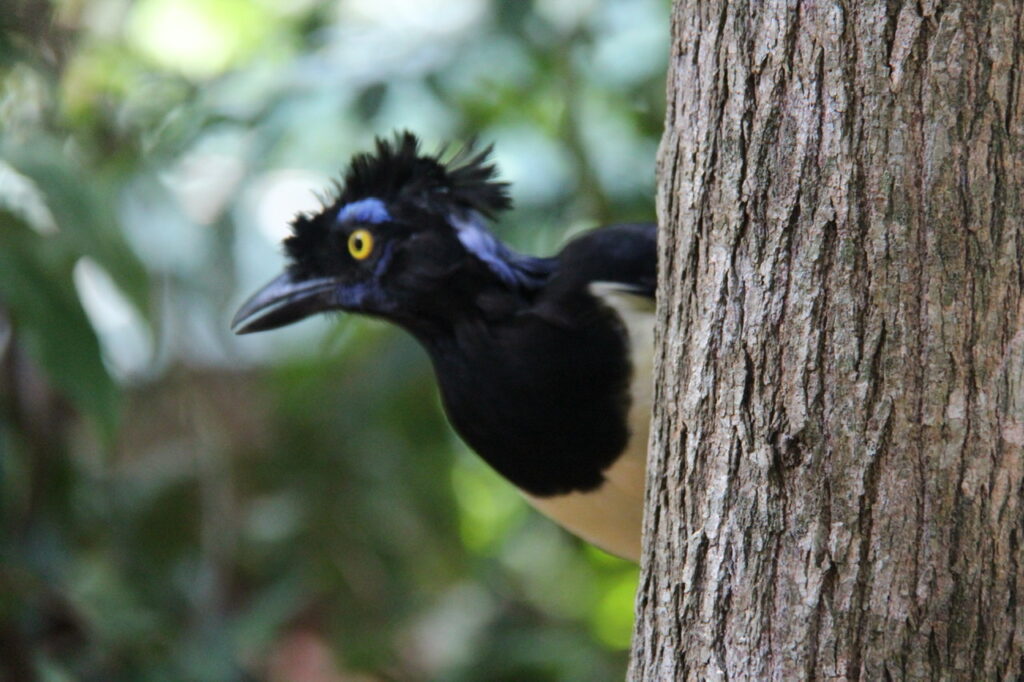 .From Iguazu we headed to Mar Del Plata, Argentina's famous seaside city a few hours south of Buenos Aires with plans to relax for a few days at "Mardel" ( as the locals call it ) before winding our way up the coast to Buenos Aires. The weather looked good and as we had not been near the sea in a long time we appreciated the breezy coastal climate ( and no humidity ! ). The change of scenery was a welcome relief.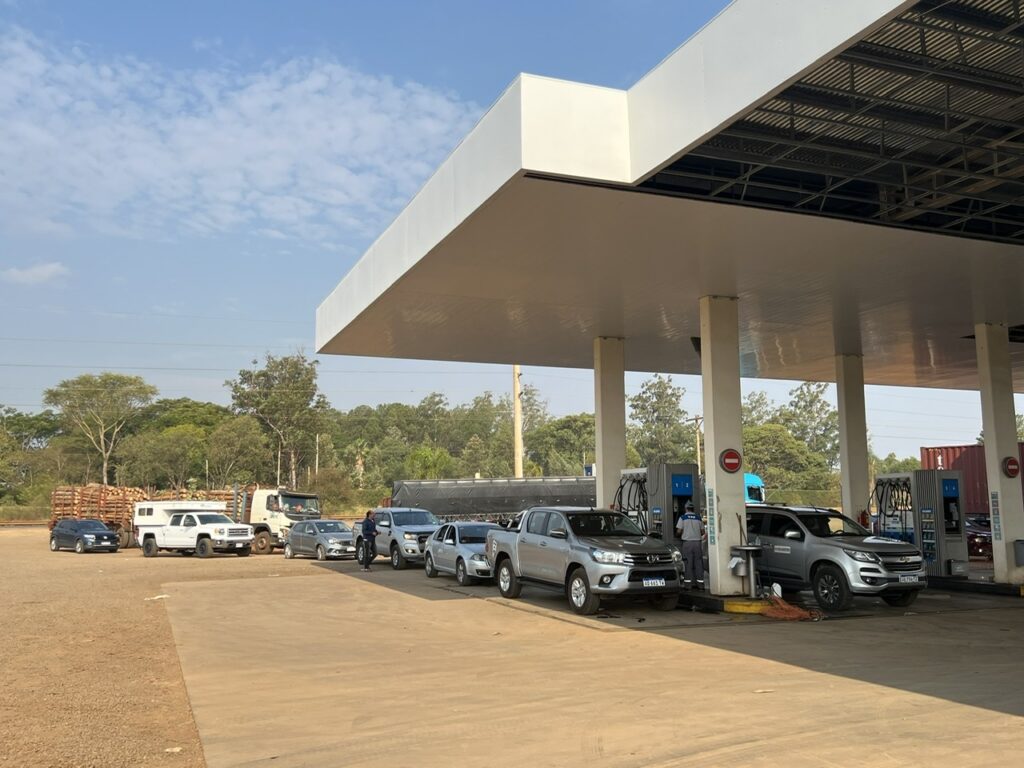 Note to self – don't get stuck needing fuel in a border area when you are in the country with the cheap fuel. Brazilians and Paraguayans flock to Argentine border towns to get fuel for less than half the cost they pay at home. Makes for long line-ups ! And we saw many line ups MUCH longer than this one.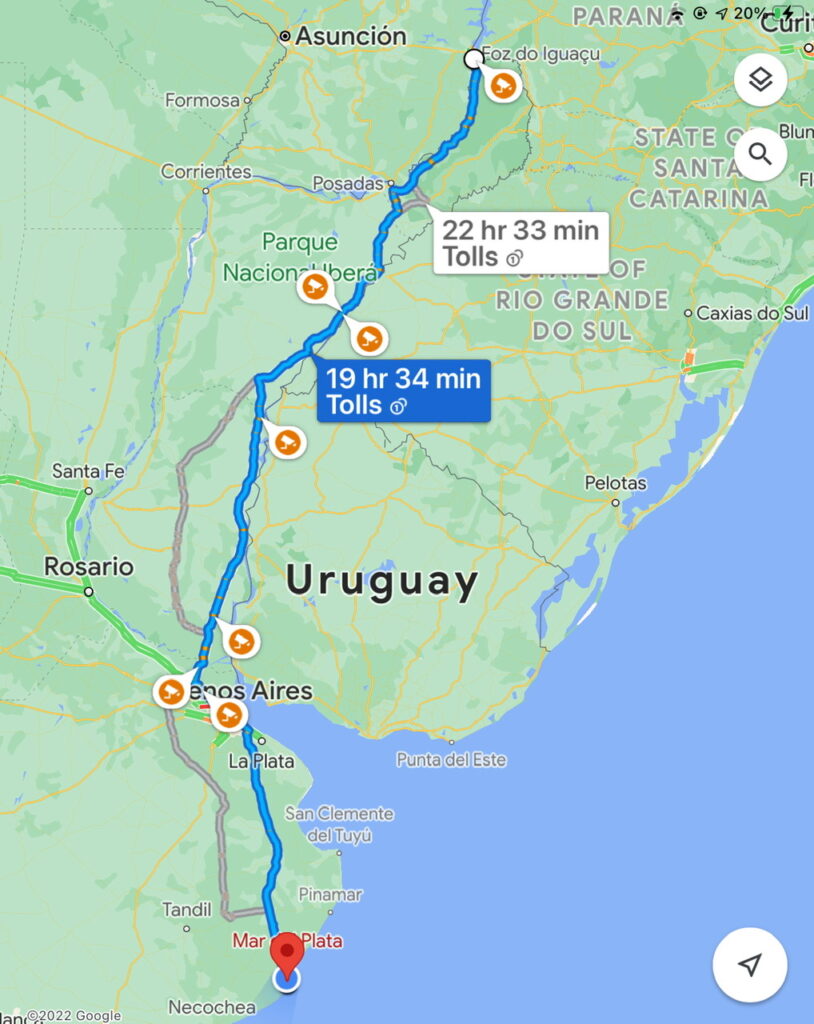 Mardel itself was really nice. We enjoyed the city, it's sights, cool sea breezes and the whole gastronomic experience, but found the beach ( for which it's rather famous ) a tad underwhelming. It did not help that it was absolutely packed with people ( summer holidays- I suppose we should not have been surprised ! ) but the number of vendors was incredible, the sand was not the golden stuff that I had expected and the water was rather murky. Perhaps it will be better at the smaller seaside communities we plan to visit as as we head north to Buenos Aires. I can think of many better places than Mardel for a beach holiday !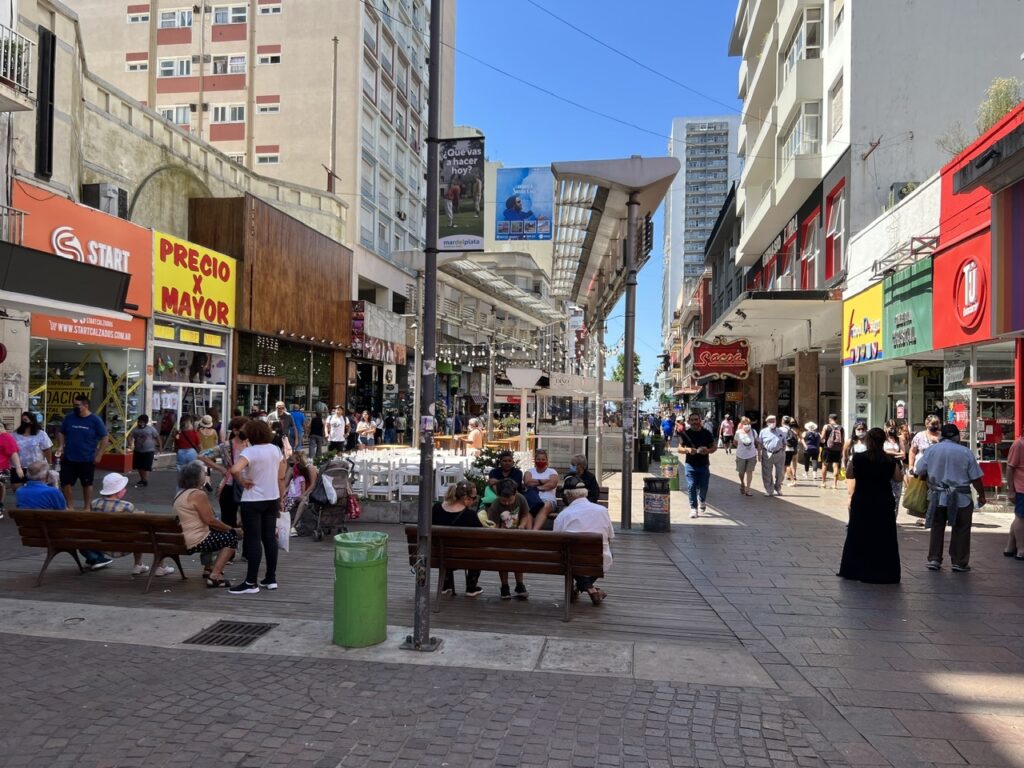 Downrown Mar Del Plata, pedestrian street.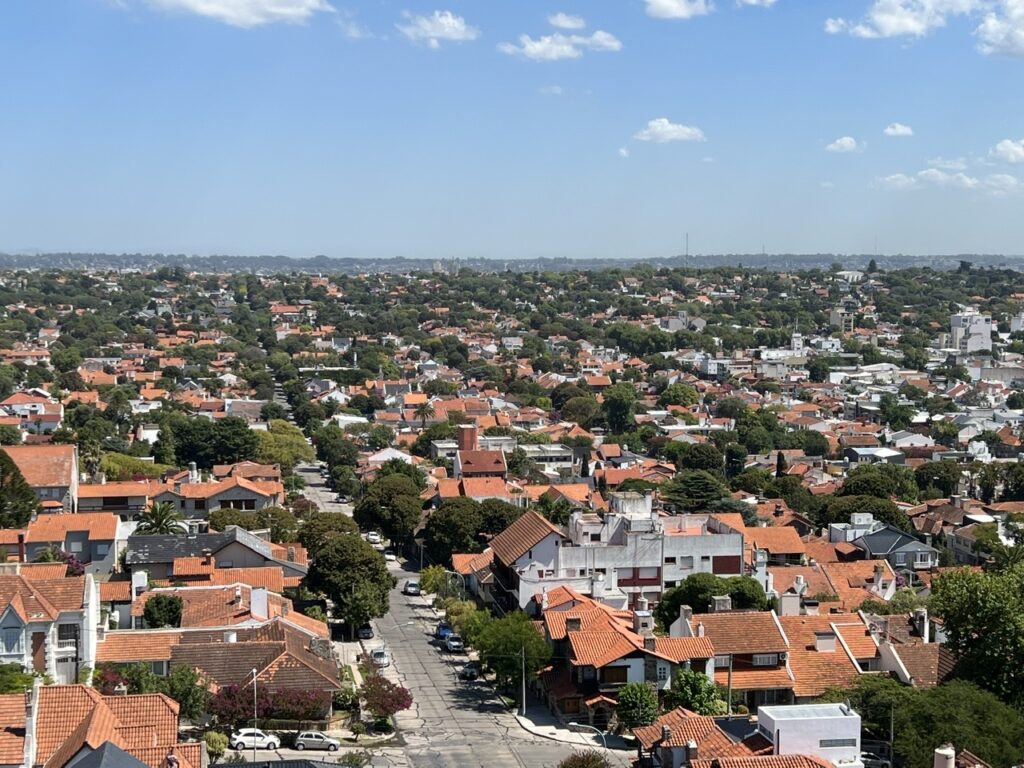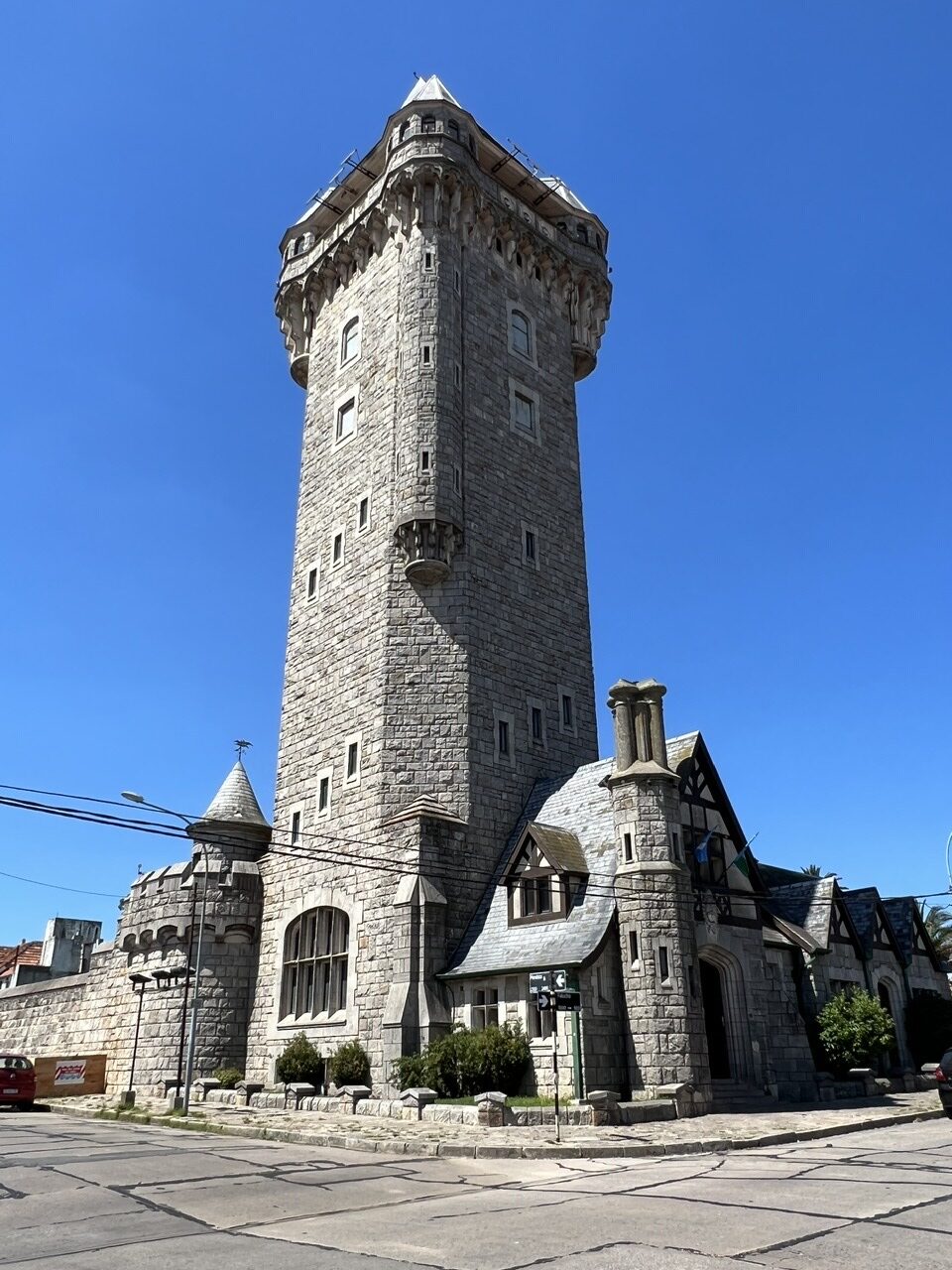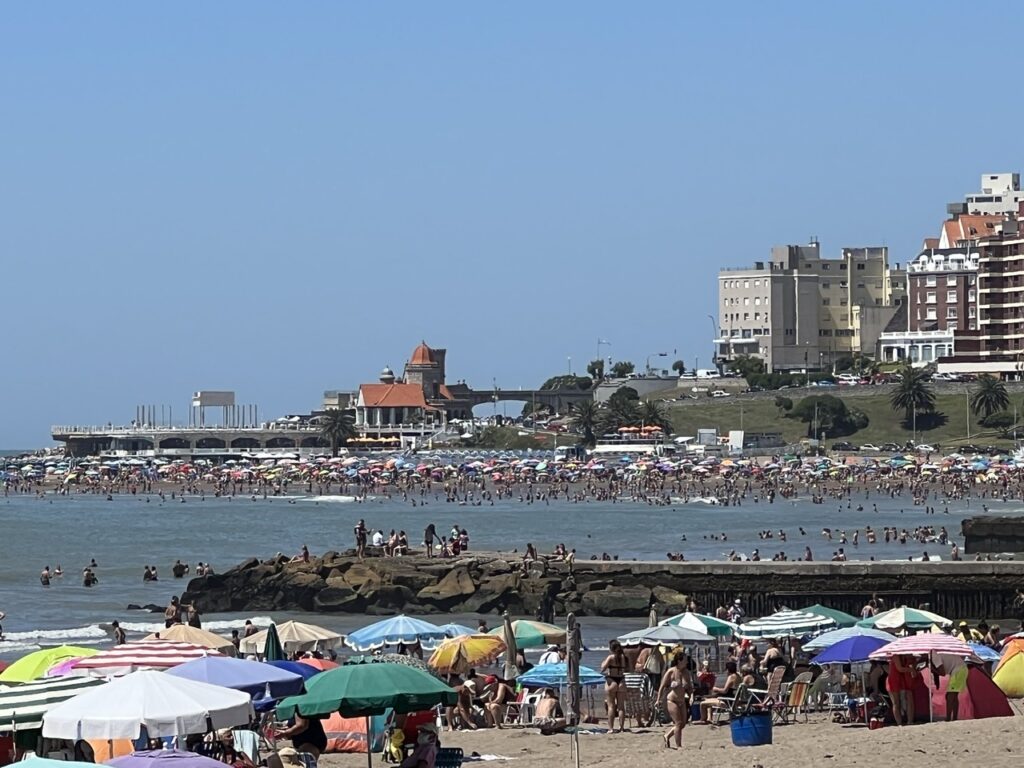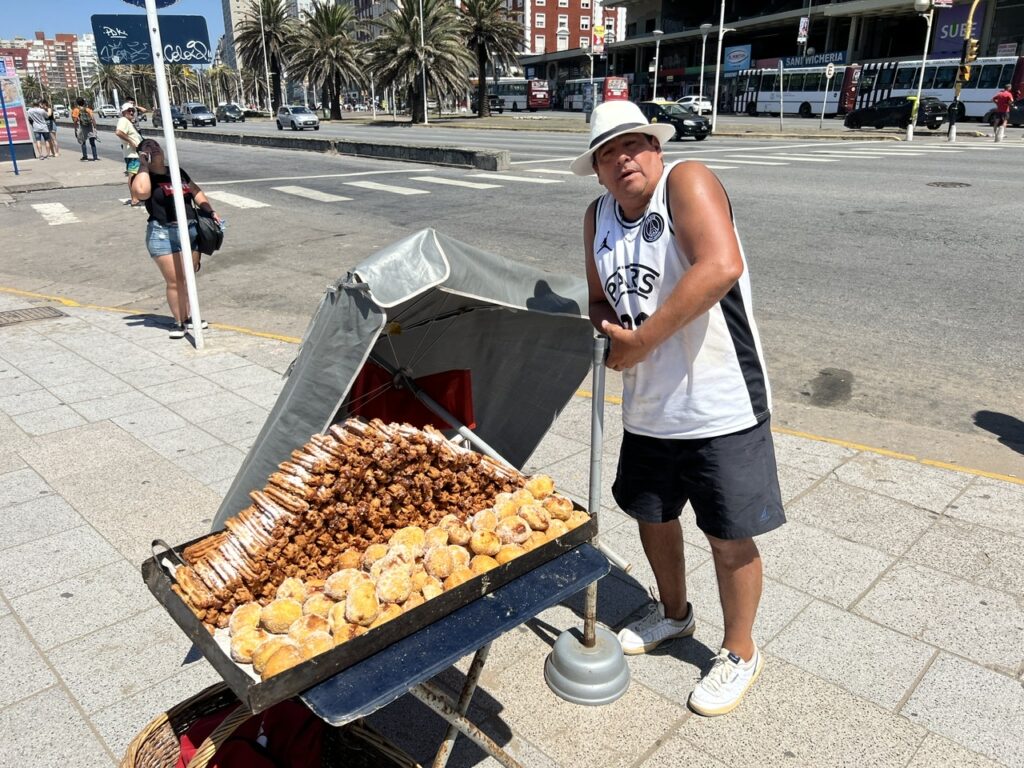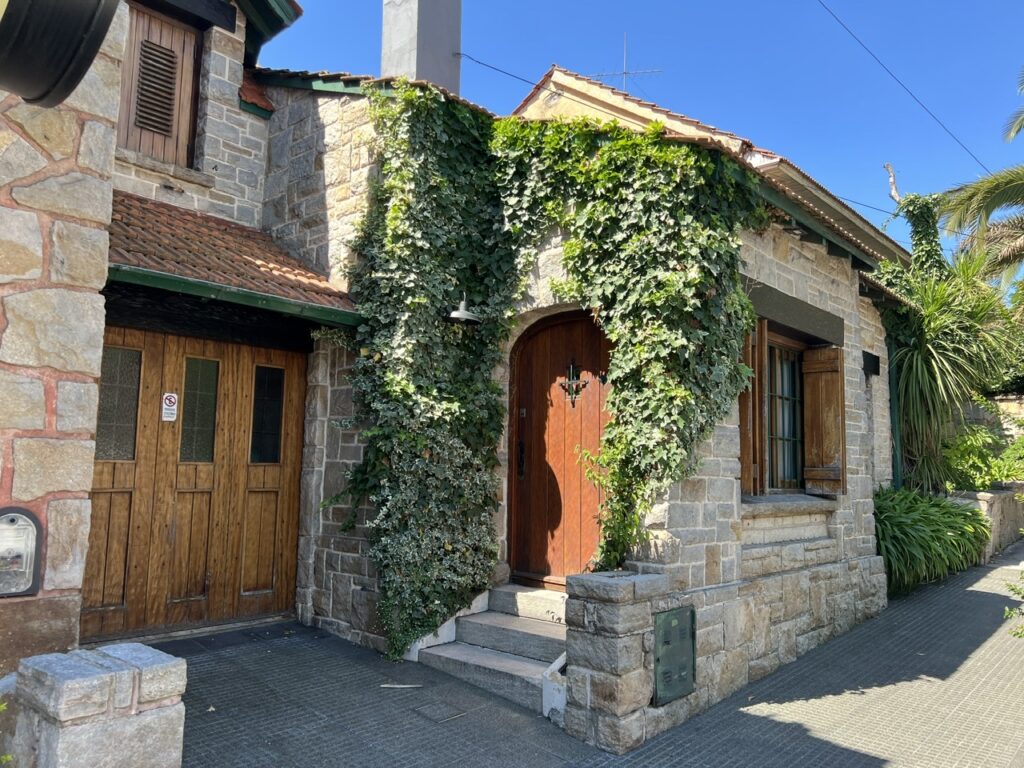 Upon returning to South America in November last year, our goal was to complete the Carretera Austral in Chile, get to the bottom of the continent, then work our way back up through Argentina to Iguazu, before wrapping up our trip in Buenos Aires or Montevideo, Uruguay. Fortunately that ( so far ) has gone as expected and pretty much in the 4-5 month time frame we thought it would require. We planned to then ship the vehicle back to the USA and drive it home to Canada by April/May at latest. While in Iguazu, and after many weeks of searching, we finally got passage confirmed for our truck/camper back to the USA. We can't overstate what a huge relief that was !
Unlike when we shipped across the Darien Gap in Panama ( where we shared a 40 foot container ), this time the vehicle will go "RoRo" ( Roll on Roll off ) – essentially put on a giant vehicle carrier. In the last couple of months as we started exploring container shipping options, we got some nasty surprises. The whole process has been a bit stressful actually. Containers are in very short supply and Covid has played havoc with the global shipping industry – costs have tripled and in some cases even quadrupled. We had one quote to ship the vehicle back to North America in a container that ran to almost US$12,000. That's over three times what was once normal and what we had expected ! With so few overlanders travelling down here at the current time there was also no hope of sharing one ( as we had before ) so we had started looking at the other alternatives. RoRo is a bit cheaper, but considered less secure. RoRo prices are higher than they were, but not nearly as bad as containers. In any case, unless there's a curveball that we don't expect, we'll be loading the truck on the ship in the middle of next week for the 30 day sailing to the US East Coast. We will pick it up early April and then plan to drive it home it to Canada.
What will we do for 30 days with no "home" ? While the ship is en route, we hope to split most of the "shipping time" between Buenos Aires ( in a hotel or an AirBnB ) and travelling around Uruguay ( likely in a rental car – it will be so weird with no truck camper ! ). We'll also be trying to avoid getting covid at what would be a most inopportune time. Our plan would then be to fly to the US a week or so before the ships arrives to meet up with the truck.
So, while we wont be in the truck camper much longer, you'll still be hearing from us for a little while yet. We hope to provide a full account of the RoRo loading experience in next week's blog…..stay tuned !